The 10 "A's" revealed on Pretty Little Liars
"
I'm still here, bitches. And I know everything.
"

— A
Original founder; was obsessed with, stalked, and cyber-bullied Alison until her disappearance; stalked and cyber-bullied Aria, Spencer, Emily and Hanna. Became "A" to get revenge on Alison for bullying her, which eventually turned into an obsession with the other four girls.
Lucas was blackmailed by Mona to be her helper as "A".
Toby joined the A-Team to protect Spencer. He was recruited by Mona and Red Coat when he got his "job" in Bucks County.
Spencer joined the A-Team seeking answers regarding her seemingly deceased boyfriend Toby.
He was tasked to be the "Queen of Hearts" along with Melissa. However, he acted on his own sometimes too.
Melissa was once blackmailed by Mona (when she was "A") to wear the Black Swan costume and distract the Liars. She was later on blackmailed by Wilden to be the second Queen of Hearts.
Mental disorder; told Mona she would play the game with her in exchange for the Liars' secrets. She later stole the game from Mona.
While her intentions are unknown, Sara helped assist Charlotte as "A" and was a decoy Red Coat.
Noel was revealed to be Charlotte's helper in the Dollhouse and teamed up with Jenna and Uber A to take down the Liars.
Jenna has always held a grudge against the Liars ever since they blinded her in a freak accident. She finally tried to get revenge by teaming up with Noel to murder them, but it failed. She is working for Uber A.
Sydney was revealed to be working for A.D. as she didn't want to lose. She claimed the identity of A.D. and recruited Aria, but happened to only be a helper. Was blackmailed because she was stealing money from a bank.
A.D. began blackmailing Aria by stealing a file that contains a dark secret that could get Ezra arrested. Aria decided to join A.D. as their helper, and while doing so, her dark side emerges.
Mary was forced by Alex Drake to help her kidnap Spencer. She also wanted to avenge her daughter Charlotte's death.
Wren was in love with Alex (Uber A) and would do anything for her. Alex sent him to kill Mona in a black hoodie.
Alex wanted to avenge Charlotte's murder and believed the Liars knew who did it. She also believed that she deserved Spencer's life.
"A" is the main antagonist of the series. "A" is an anonymous character who sends threatening messages to Alison DiLaurentis, Aria Montgomery, Spencer Hastings, Hanna Marin, Emily Fields and, in some cases, Mona Vanderwaal. The first and original "A" was revealed to be Mona Vanderwaal in "UnmAsked", who was the primary antagonist for the first two seasons.
Big A is the person who stole the game from Mona and played it from Season 3 to Season 6. In "Game Over, Charles", CeCe Drake was revealed to be "Big A" using her birth name, Charles DiLaurentis. After being discovered and a failed suicide attempt, she declares "game over".
Five years later, after Charlotte's murder, Uber A starts stalking and sending blackmailing texts to the four Liars in order to find out who killed Charlotte. This new stalker, however, does not use the pseudonym of "A". They started using emojis in their messages as a signature, but since they abducted Hanna, thinking she murdered Charlotte, they have used the alias "A.D." to sign their messages off with. In "'Til Death Do Us Part", Alex Drake (Spencer's twin sister) was revealed to be Uber A.
Appearance
"A" and Uber A/A.D. make appearances as a figure with black leather gloves, a black hood, dark pants, and dark shoes. Throughout the seasons, the story focuses on the mystery of "A". However, "A" has sported many different disguises, including the disguise of Red Coat, and The Black Widow.
However, Uber A also has many disguises: a gardener, a maid, a surgeon, etc.
History
Mona, using the nickname of "A", began bullying Alison through texts and other written messages, while also stalking her. At one point, during Labor Day weekend, she even threatened to kill her. Mona never actually seemed to mean what she wrote in the texts, though; however, someone did end up trying to kill Ali that night. After Ali's supposed "death", Mona stops playing her game, until a year later, when Aria returns to Rosewood. After this point, Mona begins to, once again, cyberbully. This time, she goes after The Liars, using her signature nickname of "A". Mona cyberbullied Emily, Aria and Spencer so that they would stay away from Hanna, because she wanted to be her best friend, shutting the others out. Mona was exposed as being "A" in "UnmAsked", and sent to Radley Sanitarium. It is revealed that while Mona mostly acted alone during the first two seasons (with a little help from Lucas Gottesman at times), a brand new "A" had taken over the reigns from Mona while she was in Radley for five months. This person, Big A, had presumably assembled a team of people to threaten The Liars. This A-Team, at one point, consisted of Toby Cavanaugh, Spencer Hastings's boyfriend, who was only part of the A-Team to protect Spencer and gain information about Red Coat, whom they knew as the leader. What started out as a simple bullying tactic had turned into a deadly game, and Mona had also agreed to do Red Coat's bidding, until "A DAngerous GAme", when Mona was finally cut from the team completely.
In "Now You See Me, Now You Don't", one Red Coat (the good one) is revealed to be Alison, while the other Red Coat (the evil one) is revealed to be CeCe Drake, but Ali claimed that she asked CeCe to wear the coat as a decoy to distract Big A. We later learn that this was a ruse, as CeCe (alias for Charlotte DiLaurentis) was "A" herself, the Big A, the true 'A', that "stole" the game from Mona.
Series
"A's"
These are the people who have acted as "A" at one point, whether it was through blackmail, double agent, or being a true "A". These are people who have been confirmed as being "A" at a time.
"A's" Revealed
Mona Vanderwaal was the 1st "A" to be revealed, also known as Original A, the one that created "the game". Mona was revealed in 2x25 "UnmAsked".
Toby Cavanaugh was the 2nd "A" to be revealed. Toby was also the "betrAyer" and was revealed in 3x12 "The Lady Killer". He was later revealed to be a double agent to help the girls.
Spencer Hastings was the 3rd "A" to be revealed. Spencer was revealed in 3x23 "I'm Your Puppet". She only joined to see if Toby was alive and to find out who Red Coat is.
Lucas Gottesman was the 4th "A" to be revealed, Mona's helper by blackmail and revealed in 4x01 "A is for A-L-I-V-E". He gave Emily the massage in season two.
Melissa Hastings was the 5th "A" to be revealed. She was The Black Swan and the Queen of Hearts, under blackmailed orders.
Darren Wilden was the 6th "A" to be revealed. He was the second Queen of Hearts on the Halloween train and was somehow helping Big A in Season 3 before his death.
Charlotte DiLaurentis is the 7th "A" to be revealed and also, Big A. She was revealed in 5x25 "Welcome to the Dollhouse". She was thought to be Alison's brother under the name Charles DiLaurentis, but in "Game Over, Charles", it is revealed that Charles is a transgender woman, Charlotte DiLaurentis, better known under the alter ego CeCe Drake. She is the one who stole the game from Mona as Red Coat.
Sara Harvey is the 8th "A" to be revealed. She is Red Coat and The Black Widow, she worked as a decoy for Charlotte. She is revealed in "Game Over, Charles".
Aria Montgomery is the 9th "A" to be revealed. Joined in Power Play. She only joined to protect her friends and prevent her file about Ezra from getting out. Was also being blackmailed by A.D. to trash Emily and Alison's nursery and place the recording of Peter Hastings and Jessica DiLaurentis in Spencer's house.
Alex Drake is the 10th and final "A" to be revealed. She wanted to avenge Charlotte's death and became Uber A. She was the one who created the board game and kidnapped Hanna.
Psychiatric File (Mona Vanderwaal)
Physician: Dr. Rollins
Patient DOB: 10/8/1994
Overpowering feelings of revenge and anger management.
No desire to kill them self, only others.
[...] prone to sudden outbursts of anger and aggression. The client seems confused about the nature of [...]; assumes it is their job to "police" and monitor all activity in the neighborhood that [...] us." Often refers to unnamed adversaries as "nosey bitches."
[...] "impulse control" [...] Perhaps the driving force behind recent problems. May have [...] their own omnipotence. Client appears to demonstrate the ability to [...]
[...] demonstrates a total [...] Client becomes agitated [...]
Notes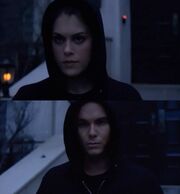 In the episode "The Lady Killer", the betrAyer and 2nd member of the "A-Team" is revealed to be Toby. Multiple endings were shot to avoid the real one from being leaked. Alternate's for the betrAyer's role were Caleb and Paige. These alternate endings are on the Season 3 DVD.

However neither Caleb or Paige could have been the betrAyer, because Lyndon James tied up Paige and almost killed her, and he shot Caleb in the stomach.

Coincidentally, both of these assaults involve Lyndon James.

All four of them also loved interests of The Liars at the time.

The first appearances listed in the characters' infoboxes are for their reveals. For A's appearances see A's biography. For the first appearances of the characters as individuals see their individual pages.
When Aria, Spencer, Hanna and Emily start therapy, Dr. Sullivan states that she cannot tell the police - or anyone else what is said in the therapy sessions unless she believes that they are a danger to themselves or to others. In the files that Dr. Sullivan is searching in "I Must Confess" it states that "A" is more than willing to hurt other people, has an obsession with revenge, and even refers to the liars as "nosey bitches."
Mona was clearly horseback riding with Hanna at the time "A" gave Emily a message in "Touched by an 'A'-ngel", indicating Mona had a helper. (Mona reveals this to be Lucas in "'A' is for A-l-i-v-e")
In "This Is A Dark Ride", it was thought two members other than Mona and Toby were on the Halloween train. They were wearing the Queen of Hearts costume who sedated Aria, then trapped her in a wooden coffin with a dead Garrett Reynolds (who Wilden killed). Also, when Aria was being pushed off a train, you could clearly hear a female voice (Melissa) encouraging a reluctant male voice (Wilden) to help push.
In "Dead to Me", Emily recalls remembering another event from That Night. She saw an "A-Team" member (Mona) trying to open Alison's coffin while the Big A watched and supervised.
"Big A" carries around Vivian Darkbloom's driver license and uses it.
Throughout the series, it is suspected, then confirmed in "Welcome to the Dollhouse", that Big A's favorite liar is Alison. This may be because Charlotte thought Alison was her sister. This is shown when "A" gives Mona-as-Alison a gas mask with a note that reads: "Because you're my favorite. -A".
Trivia
"A" is left-handed. This affirmation is for the Original A (Mona), Big A (Charlotte) isn't left-handed.
In an interview for ABC Family, Oliver Goldstick and Marlene King discuss "A," clearly referring to "A" as she multiple times.
Mona as "A" often used Wizard of Oz references, custom designing a fortune cookie that reads "Lions and tigers and bitches, oh my!" (from "Lions and tigers and bears, oh my") and There's No Place Like Homecoming (Dorothy's words at the end of the film: "There's No Place Like Home"). In Can You Hear Me Now? "A" sends a flier towards the liars that reads, "Ding Dong, the Bitch is Dead," a reprisal of the film's song "Ding Dong, the Witch is Dead."
Money must not be a problem for "A" to come by because "A" can afford extravagant pieces.
In "A is for Answers", Alison confessed to being the person that saved Spencer from Ian, although she didn't kill him.
Fans believe that it was Toby who gave Emily that call towards the end of "The Lady Killer". However, it's not confirmed.
In the same episode, Mona revealed that the "A-Team" was plotting to frame Paige prior to Nate/Lyndon disclosing murdering Maya.
While "A" exists in both the books and TV series, in the books, the two "A's" are not affiliated with each other, whereas the "A's" in the TV series seem to all be connected.
In Seasons 1 and 2, multiple people have commented on A's pretty eyes.
Throughout 3A, there were more than one "A" doing the dirty deeds. This is known because the episode before CeCe Drake came to town, A rents an apartment. In addition, in "Single Fright Female" one A gives an apartment key to another A. In "Game Over, Charles" those two A's were revealed as Charlotte DiLaurentis (better known as CeCe Drake) and Sara Harvey.
"A" has used both the phrases "act normal bitch(es)!" and "dead girls can't smile" on more than one occasion.
In 6B, Uber A commonly uses either devil emoji to sign their texts instead of "-A", or doesn't sign their texts at all. This stopped at the season 6 finale, when the first text signed as A.D was sent.
Until Aria began helping A.D. in In the Eye Abides the Heart , Spencer was the only Liar to ever join the A Team. 
Overall in the whole series, 15 characters have been revealed as 'A' or a helper to 'A'. 
A's Expenses
Quotes
Hanna: If Ian didn't kill Ali, did "A"?
Aria: "A" knows everything.
Emily: If that bitch is "A", then this could be a trap.
Alison: You know, I really should do something about that "A". That bitch is genuinely getting on my nerves.
Mona (A) [to Spencer]: You're not the only genius in this car. You bitches underestimated me.
A: I'm still here bitches, and I know everything.
A: Mona played with dolls, I play with body parts. Game on, bitches.
A [after removing all messages from the girls' phones]: Let's all start with a clean slate.
A: MY DRESSES. MY GAME. MY RULES.
A: You'll get your $$$ back if you do what I say. Sweet dreams.
Toby [about "A"]: It's always felt like a "she", hasn't it?
A: Be Careful, Hanna. I Heard Prison Food Makes You Fat.
A [in a note placed in Hanna's mouth so small it required a magnifying glass to read]: I told you, dead girls don't smile. Stop looking.
Community content is available under
CC-BY-SA
unless otherwise noted.