A VoicemAil is the third webisode of Pretty Dirty Secrets. It aired on September 11th, 2012.
Synopsis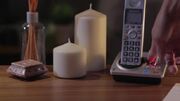 In this webisode, we see the inside of Mrs. Reynolds' house, presumably after she returns home from the hospital. She goes to the answering machine and plays four new messages. The first comes from a pharmacy about her prescription, the next is Garrett calling to tell her he has the tickets and she should be packed and ready for the morning of the 1st (of November), another comes from the Rosewood dry cleaners, and the last one is someone breathing deliberately into the phone.
Notes
We only see a woman's hand drop the keys and delete the messages, so we do not know for certain this woman is Mrs. Reynolds.
Cast and Crew
Webisode