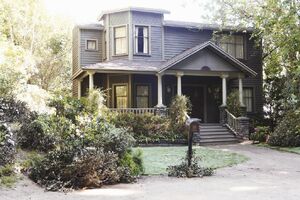 Alison's House (also known as The DiLaurentis-Fields house and The DiLaurentis house) is the childhood home of Alison and Jason DiLaurentis.
They lived in the house with their parents, Kenneth and Jessica. Currently, Emily Fields, and the DiLaurentis-Fields twins, Lily and Grace, lie in the home together. Alison has since moved to Beacon Heights while her ex-wife and daughters remained behind in Rosewood.
Address: 29 Bridgewater Terrace
Overview
Kenneth and Jessica DiLaurentis moved into the house with their children Jason and Alison so they could be close to their son Charles who had been admittEd to Radley Sanitarium. Afterward, only Jason and Alison lived in the house with their parents until Alison went missing. Alison's believed death prompted the DiLaurentis' to move out of Rosewood.
A year later, Maya St. Germain and her family moved into the house. Alison's body was then unearthed in the backyard of their house, where a new gazebo was being built. After Maya's death, Jason bought back the house and began renovating it himself. In Season 4, Jesica moved back into the house alone, without Jason, after separating from her husband. In Season 5, after being revealed as alive, Alison returned to Rosewood and moved into the house with her brother and father. Her mother's body was later discovered in the backyard with her having been buried there. Later in Season 5, the girls watched the news as Bethany Young was revealed to be the girl buried in Alison's believed grave. Moments later, the Cavanaugh house blew up, and the explosion shattered the windows in the DiLaurentis home.
Alison briefly lived in the house with Charlotte before her death, and Archer Dunhill before his death.
The Hastings' residence is next door to the DiLaurentis home which makes them neighbors. There have been conflicts between Spencer and Jason's parents over property lines in the past. Spencer's bedroom is visible from Ali's bedroom and vice versa. The Cavanaugh house is also next door to the DiLaurentis', as they were able to witness and feel the aftermath of the explosion from their house. Alison used to accuse Toby of spying on her and the girls while they were changing as teenagers, although Toby claims that he never did.
Series
Known Residents
Continuity
Gallery
Community content is available under
CC-BY-SA
unless otherwise noted.