"
Next time you call Archer tell him that I said go to hell!
"
Along Comes Mary is the fifth episode of Season 7 of Pretty Little Liars and the 145th episode of the show overall. It aired on July 19, 2016.
Synopsis
Jenna returns to Rosewood and befriends another one of the Liars' enemies, making her the PLLs' number one suspect for Uber A. In order to leave the psychiatric hospital, Ali must be released into the care of a relative, leaving her under the suspicious watch of Mary Drake. Spencer enlists Hanna's help to search for Caleb as he's missing in action. Aria and Emily stumble upon a secret apartment they hope will lead them to more answers.
Plot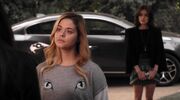 Aria heads to the DiLaurentis house to check in on Alison and she is shocked when she arrives and sees Mary Drake. Alison explains that Welby wouldn't release her without a family member there to watch her. Aria is worried but Alison reassures her that she will be fine, and she is killing two birds with one stone. She is out of the hospital, and she can try to get some answers out of Mary Drake.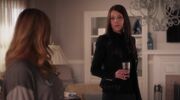 Alison heads inside with Mary. Mary explains that Elliott tracked her down in London and told her that Charlotte was murdered, they bonded over their grief for Charlotte. Mary whines that Elliott was clever and manipulative and took advantage of her. Mary insists that she never wanted Elliott to get revenge and kill Alison, she apologizes and asks for Alison's forgiveness. Mary excuses herself and heads to the guest room to lie down.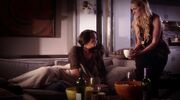 Emily wakes up on Sabrina's couch, she makes her a cup of coffee and they flirt and share their first kiss. Emily's cell phone goes off and she starts freaking out and realizes her test started 10 minutes ago, she runs out the door.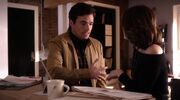 Ezra returns home and is surprised to see Aria in his apartment, she says she just needed a quiet place to write. Ezra tells Aria that he went to New York to see Nicole's parents, he wanted to tell them that he was moving on with his life and was seeing Aria. Aria is glad that he went and happy he was honest with her.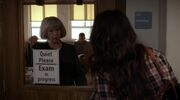 Emily arrives at the exam room but they don't let her in.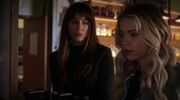 Hanna and Spencer are at the coffee shop, they over hear the cops talking about finding Rollins' abandoned car. Hanna freaks out, she's sure that they are going to get caught. Spencer tells her to keep calm.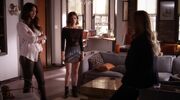 Emily and Aria get a message from Mona, she has been working on Elliott's burner phone. Mona made an interesting discovery. The night that Elliott was killed, he texted someone and told them that Alison didn't kill Charlotte. They have no idea who he sent the message to. Mona also gave them an address where Elliott used to go to every day. Emily and Aria fill Alison in on what they found out. She doesn't want to hear it. They decide to do check out the address, but Alison says that it is too risky. The cops might be watching the apartment, and if they see the liars there they will link them to his disappearance.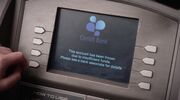 Afterward, Alison heads to the ATM and tries to take out some cash, she is shocked when she realizes there is no money in her account.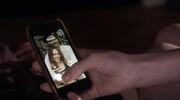 Aria heads back to Ezra's apartment, she hears a cell phone ringing and finds his in his bag. She is shocked when she sees that it is Ezra's dead ex Nicole on the caller ID. She answers the phone and hears people talking in a foreign language. Aria freaks out and deletes the call so that Ezra doesn't see it.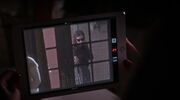 Spencer is searching all over Rosewood looking for Caleb. Meanwhile, Hanna is at the coffee shop, she is shocked to spot Jenna and tells Spencer. Spencer wants Hanna to trail Jenna and see what she is up to.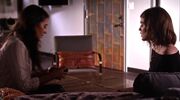 Aria heads over to Emily's to talk to her about the strange Nicole call. But, Emily has even weirder news. She got an email from school saying that she scored a 92% on the test she didn't take. Then Emily got a message from AD, it read, "Thank me later ungrateful bitch".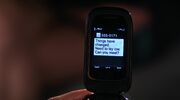 Emily wants to find out who A.D. She picks up Elliott's cell phone and texts the mystery number pretending to be him, the number texts back and tells them to meet at the "regular spot". Aria thinks that the "regular spot" is the secret apartment Elliott had, the one that Alison told them not to go to.
Mary finds Alison ransacking the house. Alison is having a meltdown, she shouts that Elliott robbed her, he took everything – her checkings, savings, safety deposit box, and her shares of the Carissimi Group.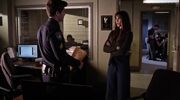 Spencer heads to the police station to ask Toby for help finding Caleb. Toby knows where Caleb is and he reassures Spencer that he is fine, he just needs some time to think by himself. On the way out, Spencer bumps in to Marco Furey, Toby introduces them and reveals that Marco is his new boss on the Elliott Rollins case.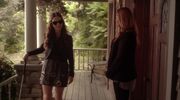 Jenna shows up at Alison's doorstep. She is shocked to see Alison at the door, she says that she thought Alison was still in the hospital. Jenna admits that she knows Elliott – Alison says that he doesn't live there any more, and demands to know how she and Elliott knew each other. Jenna says it was a mistake for her to stop by and leaves abruptly.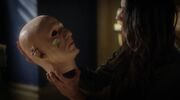 Emily and Aria show up at the apartment that Elliott was hiding. They find a fake head hidden in the bed, and photos of Darren Wilden.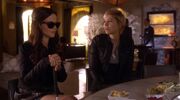 Jenna heads to the bar and she bumps in to Sara Harvey and introduces herself. Jenna agrees to have a drink with her and they chat.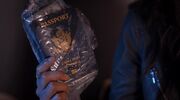 At Elliott's apartment, Emily finds a Passport hidden in the sink underneath the dirty dishes.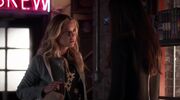 Hanna tracks Spencer down at the cafe, Spencer is upset because she still hasn't found Caleb. Hanna wants to know what she can do to help. Spencer says she can start by not wearing one man's ring when she still has feelings for another man.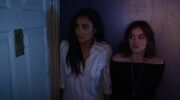 Emily and Aria are still snooping around the apartment when they hear someone outside, there's a knock on the door, and a voice shouts that the Rosewood PD is outside. Luckily for them, it's just Toby.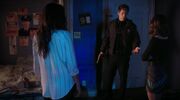 Emily lets Toby in, she explains that Alison found a slip of paper at her house with the address on it, so they decided to check it out and see if Elliott was there. Toby kicks them out so that he can call Detective Furey. He warns Emily and Aria that they better not have touched anything, because the detectives are going to comb through the apartment and their fingerprints are all over it.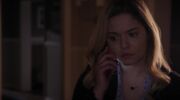 Alison is at home with Mary Drake. Mary reminisces about a lullaby that she and Jessica used to listen to when she was little. Their chat is interrupted by a phone call from the Rosewood PD, she heads down to the station and meets Detective Marco.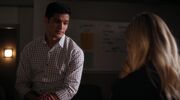 Marco has some interesting news, he says that they are searching for Elliott in Baltimore. Apparently, someone rented a car with Elliot's credit card, and now they have all of the highway patrol looking for the rental. The police think that Elliott is still alive.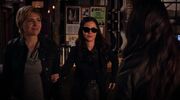 Emily heads to the cafe to grab some coffee – she is shocked to see Sara and Jenna there hanging out together. They both taunt Emily, and oddly enough, they both know that she is going back to college at Hollis.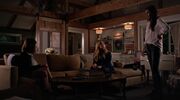 Aria, Alison and Emily meet up, and Alison reveals that Elliott robbed her and she is completely broke. She fills them in on the police searching for Elliott in Baltimore. Someone is using his credit card, and Emily thinks that it might be Sara and Jenna. Aria gets a text from Ezra asking her to meet up with him at the Brew and she rushes out.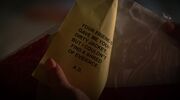 Spencer is going to bed alone, meanwhile, Hanna is at home with Emily, who is comforting her. Alison heads home, she finds her red coat hanging in the closet with a note on it from A.D. The note reads "Your friends gave me your jacket, but I couldn't find a shred of evidence on it".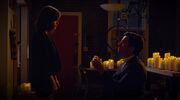 Aria heads to the Brew and it's empty, upstairs she finds the apartment full of candles and Ezra is waiting for her in a suit and tie. Ezra gives Aria an emotional speech, he tells her that he wants her in his life for the rest of his life, then he gets down on one knee and pulls out an engagement ring and asks Aria to marry him.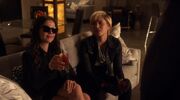 At the end of the episode, Jenna is still drinking at the hotel with Sara, and they are joined by Noel Kahn.
Notes
This episode marks Noel Kahn's first appearance since "March of Crimes". He is seen sharing a drink with Jenna and Sara.
Emily overslept and missed a college exam. Later, she receives an email from Hollis saying she passed and gets a message from A.D., "Thank me later, ungrateful bitch."
Searching through Archer's burner phone, Aria finds out he knew Alison didn't kill Charlotte. Aria also suggests that the night Archer was driving away with Alison, he didn't intend to kill her.
Aria and Emily communicate with Archer's accomplice through the burner phone, but their identity isn't given up yet.
Emily and Aria find a room filled with evidence that Archer Dunhill left behind, such as posters of Darren Wilden, a passport and a fake head.
Marco Furey has a meeting with Alison about Archer's whereabouts.
Mary Drake claims she stopped working with Archer after he revealed his true intentions with Alison, and says he backstabbed her after Alison finds out he stole all her money.
Aria finds Ezra's phone ringing with a call from Nicole, suggesting she is possibly alive. Although no one responds on the other line, there is noise coming from a busy Spanish place in the background.
At the end of the episode Ezra proposes to Aria, and we learn in the next episode that she said she has to think about it.
Title and Background
It refers to Alison being released from psychiatric hospital into the care of Mary Drake.
Main Cast
Supporting Cast
Trivia
The table read for this episode occurred on May 11th, 2016.[1]
This episode was shot simultaneously with "Wanted: Dead or Alive" for a very specific reason.[4]
The intro in this episode features Aria doing the 'Shhh'.
The episode was watched live by 1.17 million viewers.
This episode marks Sasha Pieterse's (Alison DiLaurentis) 100th appearance on Pretty Little Liars (if you count "The Bin of Sin" bonus scene).
Featured Music
"Perfect Day" by AMY STROUP - (Emily awakens to Sabrina offering her coffee then they share their first kiss when Emily receives a text from the girls asking for a meeting while also realizing she's late for her test).
"Island (feat. Ryan Levine)" by Ethel and the Chordtones - (Hanna and Spencer overhear the police report that Elliott's car as been found as they get coffee at the Brew, and then discuss who Elliott's possible texting partner was).
"Where Fear Runs Through" by Trent Dabbs - (Spencer calls Hanna and asks for her help to find Caleb. As they chat, Hanna spots Jenna outside of The Brew, and Spencer advises her to follow Jenna but Hanna disagrees due to the police).
"Something's Got a Hold on Me" by Angel Snow - (Aria shows Emily the Wilden photo display in Elliott's flat; Sara orders a drink at The Radley bar when Jenna arrives, decide to have drinks together after bonding over their mutual acquaintances).
"Nothing but a Fight" by The Palace Steps - (Hanna meets with Spencer at The Brew, she tells her about Emily and Aria finding out about Elliott's second apartment and their trap for Jenna; Hanna tries to make things right between Spencer and Caleb).
"Little Sparrow (feat. Andrea Parker)" by Pretty Little Liars Cast - (A much more happier Mary hums to herself as returns back to the house after taking a walk, Alison questions her about where she went).
"Dusk" by WILSEN - (After placing an order Emily goes over to Sabrina and asks her out on another date after awkward encounter earlier; Emily spots Sara and Jenna hanging out together).
"Little Sparrow" by Baraka May - (Spencer ponders her empty bed then goes to the couch; Hanna fiddles with her engagement ring when Emily brings her a drink; Ali finds a note with her returned jacket from A.D.; Aria arrives at The Brew).
"In the Shadows" by AMY STROUP - (Jenna and Sara toast to friends in The Radley lounge when Noel Kahn arrives).
Gallery
References