Pretty Little Liars Profile: Andrew Campbell
"
Other towns have nice toxic dumps. Rosewood has you.
"

Andrew Campbell is a supporting character first introduced in Season 3 of Pretty Little Liars. He is portrayed by Brandon W. Jones.
Series
Appearances (13/140)
| | | |
| --- | --- | --- |
| Season 3 (2/24) | Season 4 (1/24) | Season 5 (7/25) |
Season 6 (2/20)
Relationships
Aria Montgomery: Dated. (See "Andria").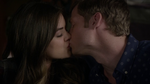 Started: Bloody Hell
Reason: After Aria sprains her ankle in Mike's bedroom, Andrew straps aid ankle and as he's comforting her, Aria kisses him.
Ended: Songs of Experience
Reason:  Andrew blames Aria and the girls for his arrest and wants them to stay away from him.
Quotes
Andrew [to Spencer]: Nobody asked Mona to play. So, put on your Hastings face and spank her tomorrow night like I know you can.
Andrew [about Spencer and Mona]: You guys have history, that's rough.
Andrew: War is a game. You have to play with a smile.
Spencer: Stop quoting Mona!
Andrew: That's Winston Churchill.
Andrew: Can we take one, a break I mean? I'd be good with either a bottle of water and a snack, or you making out with me.
Spencer (laughs): Still with the carpenter.
Andrew [to Aria]: For such a petite girl, you bring a lot of chaos.
Gallery
|}
Community content is available under
CC-BY-SA
unless otherwise noted.