Ashley Benson (born December 18, 1989) is an American film and television actress, and model. She portrays Hanna Marin in Pretty Little Liars and Ravenswood.
Life and Career
Ashley Victoria Benson was born and raised in Anaheim Hills, California. At age 3, she started dancing competitively in ballet, jazz, hip-hop, and lyrical. Ashley also enjoyed singing and had appeared in several choir groups and musicals.  
At age 4, she was asked to audition to sing solo at four Christmas services for her 2,500 member church. At 5 years old, she modeled in dance catalogs, and at age 8 was pursued by The Ford Modeling Agency and worked steadily in print. She has also performed in NLT's music video "That Girl".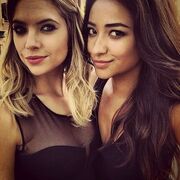 In 2001, Ashley started pursuing an acting career. She began working and appearing on a number of commercials but quickly made the transition into film and television. She did persue in the 2001  Fashion Polly! Hip Stylin' Stage  Polly Pocket  commercial.  In 2002, she was in a Salon Surprise Barbie commercial. In 2004, Benson signed a three-year contract with the daytime television series, Days of our Lives, and on November 12, 2004, began her role as Abigail "Abby" Deveraux until May 2, 2007.
She played a witch disguised as a cheerleader in a 2008 episode of the CW series Supernatural. In films, she was one of the "Six Chicks" in 13 Going on 30, and appeared as Carson in an installment of the Bring It On series, Bring It On: In It to Win It.
In 2008, she appeared in the Lifetime TV movie Fab Five: The Texas Cheerleader Scandal, where she played head cheerleader Brooke of the Fab Five, which is based on a true story which took place at McKinney North High School in Texas. 
In 2009, she was cast as Hanna Marin in ABC Family/Freeform show, Pretty Little Liars. She starred alongside Shay Mitchell (Emily Fields), Troian Bellisario (Spencer Hastings), Lucy Hale (Aria Montgomery), and Sasha Pieterse (Alison DiLaurentis). She portrayed the role of Hanna Marin from 2009 to 2017, when the show officially wrapped their final season.
During 2012, she starred in an Indie film-movie called, Spring Breakers alongside Selena Gomez, Vanessa Hudgens, and James Franco. Spring Breakers is still one of her favorite projects she has ever done. In addition, Ashley did not get paid for the project, despite it being a smash hit at theaters, and earning over thirty-one-million dollars worldwide.[1]
After Pretty Little Liars wrapped in 2017, she took a break from both acting and directing. Her next major project after PLL was a movie called Her Smell. In 2018, Ashley was linked to her Her Smell co-star Cara Delevingne. Their relationship was soon made public by the media and paparazzi. Ashley has been dating Cara since 2018.
Ashey was set to make her directorial debut in 2019 when she was thought to direct a Season 1 episode of Pretty Little Liars: The Perfectionists. She ended up shadowing Arlene Sanford for "Dead Week" with plans to direct an episode of Season 2.
Filmography
Movies
Television
Year
Show
Role
Notes
2002
Niki
Dancer
Episode "Working Girl"
The District
Melissa Howell
Episode: 'Explicit Activities'
The West Wing
Girl
Episode: 'Game On'
2004
Strong Medicine
April
Episode: 'Cape Cancer'
2004–2007
Days of our Lives
Abigail Deveraux
175 episodes, November 12, 2004-May 7, 2007
2005
7th Heaven
Margot
2 episodes

Candice

1 episode

2006
The O.C
Riley
1 episode
2008 - present
Supernatural
Tracy Davis
1 episode - 4x07 "It's the Great Pumpkin, Sam Winchester"
CSI: Miami
Amy Beck
1 episode
2009–2010
Eastwick
Mia Torcoletti
Regular role, 13 episodes, Series Cancelled
2010–2017
Pretty Little Liars
Hanna Marin
Main role, ABC Family (now Freeform) Original Series
2013
How I Met Your Mother
Carly Whittaker
Barney's half-sister, 1 episode
Quotes
On audition for PLL: I was sobbing right before it. Eastwick was canceled that Monday. The next morning, I was in the casting offices. I was literally crying in the office because I had just found out that my show got canceled.
Talking about Haleb in Season 7: I mean, I say I always want them to be together, but I don't know if that's where their storyline is going to go. I hope it does. In a perfect world, I mean, I would want them to get back together. But, we'll see.
They didn't let us take anything! I was really excited to take her clothes. But everything is owned by Warner Bros. so we couldn't really do much there. I was so sad.
When I found out the ending, it was really shocking. You would never think that would even be possible. I think the fans are going to be really shocked. It completely came out of nowhere which was really cool. But everyone's storyline kind of wraps up.
Being able to play a powerful female in a role — in a lead role at that, because there aren't a lot of lead opportunities for women — is super important for me to find. I think it's really important for me to play someone that people talk about afterward and say, 'wow, that's an amazing woman. I wanna be like her.
We're always going to be a family. This is not the end for any of us.
Ashley (via Instagram): I LOVE YOU GUYS. Thank you for coming on this journey with me and the rest of the cast for the last seven years. Without all of you watching every week none of this would've been possible. Pll was such an amazing experience and I am so lucky I got to work with the BEST cast and crew who I am now lucky enough to call family. Hope you enjoy the last episode ever of PLL
Trivia
Both Ashley Benson and co-star Tyler Blackburn had appearances on Days of Our Lives.
She is best friends with co-star Shay Mitchell. They have live streams together called "Buttah Benzo."
She met her future costar Lucy Hale at the age of 15 through Myspace via mutual friends of theirs.
She previously appeared on Days Of Our Lives where her uncle was played by Roark Critchlow who plays her father on this show. Though both appeared at different times. She also briefly appeared on an episode of Zoey 101 where Roark Critchlow appeared recurringly as the main character's father.
Ashley was born two months early weighing 2 pounds 8 oz. She was in NICU for a month. Her parents were told she would need heart surgery on Christmas Day. Prayers were answered when her parents went in Christmas Day and were told by doctors that her heart had closed up. Ashley never needed any surgeries. She was released to go home at 4 1/2 pounds after being hospitalized for two months.
The theme song for Pretty Little Liars "Secret" by The Pierces was suggested by her. Since she's a fan of their music and told the producers and creator claiming, "It's so spooky and eerie and it's perfect for the show." So they took up the song on her suggestion.
Her first acting job was in a Dominos Pizza commercial.
She has done a photoshoot with Britney Spears for Vogue magazine.
One of Ashley's funny experiences on getting recognized is when she was buying ice cream at McDonald's with her cousins when the lady at the counter asked her "You look really familiar. Are you Abby on Days Of Our Lives?" Then she made Ashley sign a McDonald's bag.
She has an older sister Shaylene who is a year older.
Ashley's favorite actors include Robin Williams, Leonardo DiCaprio, Johnny Depp, Denzel Washington, Dustin Hoffman, Tom Cruise, Nicole Kidman, and Renee Zellwegger.
Ashley appeared in Lil Romeo and Solange music video for their song 'True Love'.
She is afraid of heights.
Ashley loves Glee and is friends with Glee actor Chord Overstreet.
Ashley was in the music video for "Honestly" by Hot Chelle Rae. She was the over obsessive girlfriend of the lead singer for the video.
Both Ashley and Lucy play the younger siblings of the character's Barney and Robin, who are engaged, making Lucy and Ashley's characters in-laws.
She has a "hidden talent" that she learned from ages 11 to 12, that she can talk with her mouth closed.
She started going bald during season 3 of PLL, due to her excessively bleaching her hair. She even got a call from Warner Bros. telling her she had to do something about her hair.
Ashley wanted to direct an episode of Pretty Little Liars: The Perfectionists.[2] Shortly after her statement, I. Marlene King initially confirmed that Ashley would be directing an episode of Season 1. Instead of directing, Ashley shadowed Arlene Sanford during the episode "Dead Week". According to Ashley, the experience was great. 
She attended the red carpet premiere of Pretty Little Liars: The Perfectionists.
Gallery
References