"
Alison: You need to break up with Ben.
Emily: What, why?!
Alison: Because you deserve better.
"

— Alison to Emily

Bemily is the couple name for Emily Fields and Ben Coogan.
Season 1
Ben and Emily are together in the episode. Emily is getting more comfortable with Maya, but Ben doesn't really suspect anything about her sexuality. Ben tries to kiss Emily at her locker, but she starts to pull away. Maya and Emily have a sleepover, and the next day Ben drives Maya & Emily to school, and makes jokes about them sleeping together. Emily feels a little awkward about it. This might show that Ben felt insecure about his relationship with Emily.
Emily tries to tell herself she likes Ben, and is straight by kissing him passionately in his car, but is then disturbed by Ben's jock friends who are making jokes. Hanna saves her and they walk away, leaving Ben.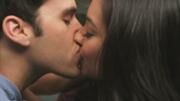 Ben tries to kiss Emily again, but she continues to back away.
Ben asks Emily to Noel Kahn's party, and she accepts to be his date to the party.
When Emily is done with swim practice, Ben sneaks up on her to surprise her, and he wants to have sex with her, but Emily doesn't want to.
Ben does not quit, though. He is forcefully trying to remove her swimsuit, and Emily realizes she's being sexually assaulted, and gets scared and tells him to stop multiple times. To Emily's luck, Toby Cavanaugh comes to her rescue and saves her. This begins a friendship between Toby and Emily.
Ben asks Emily if Toby's the reason why she doesn't want to be with him, and Emily just tells him to get over himself, and walks away.
Emily does go to Noel Kahn's party after all, but not with Ben. She goes with Maya St. Germain as her date, instead.
Ben is surprised that Emily showed up to Noel's party, and Emily disses him and says that she didn't come here for him, and she walks away.
This is the last time we see Ben Coogan in present time. The only time he appears later is in a flashback. 
Season 2
Ben and Emily slow dance in a flashback at the Halloween party.
In the flashback, Hanna discovers that Ben is telling everyone that Emily and him had sex. Emily does not deny this.
Later on, Alison and Emily are walking together. Emily tells her that Ben and her did not actually had sex.
Gallery
Community content is available under
CC-BY-SA
unless otherwise noted.