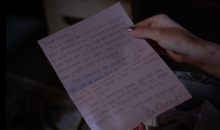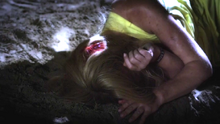 Bethany Young was a 17-year-old Radley Sanitarium patient that was murdered the night of Alison's disappearance. A year later, her body was discovered and incorrectly identified as Alison DiLaurentis. She was hit on the head by Mona Vanderwaal, who thought she was Alison, and was later buried by Melissa Hastings, who also thought she was Alison and that she was protecting her sister.
Biography
Bethany Young was originally from Bryn Mawr, a town only ten miles outside of Rosewood. She was a troubled teen that often suffered from numerous behavioral episodes that may have been violent and/or aggressive. This led to her being admitted to Radley Sanitarium.
At Radley, Bethany made friends with Charles DiLaurentis and was supportive of Charles dressing as a girl. One night whilst hanging out with Charles on the roof of Radley, Marion Cavanaugh walked onto the roof. Charles asked Bethany to help him as Mrs. Cavanaugh could not see him dressed as a girl. Bethany spoke to Marion before pushing her off the roof, presumably to keep Charles' secret safe. However, when a shocked Charles asked Bethany what she'd done, Bethany told him that he had pushed her and called him a freak. This led to Charles being diagnosed with intermittent explosive disorder, although Bethany was actually the one who had it.
While Bethany was a patient at Radley, she was introduced to Jessica DiLaurentis who, at the time, was on the board of the sanitarium. Jessica often took her out on day trips. And on one occasion, took her to stables in Harrisburg. This is where Jessica purchased Bethany's horse named Custard. Jessica insisted that Bethany call her Aunt Jessie. Bethany was angered by Jessica's comment, and she proceeded to throw a bucket at her.
Following this incident, she somehow found out that Jessica was having an affair with her father. Bethany was outraged and she took out her anger by sketching pictures of Mrs. DiLaurentis with devil horns, the word "liar" written across her face, and usually with some sort of a demon chasing or attacking her.
On September 1st 2009, Bethany stole Charlotte DiLaurentis' clothes (which matched the clothes Alison DiLaurentis was wearing that night) and left Radley under Charlotte's identity, as Charlotte had out-privileges to attend classes at UPenn. She headed for Rosewood and wanted to hurt Jessica because of the affair. She made it to the DiLaurentis back yard but before she could enter the house, Bethany was hit with a shovel by Mona Vanderwaal, who believed that she was Alison DiLaurentis, due to their matching clothes and blonde hair. Mona fled the scene and Bethany's unconscious body was found by Melissa Hastings. Melissa also believed that she was Alison and that her sister, Spencer Hastings, had hit her with the shovel as she had seen them fighting with it earlier that night. Melissa wanted to protect her sister and so pushed Bethany's body into the shallow grave where Alison had been earlier and buried her, unaware that she was not Alison, nor was she dead.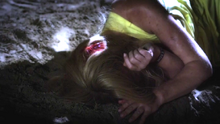 Bethany's body was found a year later when Maya St. Germain's family moved to the DiLaurentis house. The body was discovered by builders who were knocking down the gazebo that had been constructed on the site where Bethany's body had been buried. She was identified as Alison DiLaurentis by the police because somebody switched Alison and Bethany's dental records.
When the police discovered that Alison was in fact alive, the Rosewood PD exhumed Alison's grave to identify the Jane Doe that had been misidentified and buried in her place. They then announced that it was Bethany in the grave via a televised press conference.
Series
Notes
In September 2013, Marlene tweeted "There's a B in the box. #PLLclue"
Melissa Hastings is Bethany's killer. She was the one who killed her by burying her alive. She was knocked unconscious by Mona Vanderwaal with a shovel because she was thought to be Alison from behind. Melissa then found her unconscious body and thought Spencer had hit her (as she saw Spencer walking around with a shovel), so she pushed Bethany in thinking she was Alison (without looking at her face) and buried her unbeknownst to her that she was still alive.
In July 2015, Marlene confirmed via Twitter that we will see Bethany's face in Season 6A.
Bethany had IED (Intermittent Explosive Disorder) although she was never diagnosed, due to her framing Charles for having it.
She killed Marion Cavanaugh presumably to protect Charles' secret, although she framed him for it when asked.
Community content is available under
CC-BY-SA
unless otherwise noted.