Bethany Young was a 17-year-old Radley Sanitarium patient that was murdered the night of Alison's disappearance. A year later, her body was discovered and incorrectly identified as Alison DiLaurentis. She was hit on the head by Mona Vanderwaal, who thought she was Alison and was later buried by Melissa Hastings, who also thought she was Alison and that she was protecting her sister.
Biography
Bethany Young was born in Bryn Mawr, Pennsylvania. She was a troubled girl that suffered from numerous violent behavioral outbursts. She was later institutionalized by her parents at Radley Sanitarium.
While in Radley, Bethany befriended Charles DiLaurentis. She was supportive of Charles wanting to become a transgender girl and kept his secret. One night, Charles and Bethany snuck onto the roof of Radley Sanitarium. They discussed running away from the Sanitarium, to which Bethany explained that running away was easy - it was staying gone that was the hard part. Charles imitated a girl and spun in a yellow dress, which Bethany complimented him on. Moments later, Marion Cavanaugh walked onto the roof. Charles asked Bethany for help as the fallout of Marion seeing him in a dress wouldn't be good. Bethany agreed and went to speak with Marion. Moments later, Bethany pushed Marion off the roof, which killed her. A shocked Charles asked Bethany what she had done, and Bethany turned on him and blamed him for pushing Marion. She called him a freak and when questioned by the Sanitarium employees and police, lied and said that Charles pushed Marion. Charles was incorrectly diagnosed with an intermittent explosive disorder, which was a more accurate diagnosis for Bethany.
She was later introduced to Jessica DiLaurentis who, at the time, was on the board of the sanitarium. Jessica often took her out on day trips. On one occasion, Jessica took Bethany to a stable in Harrisburg. This is where Jessica purchased Bethany a horse named Custard. Jessica insisted that Bethany call her Aunt Jessie. Bethany was angered by Jessica's comment and proceeded to throw a bucket at the woman.
Afterward, Bethany discovered Jessica was having an affair with her father and that Custard was a hush present. Bethany was outraged and expressed her anger by drawing Jessica with devil horns or other crude images or words around the woman. Her anger was so distinguishable that many patients, including recently transitioned Charlotte, heard about Bethany's obsession with Jessica.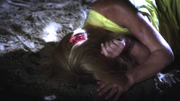 On September 1st, 2009, Bethany stole Charlotte's clothes and snuck out of Radley under Charlotte's identity. Because Charlotte had out privileges, no one questioned Bethany when she left. She wanted to hurt Jessica because of her affair with Mr. Young. She made it to the DiLaurentis' back yard when she was spotted by Mona Vanderwaal, who mistook Bethany for Alison DiLaurentis, due to their matching clothes and blonde hair. Mona struck Bethany over the head with a shovel and fled the scene. Bethany's unconscious body was found by Melissa Hastings, who also believed Bethany was Alison. Melissa had seen her sister, Spencer Hastings, fighting with Alison earlier that night, and thought Spencer had hit Alison. Melissa pushed Bethany's body into a shallow grave, unaware that she was not Alison. Unbeknownst to Melissa, Bethany was still alive.
Bethany's body was found a year later when builders knocked down a gazebo and discovered a female body. The autopsy report falsely identified her as Alison DiLaurentis after unknown person switched Alison and Bethany's dental records.
When the police discovered that Alison was alive, the Rosewood PD exhumed the grave to properly identify their Jane Doe. In a televised press conference, it was announced to the public by the Rosewood chief of police that the body had been identified as Bethany Young.
Series
Notes and Trivia
Gallery
Community content is available under
CC-BY-SA
unless otherwise noted.