Bianca Jasmine Lawson is an American film and television actress. She is mainly known for her role on the ABC Family telvision series Pretty Little Liars as Maya St. Germain.
Biography
Bianca Lawson was born on March 20, 1979 in Los Angeles, California, into a family of artists (her mother, Denise (née Gordy) was an actress and dancer; her father, Richard Lawson, was also an actor). Even though education was stressed heavily, Lawson naturally gravitated to the arts. She began her foray into the entertainment industry at the age of nine appearing in a national televised Barbie commercial for Mattel. Lawson spent her teen years studying acting at the Stella Adler Conservatory and graduating from the prestigious Marymount College Preparatory School. She went on to study film and psychology at University of Southern California. Since then, Lawson has appeared in television commercials for Revlon, two mini-series on TV, numerous television shows, and several feature films.
Lawson's big break came when she was cast in the hit television series Saved by the Bell: The New Class. This was soon followed by appearances in Sister, Sister and Goode Behavior, where she was awarded the series regular role of Bianca Goode opposite Sherman Hemsley. She next appeared on Buffy the Vampire Slayer,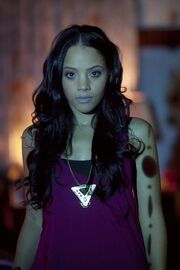 portraying Kendra Young, a Vampire Slayer who is activated as a result of the temporary death of the show's title character, Buffy Summers, in that series' first season finale. Her career continued with a string of further successful television appearances, including roles on such hit shows as The Steve Harvey Show and Dawson's Creek. Lawson also made appearances in the television mini-series The Temptations as Diana Ross, and The Feast of All Saints as Anna Bella Monroe. Most recently, Lawson could be seen in successful recurring arcs on the popular television series The Vampire Diaries and ABC Family's hit series The Secret Life of the American Teenager, as well as, most currently, on MTV's hit series Teen Wolf.
Aside from television, Lawson has appeared in the feature films Primary Colors, Save the Last Dance, Bones and Breakin' All the Rules.
Lawson has also provided her voice to the video game Star Wars: The Old Republic.
In December 2009, Lawson was cast as Maya St. Germain in the TV series Pretty Little Liars based on the book series by Sara Shepard though she auditioned for the role of Hanna Marin.
Community content is available under
CC-BY-SA
unless otherwise noted.