The name Byron means "barn and cows". Click Here for Proof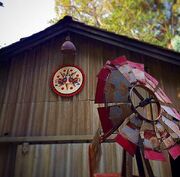 This is a clip of 5x24 where ARIA and MIKE find a cow tongue inside a box. Why a cow tongue? Why this A message to them to stay quiet?

Marlene instagrammed this picture, 4 months ago, with the caption: "It's A sign." Click Here To See Her Instagram Post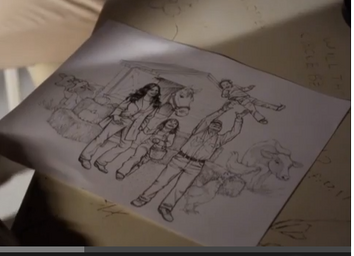 Second definition of cow as a verb. Hm.

This is Wren's drawing. It is of a family infront of a barn. There is a father, mother, young girl, and little boy. The young girl and little boy seem to have the same age difference as Aria and Mike. So, you see, Byron, Ella, Aria and Mike. And several cows to their left and one on their right.
Velkomnir means welcome in Icelandic.
Listen to the voice at the beginning of the #bigAreveal preview say "velkomnir".
Who spontaneously decided to move his family to Iceland for a year after Alison went missing?
Byron is big A.  Bethany Young is Byron's illegimate daughter. I am confident that Aria knew nothing about this. Alison discovered her mother (or aunt Marion) was having an affair with Byron. Jessica, not having the ideal mother-daugher relationship with Alison, tries to redeem herself by pursuing one with Bethany (her daughter OR possible niece). She attempts to have the bond with her that she never had with Alison. Alison catches on to this and discovers who Bethany really is. She threatens to make a call to Aria if Byron doesn't give her the money she needs. "You know how much it'll hurt Aria if you make that call." The writers made the audience believe the entire Alison/Byron beef was about Meredith. But Aria already knew about Meredith. And Byron knew that Aria knew, he saw them watching him kiss Meredith in the car. The affair with Meredith happened and was even resolved before that fatal night. Aria, Hanna, and Emily even had a conversation about the affair being over before then in episode 3x15. Meredith has always been a red herring when it comes to Byron's involvement with the disappearance of Alison. Byron knew he could not keep paying Alison to stay quiet. Ella was beginning to notice that it was not there, as he mentioned in 3x14. In episode 3x16, Meredith  tells Aria that Byron went to her place that night furious about Alison. She begged him not to go meet Alison but says he went anyway. So when he did, Alison warned him that it was his last chance to save himself, he agreed that it was (for a reason), saw Melissa come out the door on the phone, and eventually walked away (passed the shovel). Many of us believed that was the end of it. But moments after, I believe he returned. He had to put an end to it. And in his last opportunity to save himself and protect his family and Bethany, he picked up the shovel and hit who he thought was Alison. When he saw that it was infact Bethany, his own daughter, he absolutely lost his mind. He leaves and immediately begins looking for Alison.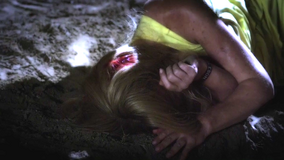 This is when Melissa discovers Bethany's body.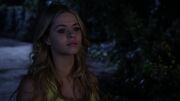 Once Alison arrives on her lawn, Byron picks up a rock and slams it in the back of her head. Mrs. D runs out in horror and loses it. Byron tells her it is all Alison's fault. She knew about Bethany. He tried to scare her into staying quiet about it with threats and messages but she wouldn't listen. She wouldn't back down. He tells her he accidentally killed (or harmed) Bethany. Jessica is devastated. Byron then immediately forces her to bury Alison, maybe even by holding her at gunpoint. Alison awakened but could only see her mother burying her, which led her to falsely believe she was protecting the one who did it. What mother could do that? Seriously?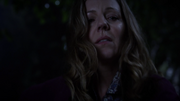 She wasn't protecting someone else, she was being forced to bury Alison by A (Byron). Or else she would die as well. "I buried your Mom the way I watched her bury you." A was clearly present in that moment.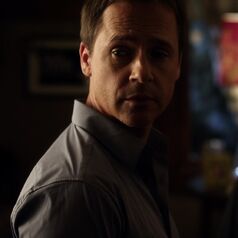 After that night, Byron decided to move his family to Iceland for a year! Why? To help Aria cope with losing Alison? To get away from Meredith? An affair he still hadn't been caught in by Ella or Mike?
Weak motive. How about moving to Iceland because you accidentally murdered someone?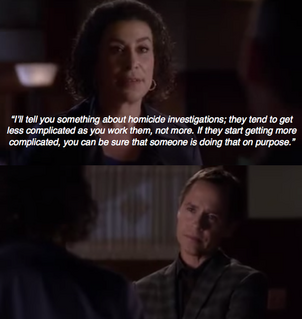 VICTIMS: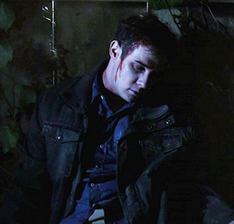 It wasn't until they returned from Iceland that the murders started taking place. And they weren't random. After faking his death at the bell tower, Ian Thomas escaped and was later killed. His killer made it look like a suicide and even left a suicide note (with handwriting similar to Byron's).
Byron's behavior at Ian's funeral was strange. While everyone was looking forward to the casket, Byron kept drifting his focus to the side. Guilty?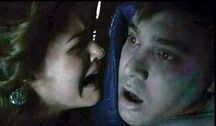 Garrett Reynolds told Spencer that he saw Byron in a heated exchange with Alison the night she disappeared. Spencer tells him she is gonna go get Aria so that he can tell her what he saw that night. As soon as she walks out, Garrett is killed. Right before he was gonna tell Aria the truth about her father. Aria later learns about it from Spencer, but I believe there was more that he saw. Remember in the flash back, he didn't walk away. He hid behind another tree to hear more. It was said by Melissa that Wilden was sent to the Halloween train to kill Garrett, that he was taking orders. Whoever was bossing him around must have been a powerful, older figure.
Det. Wilden was killed immediately after the lodge fire, which Melissa said he started. Red Coat pulled them out and saved them. Ali said when she got there, the rest of them were safe. She only helped Hanna. So if the lodge fire was A's plan than why did Red Coat pull them out? I believe Wilden tried to cross Big A and set the lodge on fire, putting Aria and the liars in serious danger. Big A (Byron) killed Wilden for almost setting Aria on fire.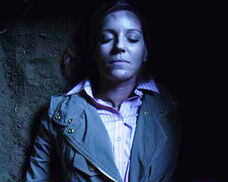 Byron poisoned Jessica DiLaurentis after she told him (through email) that she couldn't protect him anymore. She learned Alison was still alive from CeCe. And maybe Alison's reappearance gave Jessica the courage she needed to step forward and tell the truth about that night. And like every victim who knew too much, she was killed.
HINTS: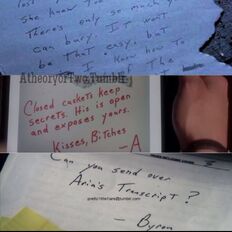 The handwriting in Ian's suicide letter, A's letter to the liars, and Byron's letter is eerily similar. This could be just the same crew member doing the handwriting but they are very detailed about these things. Look at the T's, y's, and A's.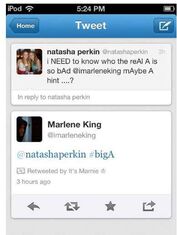 A fan asked for a hint as to who A was and Marlene, being very aware of how smart and observant fans can be, tweeted back "#bigA".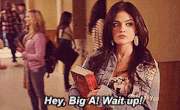 Does this mean Aria is A? 
No
. Remember that the fan asked for a 
hint
, Marlene knew that tiny hint would mislead fans into believing what they already suspect, that Aria is A. But she is not, the writers just encourage suspicion. #bigA is a hint that someone connected to Aria is big A.
The writers would never lead fans directly to A
.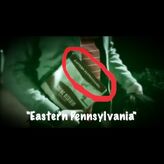 In the ending episode 3x14, a random student walked out of Rosewood High with a textbook in hand that read "Eastern Pennsylvania". What city is located in there?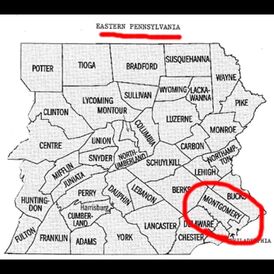 MONTGOMERY. Every hint that has lead PLL fans to believe Aria is A was just a distraction. By giving clues that lead to Aria, they are hinting it is someone close to her. Byron.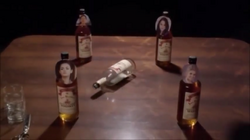 A is always avoiding having to harm Aria.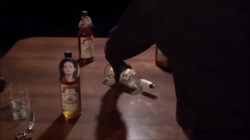 Example:
The bottle stops on Aria.
Nope..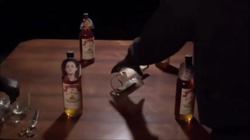 It is adjusted to stop at Spencer.
During a flashback of Alison in Byron's office in episode 3x14, she tells him:
"So you're a department chair now. You're a powerful man, Mr. Montgomery."
In every scene together, the tension between Alison and Byron is dark and intense. Byron even goes as far as to aggresively grab her wrist and snatch her phone away when she threatens to make that call. Sure Ian and Melissa and every other A suspect was resentful towards Ali but they were very expressive about it. Byron, being an adult, had to restrain his feelings of anger towards her. You can feel it just looking at his reaction when she is in the room or even when her name is mentioned.

Notice how Mrs. Grunwald emphasises that ONE of the 3 liars has been touched by who Alison fears the most. Slightly hinting that A is connected to one of them. By Hanna not being present, it narrowed it down a little bit. I'm sure these girls have been touched by plenty of A suspects. But Byron has never had a real moment with Spencer, Emily, or Hanna. He has hugged and touched Aria throughout the entire show. We were made to believe this was Ezra she was talking about, but clearly, he isn't A.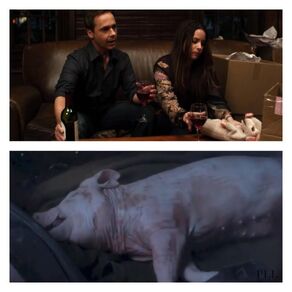 In the pilot episode, which Byron was present, pigtunia makes it's first appearance. Ella mentions that Aria loves it so much because Byron gave it to her. The pig theme has appeared several times throughout the series. In the Season 4 finale, Ali was even holding it while the girls were asleep and she was checking to see if any of them were A.
When Aria and Alison trashed Byron's office, Aria wrote "WHO'S LEAVING WHO YOU PIG".
In episode 3x15, Aria goes to visit Meredith after witnessing her father violently grab her burned arm in an argument. Aria says she has never seen him that angry before. Meredith tells Aria that she saw him rifling through papers and even through her purse. She says when he saw her, he seemed caught and defensive. She then goes into detail about that fatal night.
After locking the liars in the basement, Meredith tells Byron at the 1:25 mark:
"Aria knows everything. She knows about the blackmail, and she knows that you saw Alison that night, that you.." and stops. Then says: "She has proof, Byron. And her friends know too."
In episode 3x17, Byron and Aria have a talk. At the 1:14 mark, Byron begins to open up to Aria. Pay close attention to what he tells her and the emphasis that he puts on the fireplace. He says that when Aria was a child, him and Ella were always paranoid about them turning their backs and Aria getting burned the fireplace. He then says..
"I knew that my one job on this earth was to make sure you didn't get hurt. And I haven't done a very good job, have I?" —Byron Montgomery.
In this clip, pay attention to Byron's reaction to Aria's question at the :56 second mark.

Who else would be jealous/protective of Aria? Especially with someone as random as Jake. Byron put the knives in Jake's punching bag.
Byron has made it obvious how much he disproves of Aria's love interests.
Many have said they believe Alison and Byron had an affair, but that is too much for ABC Family. A 40+ year old man hooking up with a 15 year old? That's Lifetime.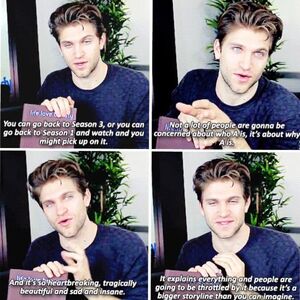 Keegan says: "You can go back to Season 3, or you can go back to Season 1, and watch and you might pick up on it. Not alot of people are gonna be concerned about who A is, it's about why A is. And it's so heartbreaking, tragically beautiful and sad and insane. It explains everything and people are going to be throttled by it because it's a bigger storyline than you can imagine." Notice how Keegan says, "Not alot of people are gonna be concerned about who A is, it's about why A is."