'Pretty Little Liars' Profile: Caleb Rivers
Play Sound
"
In the middle of a war, you have to remember what you're fighting for.
"

— Caleb Rivers
Caleb Rivers is one of the main characters in the television series Pretty Little Liars on Freeform. He was the main protagonist of the spin-off series, Ravenswood. He is portrayed by Tyler Blackburn.
A troubled foster child with a complex past, Caleb initially befriended The Liars after he began a relationship with Hanna Marin. He soon became the technical expert of the group, often trying to outsmart the villainous A. His relationship with Hanna was the catalyst of his life, and they eventually married in an intimate ceremony.
Biography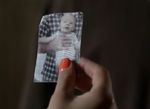 Caleb Rivers was born to Claudia Dawson and Jamie Doyle in 1995. Jamie wasn't prepared to be a father and stepped back from Claudia and Caleb, and assumed the role of Caleb's uncle, the brother of his real father. When Caleb was five-years-old, Claudia dropped him off at his Aunt Patty's house under the guise that she was shopping but never came back for him. He eventually ended up in foster care and bounced around numerous foster homes. He grew up with his "Uncle" Jamie in his life, who took him to a few Phillies games a year. Eventually, they fell out of contact during one of Caleb's many moves. As a child, he looked for his father everywhere - in stores, the streets, and even in his dreams. When he turned thirteen, he gave up his search. Because he grew up in foster care, he became very street-smart and eventually, fell into a bad crowd.
When he first moved to Rosewood, Caleb was placed in a foster home with Janet, an older woman who only fostered Caleb so she couch cash the government checks. He was enrolled at Rosewood High School and became known as the sketchy new kid with a troubled past. He illegally upgraded and fixed people's phones for money, which is what initially caught the attention of a popular girl, Hanna Marin. He began a bickering relationship with Hanna over their opposite backgrounds and interests.
He was asked to hack Jenna Marshall's phone for the Liars, and later hacked things for Aria, Hanna, Spencer, and Emily. Caleb was the first person, besides Dr. Sullivan to be told about "A" and actively worked on decrypting files from A's phone to help Hanna and her friends. In Season 3, he was shot by Lyndon James after finding Emily and Lyndon in the lighthouse at Lighthouse Rock Inn and had to have emergency surgery. He would later make a full recovery.
Caleb is open to reuniting with Claudia for a visit when she extends the offer to him in Season 2. Living in foster care and his relationship with Hanna has greatly changed Caleb's outlook on the future. Caleb used to work for car thieves as a computer hacker in Allentown, but realized it was wrong and moved away. 
He soon realized spying on Hanna was wrong so he backed away from Jenna and told Hanna the truth when she confronted him about it. However, because of this, they broke up but she eventually forgives him and they get back together again in Season 2. He is reunited with his uncle, who Hanna figured out was, in fact, Caleb's dad, Jamie. Even though Caleb has had lots of family problems, Hanna is always there to support her boyfriend after he helps her with Mona.
He helps track down the van that A kidnapped the girls from as seen in the
Season 5
finale
Welcome to the Dollhouse
. He successfully saves
Aria
, 
Hanna
, 
Spencer
, and 
Emily
from
A
and the dollhouse and has been since helping
Hanna
recover from her trauma in the dollhouse.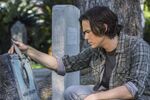 Caleb Rivers, a foster teen from Rosewood, Pennsylvania, encountered fellow foster teen Miranda Collins while crashing a party in the neighboring town. The troubled girl was searching for her Uncle in the eery town of Ravenswood. Upon his girlfriend, Hanna Marin's insistence, Caleb volunteered to help Miranda find her Uncle. When they arrived in Ravenswood, Caleb discovered that his ancestors also lived in Ravenswood over a hundred years ago. He also learned that the Collins and Rivers families were connected, via their doppelganger ancestors. Encaptured by the mysterious town and the potential it held, Caleb decided to stay in Ravenswood in the hopes of learning more about his family history.
When Miranda died in a freak accident, Caleb was launched into an eery paranormal investigation alongside the now-deceased Miranda,
Remy Beaumont
, and the twins
Luke
and
Olivia Matheson
. The group discovered an ancient curse that was placed upon their families, known as
The Curse of The Five
. It sentenced one member of every family who made the pact, the Collins, Beaumont's, Matheson's, and Rivers, to an early death. As they untangled the history behind Ravenswood, Caleb also reconnected with his father,
Jamie Doyle
, and a long-lost relative,
Henry Rivers
.
Series
In Sex, Lies and Alibis, Mona asks Hanna how Caleb is doing as well as their baby.
Appearances
Pretty Little Liars (102/160)
Ravenswood (10/10)
Romantic Relationships
Hanna Marin: Married. (see "Haleb")
Spencer Hastings: Broken Up. (see "Spaleb")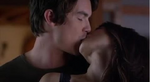 Friendships
Caleb doesn't like to let too many people get too close to him, except for Hanna, and Lucas when he still lived with him and was developing a close friendship despite the two boys being so different. After Caleb works on A's cellphone, he becomes close with Spencer, Emily, and Aria. He also becomes friends with Paige while working with her to bring down A. Later on, he becomes friends with Ezra and Toby to help find out who A is and to help get Spencer, Emily, Aria, and Hanna out of the dollhouse.
Lucas Gottesman - The one exception to Caleb's loner rule is Lucas Gottesman. Lucas cares a lot for Hanna and understands she could not be happy without Caleb. Lucas is the first to find out what Mona did to Caleb's goodbye letter and proceeds to drive to Arizona and bring Caleb back to Rosewood to make Hanna happy. He allows Caleb to crash in his room while attending Rosewood High. Caleb, in turn, becomes a loyal friend to Lucas, honoring his commitment to watching "The Goonies" with Lucas instead of hanging out further with Hanna one evening. He also helps Lucas out with his pursuing Danielle. Caleb and Hanna go on a double date with Lucas and Danielle because Lucas is feeling nervous about the date. Lucas lost a good deal of the money that Caleb had saved up for years on a basketball game scheme that didn't work out. Lucas was desperate and nearly suicidal as he felt that he betrayed Caleb. Caleb has since forgiven Lucas, and Lucas has sold his comic books to make up some of the money.
Toby Cavanaugh - Caleb strikes up a friendship with Toby since they were both trying to figure out who A really is. They find out Nigel Wright was driving the plane together and Caleb even stopped Toby from breaking into a car before the cops came per Spencer's request but he could have refused so because he cared about Toby. And per Hanna (and Spencer's) request, Toby tried to help Caleb overcome his drinking problem and move on from the things that were still haunting him from Ravenswood (TV series).
Trivia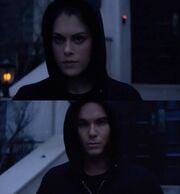 Caleb's character does not exist in the books.

In the first book, Pretty Little Liars, when Aria's family first returns to Rosewood, Mike exclaims "Hey, there's Caleb's house." This is probably not the same Caleb, but it is a funny coincidence.

It was confirmed on Twitter that Nate (Lyndon James) shot him right before he died in The Lady Killer.
Alternate endings to The Lady Killer were filmed to avoid the actual reveal from being leaked. In one of the alternate endings, Caleb is part of the A-Team. But this wouldn't have worked as he had been shot.
In the Season 4 Halloween special, Caleb left Rosewood for good to go to Ravenswood and help Miranda Collins find her uncle.
In the episode Crash and Burn, Girl! Caleb teamed up with Toby to find out who A is and then tried and stop A.
Caleb and Toby also found out from a man named Nigel that it was supposedly CeCe who told him not to tell anyone about her being on the plane.
Caleb originally was part of the guest cast from Seasons 1-2 but then became part of the main cast from Season 3 to Season 7.
Quotes
Caleb: The rich girls steal, the pretty girls lie, the smart girls play dumb, and the dumb girls spend their days trying to be all of the above.
Spencer: We're not even standing that close to you.
Caleb: Really? Then how do I know that you had a cheeseburger for lunch?
Caleb: What's the matter? Gotta be the first in line to see your boy Justin Bieber's new movie?
Hanna: It's not just a movie; it's his life story.
Caleb: About what, his hair? Hanna: You know what, just don't talk about the Beebs, okay? You don't know the Beebs, you don't understand the Beebs. Or his hair.
Caleb [to Hanna, gesturing towards his phone]: Meet my social worker.
Caleb [to Hanna]: You're queen of heels and handbags, but out here you're Dora the Explorer?
Emily [about Maya]: Who told you it was rehab?
Caleb: A nice cushy town like this, I'm guessing rehab is the new boarding school.
Caleb: Well, could somebody at least tell me why Emily smells like a bag of mulch?
Caleb: Hanna, you're talking to the guy who just kidnapped his own girlfriend.
Hanna: What are you doing here? I almost killed you!
Caleb: With a pink furry lamp, Hanna?
Caleb: For the record, I am going to help you stop A, and I'm not asking for your permission.
Caleb [to Hanna]: Come on, giddy up little doggy.
Caleb: She's probably eating popcorn and watching us play desperately seeking Mona.
Caleb: There is no right thing! It's either by the book or save our ass.
Caleb [to Emily]: In the middle of a war, you have to remember what you're fighting for.
Caleb: Get in the car, Hanna! I'm A!
Gallery
Community content is available under
CC-BY-SA
unless otherwise noted.