The following is a list of characters from the TV show
Pretty Little Liars
, which is based on the
series of young adult novels
by
Sara Shepard
. The series follows the lives of four girls --
Spencer
,
Hanna
,
Aria
, and
Emily
whose clique part after the disappearance of their leader,
Alison
. Later they begin receiving various messages from someone using the name
"A"
who threatens to expose their secrets including long-hidden ones they thought only Alison knew.
Be sure to also check out the character appearances!
Core characters
Aria Montgomery
Aria Montgomery (Lucy Hale) the group's "artsy girl", who returns to Rosewood with her family after spending a year in Iceland. At a bar, she meets Ezra Fitz and kisses him, only to discover on her first day of school that he is her English teacher. They decide to secretly continue their relationship and do so for some time, until eventually making their romance public. However, they eventually break up due to some surprising events in season 3. Most of Aria's story line revolves on her love life. In season 5A, she mostly deals with killing Shana. In season 5B, she deals with the fact that Alison is 'A', but later in 5B it's revealed that she isn't. In season 6, she deals with her time in the dollhouse and Charlotte.
Hanna Marin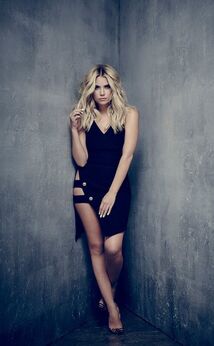 Hanna Marin (Ashley Benson) the "it girl" of the group who struggles with self-image issues and bulimia. She was overweight while Alison was alive, but after she went missing, Hanna subsequently transformed herself into the most popular girl in school, along with her best friend, Mona Vanderwaal. She falls in love with Caleb Rivers, a phone hacker and relative newcomer to Rosewood. Hanna is not the brightest in the group, but always sticks up for her friends during the season. In season 5, Hanna has it the hardest with Alison being back. She changes her clothes and hair. She also has to deal with the new Caleb that's back from Ravenswood. After being saved in A's dollhouse, Hanna is the person that seaks revenge on Charlotte the most.
Emily Fields
Emily Fields (Shay Mitchell) the "jock girl" of the group. Emily was closest to Alison before her disappearance and was also in love with her. A closeted lesbian, Emilly was later outed by "A". She also falls in love with and dates Maya St. Germain. During this time, she also befriends Toby, Jenna Marshall's step-brother, even though she was distrustful of him at first. In Season Three. Emily was still distraught about her past girlfriend Maya's death but then begins dating her teammate on the swim team, Paige McCullers. After Paige moves to California (due to Mona's death), she starts dating a new girl called Talia, whom she later breaks up with because she's married to a man. After being rescued from A's dollhouse, she begins bonding with another victim of 'A': Sara Harvey , who was kept down there for 2 years.
Spencer Hastings
Spencer Hastings (Troian Bellisario) is considered the "the factor head" of the group. Intelligent and extremely ambitious, she thrives for perfectionism in everything she does, in an attempt to live up to the high expectations of her parents. Spencer's biggest rival is her older sister, Melissa, and the two are constantly at odds. Their relationship is often strained by the fact that Spencer has a habit of crushing on, and later kissing, Melissa's boyfriends (first Ian, then Wren). She is the closest with Aria although she got along with the others as well.
Alison DiLaurentis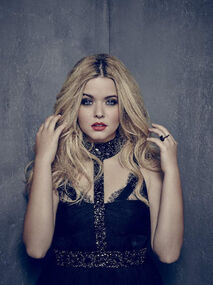 Alison DiLaurentis (Sasha Pieterse) was the "it girl" of Rosewood and the leader of her clique. Ruling the group with an iron fist, the vicious but charismatic Ali went missing during a slumber party at the end of summer. When Aria, Hanna, Spencer, and Emily begin receiving threatening messages from "A" a year after Ali goes missing, they think she is alive and is playing a trick on them. However, shortly after the appearance of "A", Alison's body is found buried in the backyard of the former DiLaurentis house, hidden under the gazebo (which had been under construction at the time of her disappearance). The discovery of her body launches a murder investigation. The police believe Alison was killed by a blow to the head (with a shovel), but the girls later learn, via Alison's autopsy report, that she actually suffocated to death by being buried alive. In season 4, it's revealed that Alison is in fact alive, and has been on the run for 2 years because of 'A'. In the season 4 finale, she meets the girls and tells everything that happened the night she disappeared. She reveals that she was hit on the head with a rock by an unknown assailant, and her mom buries her to (this is a speculation, it is yet to be revealed) protect the attacker. In season 5, Alison comes back home, but isn't welcomed very much by her school. Mona forms a group of people who she bullied. In the mid-season finale of season 5, Mona is brutally murdered, and Alison is framed for it. They girls believe that she's 'A', and she's arrested. Later in season 5, the girls finds out that she isn't 'A', but her trial is about to start. She is found guilty, and is sent to jail. In the season 5 finale, she reveals to Peter and Veronica Hastings that 'A' was the one who kidnapped the girls. Her murder conviction was overturned (Tanner saw Mona alive in A's dollhouse at the Campbell farm through a video), and she - along with Toby, Ezra and Caleb - finds the girls and saves them. From episode 2 of season 6, Alison finds a new love interest in Toby's police partney Lorenzo .
Mona Vanderwaal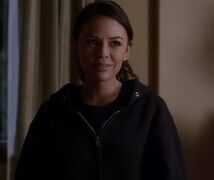 Mona Vanderwaal (Janel Parrish) is a former unpopular girl at Rosewood who longed to be accepted into Alison's group and was continuously mocked by Alison. After Alison's disappearance, Mona completely transformed herself and befriended Hanna, and they both became popular students. She enjoys bullying Lucas, much to Hanna's annoyance. After the appearance of A, Mona notices that Hanna is now acting strangely, and feels jealous that Hanna has rekindled her friendships with Aria, Emily, and Spencer. She dislikes Caleb and makes attempts to break Hanna and Caleb up, even asking Lucas for help (though he declines). Mona is somewhat romantically involved with Noel, which Hanna disapproves of. Although Noel breaks up with her, Mona acknowledges that Hanna was right about Noel. Mona? knows the existence of "A" as she too is now a victim of "A". "A" threatens to put Mona in jail for stealing, unless she puts Hanna's police file public for all of Rosewood to see. Mona doesn't do so and instead returns the necklace she stole back to the jewelry store where she was confronted by the cops and was ordered to do community service by working in a soup kitchen. Despite this, Mona is still being threatened by "A". Hanna decides it's best if Mona hangs with her and the others for protection from "A". On the last episode of Season 2 it is revealed that Mona is "A" . . . or one of multiple "A's". She ends up having a mental breakdown and threatens Spencer by giving her the option of either "joining the A Team" or "disappearing" via Spencer's father's gun (Mona admits that she was the one to steal it from his desk). Mona shifts into an even more enraged frenzied state when Hanna, Aria and Emily show up (Spencer alerted them via her cell phone) and attacks Spencer which results in Mona falling off of the nearby cliff. Mona survives, but is committed to a mental hospital and by her doctor, is diagnosed with an antisocial personality disorder, borderline personality disorder coupled with her high intelligence (she was living in a state of "hyper reality" where everything revolved around her). . . which explains how she was able to be aware of everything going on all of the time while acting ditzy and superficial (she also was recording all of Hanna's cell phone conversations and had easy access to the girls' personal dwellings). At the end of the episode, Mona is visited by a mysterious stranger (dressed in a red coat) in the mental facility and admits she did everything that she was "told to do". This implies that Mona is just one of many "A's" and there is someone else calling the shots. In Season 4, she is targeted by the current leader of the A-Team (Red Coat) and is now a quasi-liar. In the mid-season finale of season 5, she is brutally murdered by someone who resembles Alison, and is stated dead by the police. However, in the season 5 finale, she is revealed to be alive, and has been helt captive by 'A' for five months. She is rescued with the girls, and her mom takes her away for healing. She returns to Rosewood again in episode 5 of season 6, and kind of begins to help the girls find out about Charles. It is revealed that Mona met Lesli at Radley, and that Lesli heard about Charles and shared a room with Bethany Young.
"A"
"A"'s identity is Mona, which was revealed at the end of Season 2. But the directors clue in that maybe she wasn't the only one sending texts and tormenting the four girls. At a party Hannah remembers who " A" is. Spencer goes with Mona to try to find Officer Wilden. When Mona starts going on a detour. Spencer asks where they are headed and Mona starts to tell Spencer all about how she was A and how she managed to keep it up. Spencer is freaked out and calls Wilden, and loudly talks to him about their where-abouts so he can find them. Mona then realizes what was happening and attacks Spencer at Dead Man Quarry. Mona and Spencer fight and Spencer pushes Mona off the cliff into bushes. The police arrive soon and so do the girls. Mona is then put into a mental hospital. But the girls are not done with "A" yet. It then flashes to a person in Alison's red jacket walking up to Mona in the mental hospital. Mona says to this person, thought to be "A," that she did everything that they asked. This implies that Mona, like many others, was just working for "A."In the season 3 summer finale you can see a person in a black hoodie turning around and that person is Toby. It is implied Toby is a part of the A team. In the season 3 finale, it's revealed that Toby only joined to protect Spencer and to find out who Red Coat was. Toby, along with Mona and Spencer, are kicked off the A-team after the incident at Thornhill Lodge . In season 4, a new person named (unofficially) The Black Widow appears with the Alison mask on. However, she doesn't make an appearance in a long time. In the season 4 finale, a black hooded person shows up and tries to kill the Liars with a gun. Ezra also shows up on that rooftop, and reveals that he knows who the person is. Ezra and that person fights, and after that person escaped, the camera turns to Ezra, who is shot in the stomach. In the season 5 premiere, Aria stays with him at the hospital, and when he's concious he tells Aria who 'A' is. Aria rushes over to where the rest of the girls are, and finds them along with Shana, who is revealed to be 'A'. Shana, almost killing the girls, is killed by Aria in self defense.
In season 5 episode 6, 'A' returns and it's revealed that Shana was never 'A' since (quote Aria) "she never used those words". The 4 girls starts to suspect Alison for being 'A', and in the mid-season finale of season 5, Mona is murdered by someone who resembles Alison. Alison is then arrested, thought to be 'A'. However, the girls later realize that she's not 'A'.
In the season 5 finale, after the girls are arrested, 'A' kidnaps them and brings them to his dollhouse where he made a complete replica of their rooms. When the girls tries to escape doing his prom, he gets mad at locks them outside for 2 days without food or water. He later lets them in, where he tortures them separately in 3 weeks (see Charles torturing). After they are rescued, 'A' (which is revealed to be Charles DiLaurentis) teems up with Red Coat.
The following characters are all family members and acquaintances of Aria Montgomery, one of the protagonists of the series.
Family
Byron Montgomery (Chad Lowe) is Aria's father and a history professor at Hollis College. He asked Aria to

keep his affair with a student, Meredith, a secret after Aria witnessed them kissing. Regretting the affair and wanting them to be a family again, Byron moves the family to Iceland for a year as a sabbatical. The relationship between Byron and Ella becomes strained after A sends her a letter revealing Byron's affair. After spending some time apart, Ella and Byron slowly begin to rebuild their relationship. When Mike becomes depressed, Byron reveals that his brother Scott, who committed suicide, also suffered from mental illness; Byron feels guilty for not doing anything to help his brother. Byron finds out that Ezra is involved in a relationship with Aria after they tell him and Ella and is furious about it. In an effort to get Ezra away from Aria, Byron recommends him for a job in New Orleans. He also plots to send Aria to an all girls boarding school in Vermont. When Aria threatens to reveal his affair to his boss, however, he backs off from sending her to boarding school but gets Ezra fired from Hollis.
Ella Montgomery (Holly Marie Combs) is Aria's mother, as well as a teacher at Rosewood High. Ella

believes in treating her children as friends, not as property. She has mentioned that she doesn't want to push into Aria's private life, and she thinks that Aria should be allowed to keep secrets. Ella was unaware of her husband's affair with a student until A sent her a letter. After asking Byron to move out, and his refusal, she left the home. Eventually, Aria found out her parents were secretly getting back together, and Ella eventually decides to move back in. When her son, Mike, is depressed, she doesn't feel he needs medication, and remains somewhat in denial about his illness. She finally receives her wake-up call when he attacks her in his bedroom. When Ella found out Aria was dating Ezra, she was angry, but she believed Aria when she said she had broken it off, and tried to win her back her freedom, which Byron didn't think she deserved. Later, she finds out that Aria and Ezra are still together, and decides she is going to try to understand their relationship. Ella is aware of A, and tries to send Aria to Boarding School to get away. Aria is furious, and blackmails her mother into not going through with it. The last we see of Ella in the second season is her tearfully telling Aria how ashamed she is, and how she doesn't know how to save their relationship.
Mike Montgomery (Cody Allen Christian) is Aria's younger brother. A lacrosse player, he suffers from some

sort of mental illness, which has causes him to burst into fits of anger and later leads him to break into people's houses for fun, before he begins to shut down emotionally and withdraw completely from his family. He blames Aria for the trouble between their parents. Mike accidentally discovered that Jenna and Garrett knew each other, which he told Aria about. Mike reveals to Aria that the only reason he punched Ezra was because after Ezra and Aria announced they are a couple, he feared what Byron would have done to hurt Ezra judging by the look on his face and thought, "Better I do it, than him". Mona and Mike becomes a relationship in season 4, and is still one in season 5, until Mona is murdered. It's revealed later in season 5, that Mona had a plan about faking her death and exposing 'A', and Mike knew about that. He didn't want her to go through with it, but she did it anyway. Mike reveals in episode 7 of season 6 that Mona has been shutting him out since she was rescued. Later in that episode, he surprises her in her room, and they kiss, and makes up.
Friends
Holden Strauss (Shane Coffey) is a childhood friend of Aria's who returns with his family from a year abroad

in Portugal in the middle of Season 2. He asks Aria out on a date, and discovers that she only agreed so she could get out of the house unsupervised and try to meet Ezra. Instead of becoming upset, he suggest that they continue the cover, though he remains secretive about what he does during their fake dates. We later find out that his secret is more serious than it seemed at first when he accidentally reveals a very large bruise on his stomach, but he tells Aria not to worry about it. He eventually tells her that he is doing Tang Soo Do, a Korean martial art, and that his parents forbid him to keep training, that is why he needs a cover. The situation turns out to be more complicated, though, when Ella tells Aria that Holden has a heart condition that could kill him any time. Aria goes to watch one of Holden's fights and she sees how much he loves to fight.
Relationships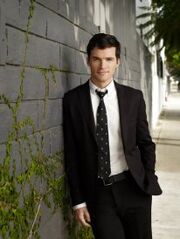 Ezra Fitzgerald (Ian Harding) Ezra Fitz is a former English teacher at Rosewood High School and later teaches at Hollis. He became romantically involved with Aria after the two met at a bar and instantly bonded. When he discovered that Aria was his student, he attempted to break things off, but found himself unable to do so. He broke up with Aria for a little while in order to take time to think about their relationship. He quit his teaching position at Rosewood just before Noel threatened to expose Aria and Ezra's relationship. Ezra later explains to Aria that he was engaged to a girl named Jackie when he was in college, but that she broke it off; Jackie later returns to Rosewood after getting a teaching position at Hollis. Although Ezra loves Aria, he seems to still have some lingering feelings for Jackie, and the two remain close. His relationship with Aria is often strained by the fact that they have to hide that they are together. Aria, who apparently was a virgin, was surprised dreaming with having relations with Ezra and then confirmed that she was not surprising Ezra with a very sexy dinner and then closing the door of the office. He confesses to Ella that he loves Aria (though she misunderstands and believes he is talking about Spencer) when he comes to comfort Aria after her arrest. In "Through Many Dangers, Toils, and Snares" we find out that Aria broke up with Ezra because of Jackie threatening to expose their relationship but they later get back together after Aria explains to Ezra that Jackie was the reason why she broke up with him. Ezra and Aria later tell Byron and Ella that they are a couple which leads him to getting punched by Mike (though it's told he only did it fearing what Byron what would have done instead). Ezra later tells Jackie, who comes into his office trying to convince him it'll never work out for him and Aria due to age difference and the fact she's still a teenager, to get out of his office and stay away from Aria and that he wanted nothing more to do with Jackie herself. Aria continues to attempt to convince her parents to allow her to date Ezra but in the meantime they try to set her up with someone else. When Aria calls Ezra, he tells her not to call him again. The two later rekindle their relationship when Aria leaves him a voice mail telling Ezra that, if he doesn't meet up with her, their relationship is over. Ezra turns up at the last minute after a student tells him to 'be bold' and the two kiss in the rain. Aria decides not to tell her friends that the two are back together, hoping that, by keeping it from them, she can also keep it from 'A'. They later have sex in his apartment after Ezra finds out that he has been fired from Hollis. In the season 4 finale, he is shot by Shana, but is back in Rosewood around the start of season 5. In the season 5 finale and season 6 premiere, he teems up with Caleb and Toby (and later Alison) to find the girls. In 5x25, they fail, but in 6x01 they succeed. He later marries Aria.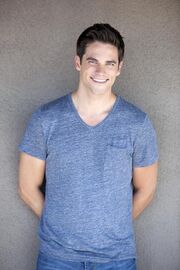 Noel Kahn (Brant Daugherty) is a popular jock and friends with Sean and Mike. He has feelings for Aria and briefly dates her, ending things when he discovers that Aria is seeing Ezra. Noel attempts to blackmail Ezra with this information, but ends up getting framed by A (for apparently stealing mid-term exams). After a suspension, he returns to school and becomes somewhat romantically involved with Mona, but eventually breaks up with her and starts dating Jenna. (1st temporade)
Other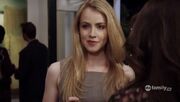 Meredith Sorenson (Amanda Schull) is a former student at Hollis who Byron had an affair with. She ignores Aria's pleas for her to stay away from Byron and in an effort to get close to Byron again, attempts to befriend Ella, who was unaware of the affair. In the beginning of season 3, "A" forces Aria to reveal a past secret in which revealed that Aria and Allison trashed Byron's office and framed Meredith for the crime after Aria believes a found ear ring proves Byron and Meredith were still together after Aria found out about the affair. After the incident Byron did end all ties with Meredith because he felt threatened.But when "A" forces Aria to confess it was her, it gives now divorced Byron and Meredith another chances at a relationship. When Aria is forced to confess and apologize to Meredith, she returns the ear ring "A" gave her, which was taken from Allison's grave only to find out the ear ring is not hers.
Jackie Molina (Paloma Guzman) is Ezra's ex-fiance. After getting a teaching job at Hollis, she makes hints at wanting to reconcile her relationship with Ezra. She discovers that Aria and Ezra are in a relationship, and uses this as leverage when Aria attempts to force her out of Ezra's life by threatening to expose a paper that Jackie plagiarized. Jackie forces Aria to break up with Ezra but the two later get back together and reveal their relationship to her parents when Ezra overhears Jackie threatening Aria. Ezra later tells Jackie to get out of his office when she comes by his office and to stay away from Aria after Jackie makes a comment about his relationship with Aria being "a terrible mistake," and that he wants nothing to do with Jackie again.
Simone (Alona Tal) is Aria's former babysitter (and role model). She comes back to Rosewood to visit her parents and also to help Ella Montgomery with her English class, where she is asked to be a speaker as an experienced freelance writer. She befriends Ezra Fitz thanks to the suggestion of Ella Montgomery, much to Aria's chagrin. Simone is oblivious to Aria's feelings, and the two have coffee together. After that, Ezra picks up on Aria's envying Simone, who is a talented writer and also age appropriate for Ezra. He admits to enjoying the time spent with her, but denies that it is anything more than that.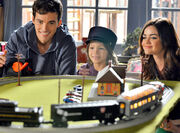 Malcolm Cutler (Teo Briones) is Ezra's son with Maggie. Due to Mrs. Fitzgerald selling Maggie's condo, Maggie and Malcolm stay in Ezra's apartment for a short period of time forcing Aria to spend some quality time with Malcolm. When Aria was babysitting Malcolm he gets hurt, which causes a small rift in Aria's relationship with Ezra. However, it is later revealed that Malcom isn't actually Ezra's son after a DNA test proves otherwise.
The following characters are all family members and acquaintances of Hanna Marin, one of the protagonists of the series.
Family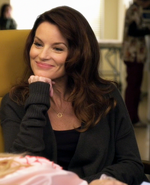 Ashley Marin (Laura Leighton) is Hanna's mother, who works at a bank in Rosewood. She is angered by Hanna's shoplifting, so she slept with Detective Darren in order to keep Hanna from being charged. After some financial hardship caused by the divorce, Ashley falls behind on her bills and resorts to stealing money from the safety deposit box of a client; the money is later stolen (by A, unbeknownst to Ashley) and Hanna is forced to slowly earn it back by hurting Lucas. Although she is divorced from Tom, Hanna's father, Ashley still has lingering feelings for him; when he comes for a visit, she ends up sleeping with him. However, she ends the affair when she realizes that Tom will never change. After Emily's parents move to Texas, Ashley invites Emily to come live with her and Hanna. She initially disapproves when Hanna starts dating Caleb, but eventually warms up to him even saying how she sees "herself" in him.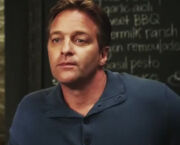 Tom Marin (Roark Critchlow) is Hanna's father. He divorced Hanna's mother, Ashley, after having an affair with Isabel, his current wife. When he comes to Rosewood to visit Hanna, he begins to grow close to Ashley once more, something which is encouraged by Hanna. Tom eventually sleeps with Ashley, but she breaks things off with him when she realizes that he will never change. His wedding to Isabel is interrupted by Hanna, who reveals his affair with Ashley to Isabel. Despite Hanna ruining Tom's wedding to Isabel, Ashley reveals to Hanna that Tom still married her. Tom later reveals that he will be moving back to Rosewood with Isabel and Kate so he can be closer to Hanna.
Isabel Marin (Heather Mazur) is Tom's new wife and Hanna's stepmother. At Tom and Isabel's wedding, "A" makes Hanna reveal that Tom had slept with Ashley while he was engaged to Isabel. Despite Hanna telling Isabel about Tom's affair with Ashley, Isabel still marries him. Until recently, Isabel seemed entirely unaware of her daughter Kate's nature.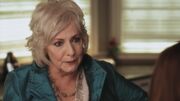 Regina Marin (Betty_Buckley) is Hanna's Grandmother. She is quite eccentric but very smart. Regina is very fond of her granddaughter and Ashley, and is very ambiguous about Tom's new family. Regina sees right through Kate and her sneaky ways.
Kate Randall (Natalie Floyd - Season 1; Natalie Hall - Season 2) is Isabel's daughter and Hanna's stepsister. Although Hanna is friendly to Kate at first, she begins to resent her. Kate is shown to possess a malicious streak, with a willingness to use manipulation for her own purposes. Hanna had said some unkind things about Kate, but apologizes to her. Kate pretends to accept the apology, but makes comparisons of how to break in horses and how she would break in Hanna. She humiliates Hanna after getting her drunk at their parents' rehearsal dinner. Even though Hanna stopped Isabel's wedding to her father, Kate still becomes Hanna's stepsister because their parents still got married, just at the courthouse. Tom later moves back to Rosewood with Isabel, and Kate is enrolled at Rosewood High. It appears that Kate actually wants to be friends with Hanna at school, but she was really  rying to look like an innocent victim, even sending the school a naked photo of herself and framing Hanna for it. But after finding out the truth, Hanna neutralizes Kate for a time.
Friends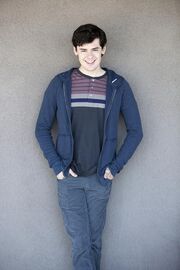 Lucas Gottesman (Brendan Robinson) is an unpopular student at Rosewood, who harbors an unrequited crush on Hanna, who he develops a friendship with. More than once he expresses his happiness at Alison's death, having been continuously tormented by her. He destroys the girls' memorial to Alison, stating that it isn't right that Alison's cruelty should be forgiven just because she died. It is hinted that Lucas was the unknown person who was stalking Alison prior to her death. Hanna forms a friendship with Lucas, and "A" gets her to lead Lucas on at a dance. Although initially angered by Hanna's rejection of his romantic feelings, he eventually forgives her and eventually goes so far as to bring Caleb home to make Hanna happy. He asks Hanna for dating advice after he becomes involved with a girl named Danielle. Lucas is later suspected of either being A or working with A, which causes a frightened Hanna to lash out at Lucas in self-defense. Soon afterward, Hanna and the others are convinced of Lucas merely being the victim of a misunderstanding and several coincidences (but an implication is made of the real A taking advantage of their suspicions of Lucas). The friendship between Lucas, Hanna, and Caleb appears intact. However, at the masquerade at the end of season two, we see Lucas hanging out with some suspicious people. At the end of episode 2, in season 3, The jacket tag says large, which means that's probably for a man (Lucas ?) and its for The "A" group.
Relationships
Sean Ackard (Chuck Hittinger) is Hanna's boyfriend prior to the beginning of the series. Having crushed on Sean since before Alison's disappearance, motivated by insecurities about her weight, Hanna puts a lot of pressure on their relationship. When Sean refuses to have sex with Hanna, she becomes upset and wrecks his car, though Sean understands and forgives her. However, the mystery surrounding A and Alison's death begin to take a toll on their relationship and that, combined with Sean's treatment of Lucas as well as his attraction to Aria, leads to their breakup. Afterwards, Sean seeks out Emily's help in pursuing Paige, unaware that Paige is a lesbian. He had a little crush on Paige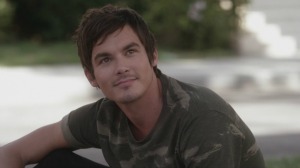 Caleb Rivers (Tyler Blackburn) is a foster child and Rosewood's resident "bad boy" who Hanna seeks out for help in hacking Emily's phone so that she can call Maya, her girlfriend at the time. Though initially annoyed and frustrated by Caleb, she becomes more sympathetic towards him when she discovers his poor home life. The two eventually enter into a relationship which results in Hanna losing her virginity to Caleb. When she discovers that Caleb originally tried to get close to her while working for Jenna, she dumps him, feeling betrayed. He is brought back to Rosewood by Lucas, who wants Hanna and Caleb to make amends andreunite. After Caleb is contacted by his birth mother, he leaves Hanna to stay in California for a while. He returns in time for Tom's marriage to Isabel, accompanying Hanna to the wedding. Caleb then comes back after being in California and helps Hanna and her friends hack A's phone without telling him who's phone it belongs to, but it backfires when "A" shuts the phone down. His surprise birthday party later gets ruined because Lucas has something to tell Hanna but Hanna takes it the wrong way and they both end up falling out the boat. The girls (excluding Hanna) let Caleb continue to hack "A"´s phone and so that he does it they tell him about "A" but just the important parts that include defending Hanna. The girls try to hide the truth from Hanna but when she finds out she is angry at them. They however talk and become friends again. Meanwhile, Caleb becomes obsessed with finding out who "A" is, which caused "A" to hack into Caleb's computer and planted secure school files, which landed him in trouble with the police, However Hanna saves him by deleting the files. Caleb is the first person other than the liars to help figure out who "A" is. Earlier Lucas has some problems and starts to be a bad boy at school when he is given a letter to give to his parents he drops it into a bin and sets it on fire, Hanna starts to worry about Lucas so she asks Caleb to talk to him. Later Caleb confronts Lucas and asks him why he nearly set fire to his girlfriend and why is he acting so weird, Lucas says sorry and walks off leaving Caleb wondering. In the third season, Hanna has trouble telling Caleb about what's going on in her life, causing him to break-up with her. Later on, they get back together, until they break up in Season 6, and then Caleb has a relationship with spencer and becomes her Boyfriend. In Season 7 he get's back with Hanna, and the two get married and are currently expecting their first child.
Other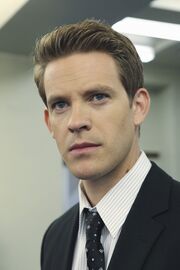 Darren Wilden (Bryce Johnson) is a detective investigating Alison's murder. He is attracted to Hanna's mom, Ashley, who he once drove home after she had been drinking and asked for a ride, later sleeping with her to make up for not charging Hanna, who was caught shoplifting. He is distrustful of the girls, frequently questioning them beyond normal means, such as when he humiliates Emily by outing her to her friends. The detective returns in season 2 episode 12, when the girls are arrested. Officer Reynolds suggests there could be a raise in this for him, as he has his suspicions of the girls to start with. He reveals to them that he knew the murder weapon all along, and the girls had just been caught with it. He had strong feelings towards them all especially Hanna, and was determined that they would be thrown into jail. The girls are very grateful for Spencer's mom for getting them out of it and landing them with merely community service. When Ashley begins to worry that someone is still trying to get to her daughter, she goes to Darren for help, asking him if he had anything to do with Hanna's police report being released. Darren says that information could get him fired, and he didn't release the report.in season 3 they show a picture of Wilden with Alison and CeCe on a boat. Later on CeCe relives that Alison had a relationship with a beach hottie CeCe then tells Emily that Alison was pregnant and that it was the beach hottie baby Alison add to the conversation that if he fines out he will and would kill her if he found out. Later on the episode the girls realize that the beach hottie was Wilden from evidence in a chat that was kept between CeCe and Alison her self written on paper (after that the girls tell Jason about the whole thing and Jason went to the police station and confronted Wilden about it ) later on that day Wilden went to Emily work station and confronted the 4 girls about what they had said to Jason. in the season 4 premiere:A is for A-L-I-V-E, it is revealed he was murdered.
The following characters are all family members and acquaintances of Spencer Hastings, one of the protagonists of the series
Family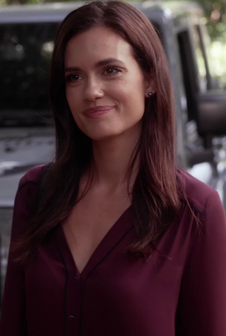 Melissa Hastings (Torrey DeVitto) is Spencer's older adoptive sister and rival, who is engaged to Wren at the start of the series, but later returns to Ian. A perfectionist and the favored daughter, she was Spencer's rival for most of their lives. Their competition lead to Spencer kissing both Ian and Wren, which culminated in Melissa breaking off her engagement with Wren. After the breakup, Melissa rekindled her relationship with Ian and the two eloped, after which Melissa confided in Spencer that she just wanted the fighting between them to stop. Shortly after marrying Ian, Melissa becomes pregnant, which again causes a rift between her and Spencer, who suspects Melissa is covering for Ian. When Ian goes missing, Melissa refuses to believe Spencer's claims that he is dead, thinking that she is receiving text messages from Ian, who is in hiding. After discovering Ian's body, however, Melissa becomes depressed and apologizes to Spencer for choosing Ian over her. When Melissa finds Ian's phone in Spencer's bag, (although it was A who put the phone in there), she believes it was Spencer sending the texts to Melissa's phone and mentions she will never, ever forgive Spencer for this. Melissa discovers that Jason is their half-brother and says that she can't be around their parents because they lied to her and Spencer. She still loiters around the house however, and Spencer and her friends begin to suspect that Melissa knows more about "A" and Ali's disappearance than she is letting on. They find a video taken inside Alison's room the night she disappeared, and Melissa is shown throwing open the door and yelling "Where is she?!" The girls also find out that Melissa was sending Ali threatening text messages, and had worked at a law firm that Ali had suspected of assisting "A" in messing with her life. Spencer and Melissa's dad's gun goes missing, and Spencer fears Melissa took it. Although Melissa didn't take the gun, her parents still feared that she killed Allison through jealousy. So, her mom hired a private investigator to watch her. Toward the end of the second season, Melissa makes some odd statements that imply she knows some secrets about Alison and/or the N.A.T. club. It is later revealed that Melissa saw Alison and Spencer fighting the night of Alison's disappearance, and then found a young girls body who was dressed just like Alison. She buried the girl, unware that she was actually Bethany Young and was still alive. After revealing this to Spencer, Melissa left the country.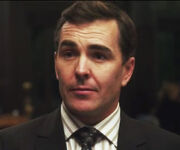 Peter Hastings (Nolan North) is Spencer and Melissa's father. A lawyer who places a great emphasis on winning, he destroys evidence that he fears will implicate Spencer in Alison's murder. Although initially he disapproves of Spencer and Toby dating, he warms to Toby after Toby begins to work for him. Peter strongly dislikes DiLaurentis', who he claims are "always crossing lines." In Season 2, Episode 19, it is revealed that Peter did have an affair with Jessica DiLaurentis, he is Jason's father and that Jason, Spencer and Melissa are all half-siblings. We also discover that he paid a private investigator to look into Alison's disappearance, as he was afraid that Melissa had something to do with it, since he already found out. Melissa had been sending Ali threatening text messages. In Season 7, it is learned that Peter had an affair with Mary Drake, Jessica's twin-sister (who he thought was Jessica at the time), which resulted in the birth of Specner and, unknowingly to them, Alex Drake. The Hastings family adopted Spencer, and chose to never tell her the truth.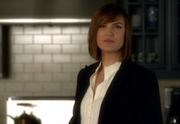 Veronica Hastings (Lesley Fera) is Spencer's adoptive mother and Melissa's biological mother. She has a breast cancer scare that she keeps a secret from her family, not wanting to worry them. As a lawyer, she frequently helps the girls out with legal situations. Although she dislikes Toby and his relationship with Spencer, she eventually becomes more tolerant of it. She later runs for State Senate and wins, though she later resigns after learning the truth about her husbands past. It is later revealed that she and Peter adopted Spencer from Mary Drake, who had gotten pregnant with Peter's child.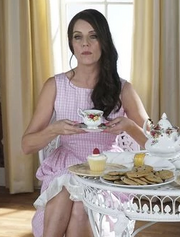 Mary Drake (Andrea Parker) is Spencer's biological mother, the twin-sister of Jessica DiLaurentis, and a member of the DiLaurentis family. Mary is a mysterious, highly-intelligent, cunning woman who is not afraid to hurt people to get what she wants. As a young teenager, Jessica framed Mary for the death of a young child, which resulted in Mary being sent away to Radley Sanitarium. She was in-and-out of the Sanitarium for a long time, before being released prior to starting college. During her years at college, she had a sexual relationship with Ted Wilson which resulted in her first pregnancy. Jessica and Kenneth DiLaurentis, adopted the child, a boy who they named Charles DiLaurentis, and kept Mary from ever seeing him. After escaping Radley, she attempted to look for Charles, but Jessica informed her that Charles was dead. During one of her releases, Mary had an affair with Peter Hastings to get back at the DiLaurentis' for all their wrongdoings. He mistook her for Jessica, and their affair resulted in Mary's pregnancy. She told her sister, who informed the Hastings, and the Hastings chose to adopt the baby so it wouldn't be bounced around in the system. However, Mary was readmitted to Radley after revealing her pregnancy, and learned that she would be having twins. She didn't tell the Hastings about the second child, and sold her second-born daughter, Alex Drake, in order to get out of Radley. It wasn't until she learned that Charles had transitioned in Charlotte DiLaurentis and been murdered that she returned to Rosewood to see justice for her daughters death. Once there, she reunited with Spencer (who was previously unaware of her existence), met Alex for the first time, and revealed the truth about her family tree to everyone.
Alex Drake (Troian Bellisario) Alex is Spencer's younger sister, as well as Jason, Melissa, and Charlotte's half-sister. Mary chose not to tell the Hastings that their were twins, and decided that the second-born child would be her ticket out of Radley. Mary sold Alex for 500k and a ticket out of Radley for good. Alex was given to rich English family, however, she experienced mental issues and the family disowned her when she was little. Due to being bounced around foster care, Alex is a tough, rough, and manipulating woman with a distorted view of the world. She grew close to her sister Charlotte, and came to Rosewood to avenge her death. This lead her to become A.D., the final A, who tortured all of the Liars in hopes of avenging Charlotte. After revealing herself to Spencer and Ezra, telling her story, and attempting to kill Spencer to take-over her life, she was kidnapped by Mona Vanderwaal's French boyfriend, and is currently being held captive in Mona's Dollhouse alongside Mary Drake.
Relationships
Ian Thomas (Carlo Marks-Pilot; Ryan Merriman-rest of season 1 onwards) is Melissa's late husband. He attended high school with Jason and Garrett. and was part of their "N.A.T." club (the initials of a Latin phrase meaning "We See All"). Ian dated Melissa prior to Alison's death, although he was secretly carrying on an affair with Alison, he also flirted and tried it on with Spencer, who had a crush on him. He returned to Rosewood shortly after Melissa broke off her engagement with Wren; after a small courtship, the two eloped and took up residency in the Hastings' renovated barn while their apartment in Philadelphia was being remodeled. He had an uneasy relationship with Spencer, who became suspicious of him and believed he was A and Alison's killer. It is later revealed that Ian liked to secretly videotape the girls when they were getting undressed. When Spencer confronts Ian about Alison's death, he claims he only pushed her, not intended for her to hit her head. After this he approaches Spencer and tries to kill her, stating that he's doing it for Melissa's benefit, but is killed by A, who surprisingly intervenes. His body goes missing and he is presumed to be in hiding, however, his body is eventually discovered, his death staged to look like a suicide; and leaving Melissa with his unborn child.</span>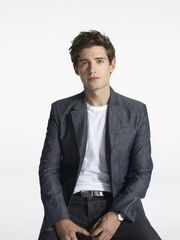 Wren Kingston (Julian Morris) was a medical student who was engaged to Melissa. He was attracted to Spencer and later kissed her, which resulted in Melissa calling off their engagement. However, he later returns to Rosewood to help Melissa with Ian, who, at the time, they believe to still be alive. He obtains a job at the hospital in Rosewood, telling Spencer he came back for her, he then asks her if she wants to go out for a coffee but she says 'I have a boyfriend now',they leave it at that and go. He then comforts Spencer after her breakup with Toby, leaving her confused.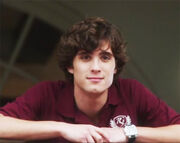 Alex Santiago (Diego Boneta) is an employee of Rosewood's exclusive country club. He meets Spencer after observing her practicing serves, and the two quickly enter into a relationship. Their relationship becomes strained after Melissa plants doubts about Spencer's feelings for him in Alex's mind, leading Alex to think Spencer is slumming it with him. Veronica is initially uncomfortable around Alex, which Spencer thinks is because of Alex being of a lower economic class, however, Alex explains that he comforted Veronica after her cancer scare. Alex breaks up with Spencer for good after A makes him believe Spencer applied for him to go to Europe for a tennis camp after he asked her explicitly not to.
Toby Cavanaugh (James Neate Pilot; Keegan Allen season 1 onwards) is Jenna's stepbrother, who was blackmailed into sleeping with Jenna and taking the blame for  he girls accidentally blinding Jenna. After he returns to Rosewood, he strikes up a tentative friendship with Emily after saving her from Ben. Spencer disapproves of the friendship, believing that Toby is Alison's murderer. Emily goes to Homecoming with Toby and later confesses to him that she is a lesbian; her openness makes Toby try to confess to her about having a thing with Jenna, which Emily misunderstands, leading to a physical confrontation. Toby drops her off at the hospital before running away; he is later caught by the police, who have been tipped by Jenna. After taunted in the street, Spencer begins to sympathize with him, and they bond, when they realize they are both being framed for Alison's murder. Despite Spencer's parents distrust and dislike of Toby they begin to date. After -A threatens Spencer with Toby's safety, she decides to break up with him, not wanting him to get hurt. He then falls, because of one -A's tricks and ends up in hospital, He later learns that Wren kissed Spencer and had a one day fling with her. Back in the hospital he tells Wren that his left arm may be broken, but his right arm isn't (meaning he would beat up him if he tried anything like it again). When he comes out he begins to act cold towards her, no longer caring about her. In the Season Finale 2 he admits that pretending not to love her was the hardest thing he has ever done, she then approaches him and gets ready to sap him, but before she has a chance, he pulls her close to him and kisses her. In Season 3, Spencer and Toby seem to have moved past all the problems that plagued their relationship in the past, seeming happier and more in love than they ever were. He was credited as Toby Marshall in the Pilot episode.
Garrett Reynolds (Yani Gellman) is a police officer investigating the case of Alison DiLaurentis' death, who is initially assigned to trail Spencer, a suspect in Alison's death. Although he appears to be? sympathetic towards the girls, in reality he is secretly dating/in an? alliance with Jenna. He was a member of N.A.T along with Jason and Ian, who he went to high school with. Garrett and Jenna have broken up. Aria and Spencer see Garrett watching? them after they talk to the guy who Alison owed money to prior to her murder. Garrett then gets arrested, for Alison's murder in front of Melissa. Garrett was murdered by "A" in "This Is A Dark Ride" after saying he was trying to potrect her, insinuating that he had a crush on Spencer.
The following characters are all family members and acquaintances of Emily Fields, one of the protagonists of the series.
Family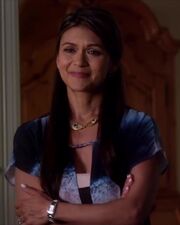 Pam Fields (Nia Peeples) is Emily's mother. Strict and traditional, she expresses great anger and sadness when she learns that Emily is gay. Believing that Maya corrupted her daughter, she holds a grudge against her, eventually discovering marijuana in Maya's bag and having her sent away. Her relationship with Emily becomes extremely strained after this, but begins to heal when Pam stands up to Paige's father for being homophobic and accusing Emily of getting preferential treatment. In the latest episodes, Pam has shown much more acceptance of Emily's sexuality and even offers to have Maya over when hearing she and Emily were back together and acting nicer towards her.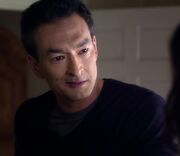 Wayne Fields (Eric Steinberg) is Emily's father, who works in the military and is currently stationed at FortHood, Texas. At the start of the series, he was stationed in Afghanistan, and when he returned home, Emily came out to him. He struggled to accept Emily's homosexuality at first, but took a liking to Maya after she came over for dinner. After a few weeks of being in Rosewood, he got called back to active duty. When Emily was hospitalized after getting an ulcer, he came to visit her, apologizing for pressuring her into getting a swimming scholarship and explaining that he won't mind if Emily gives up on swimming, as long as she is healthy. At the beginning of Season 3, Emily learns that he will be returning to Afghanistan soon.
Relationships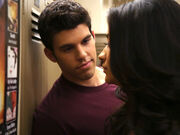 Ben Coogan (Steven Krueger) was Emily's boyfriend at the beginning of the show. It is revealed that the two had been dating prior to Alison's death and that Ben lied about sleeping with Emily, something Emily did not refute, believing it would happen "eventually" anyway. Feeling Emily growing distant from him after the arrival of Maya, he attempts to rape her, but is stopped by Toby. Emily officially dumps him at a party later that evening because she is a lesbian and he tried to rape her.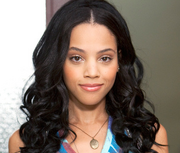 Maya St. Germain (Bianca Lawson) was Emily's first girlfriend. When Maya's family moves next door to Emily, the two quickly become friends, and their friendship gradually develops into romance. Their relationship is rocky at first due to Emily's mixed feelings about being gay, but Maya helps Emily to come to terms with her sexuality. They break up when Pam discovers marijuana in Maya's bag and has her sent away to "True North," a camp for juvenile delinquents. When Maya returns to Rosewood, she hints that she may want to rekindle her relationship with Emily. The two later begin to date again, though Maya is seen getting texts and calls which obviously make her uneasy. Maya later confesses that when she was in camp, she was lonely and hooked up with someone. Emily is okay with that as they weren't together at the time and it's clear that it is over. Maya assures Emily it is, but "It seems like he just won't take no for an answer." Which surprises Emily as Maya said "He." This might possibly hint that Maya is bisexual. Maya appears to know Jason DiLaurentis as well, as we see her talking to him once out of Rosewood. After a rocky dinner with Emily's mom, they both admit their love for each other sharing a passionate kiss in Maya's bedroom which leads to their first time making love (as confirmed by Marlene King via Twitter). Later, Maya reveals that her parents might send her back to "True North", after she claims her parents found an old joint from before she was sent away, though Emily is still left skeptical. At the Sharks celebratory party, Emily finds Maya lighting a joint and is mad that Maya has lied to her. Maya though reveals she has a fix to the problem though; she plans to runaway to San Francisco with some friends from amp and asks Emily to go with her. Emily says she can't leave Rosewood, to which Maya asks, "Not even for me?" with a saddened look on her face. Emily is left speechless and Maya leaves the party, upset. Over the next few days, Emily is unable to contact Maya who has already taken off. Maya texts Emily on and off and calls on occasion, but Emily always misses her calls. Later, Maya leaves a text saying she was hurt that Emily had told her parents that she had made contact with her. At the end of season two, Maya's body is found, and she is presumed to have been murdered. Emily breaks down into agonized tears at the news.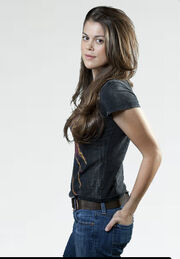 Paige McCullers (Lindsey Shaw) is the captain of the swim team and the star swimmer in Emily's absence. Jealous of Emily's perceived ease of accomplishments, she makes homophobic remarks towards Emily and physically threatens her. However, she later apologizes to Emily, stating that she can understand if Emily hates her, because she hates herself. She later also apologizes for her father, who causes problems for Emily at school, as he believes Emily is getting preferential treatment for being gay. She then kisses Emily, revealing herself to be gay. The two begin an on-again, off-again relationship, which suffers due to Paige's fear of being outed. Emily breaks up with Paige after Paige becomes jealous of Samara flirting with Emily. In Season 2, Emily starts hanging out with Paige once more, who has finally come out to her parents. While trying to console Emily, who is upset about Maya's disappearance, Paige tries to kiss Emily, but is bluntly rejected. Paige later apologizes and agrees to just be friends with Emily for now. The two start dating a while after this, and they remain in a steady relationship until Paige finds out about A, which puts a damper on things. They moved past this, and Paige decided she wanted to go to college, and was accepted into Stanford with a full-scholarship. She even her and Emily's dorm-room all planned out. They later break-up after Paige tells the police that Alison is alive, which means that Alison will be targeted again which upsets Emily. They end up getting back together later on down the road, however, after Mona's death, her parents thought it was too dangerous for her to stay in Rosewood, so she left for California. She returns in Season 7, where she stirs up drama with Emily and Alison, and is hired at Rosewood High as an athletic supervisor. She then rekindles her relationship with Emily after the latter tells her that A is back again. However, they break-up for good after Emily tells her that Alison is pregnant with her child (via A's insemination), and that Emily wants her to have the child. Realizing that they can't be together, Paige leaves and takes a job in another state.
Samara Cook (Claire Holt) is the president of a local private school's Campus Pride group. Upon meeting her, Emily is initially attracted to Samara because of Samara's beauty and the fact that she is out, unlike Paige, who Emily was secretly dating at the time. The two date for a short period of time, but Samara states that she does not want to be exclusive, causing Emily to doubt her feelings. After "A" blackmails Emily into giving Samara's friend her phone number, Samara thinks Emily is flirting and ends the relationship when Emily doesn't give her an honest answer.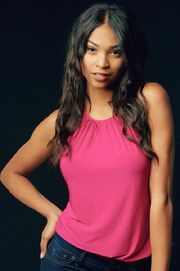 Shana (Aeriel Miranda) (Season 3 - Season 5) is a clerk from the Rosewood Halloween Spooktacular Store. She made her first appearance in Pretty Dirty Secrets, a series of mini web-episodes. She was reintroduced when Hannah saw Paige talking to her in a lesbian bar. Paige admitted that she had a thing with Shana during the summertime and that she was trying to find information on who bought the Halloween costumes of the people who attacked them on the train from Shana. It was revealed that Shana was the mysterious person that Jenna Marshall was talking to in the finale of season 2 when she met up with her again in the finale of season 3. It is also revealed that Shana is in an alliance with Jenna and Melissa and that she may be in a relationship with Jenna. In the season 5 premiere, it's revealed that Shana was the black hooded person who tried to kill Alison the episode before. At the end of the episode, she is killed by Aria.
Alison DiLaurentis (Sasha Pieterse) Alison is the former mean-girl of Rosewood High School, the daughter of Jessica and Kenneth DiLaurentis, the half-sister of Jason, adoptive sister and biological cousin of Charlotte, and cousin of Spencer and Alex. In High School, Alison was the best-friend of Emily,and Ali considered Emily her favorite of her group. The pair were always close, and shared a few kisses, however, Alison claimed they were for "practice". Despite their complicated and rich past, Emily and Alison have remained close and rekindled their relationship after the five-year time-skip. After they both broke up with their respective partners, they found out that A had stolen Emily's eggs, fertilized them, and impregnated Alison. Alison agreed to have the child, and a year-later, the two were in a strong relationship and raising their twin-daughters together. They also got engaged after Alison proposed with Pam's blessing, and Emily's Grandmothers ring.
Other
Lyndon James (Sterling Sulieman) is Maya's "cousin". He comes to Rosewood to talk to Emily shortly after Maya's death. In the mid-season 3 finale "The Lady Killer" he is also revealed as Lyndon James, Maya's stalker ex-boyfriend from True North, and that Nathan St. Germain does not exist. He kidnaps Emily and Paige as revenge for Emily rejecting him, and plans to kill Paige in front of Emily and then kill her. However, the girls escape and in a fight at the light-tower, Emily stabs and fatally wounds Lyndon.
The following characters are all family members and acquaintances of Alison DiLaurentis, the protagonist of the series.
Family
Jason DiLaurentis (Parker Bagley - Season 1; Drew Van Acker - Season 2-present) is Alison, Spencer, Alex, and Melissa's older half-brother. He is also Charlotte DiLaurentis adoptive brother and biological cousin. He had an interesting relationship with his late sister; though they often fought, they were both conniving and willing to keep each other's secrets. Jason attended high school and was friends with Ian and Garrett, and they formed a club called "N.A.T" (initials from a Latin phrase which means "We See All"). He revealed to Spencer that Alison blamed the accident where Jenna was blinded on her, though Spencer believes Jason knows this to be a lie. After Ian's death, Jason returns to Rosewood, moving back into his old house and papering up the windows, apparently looking for something that Alison hid. He explains to Aria, who he has romantic feelings for, that he can't remember what he was doing on the night of Alison's murder and that someone sent him a note afterward with "I know what you did," written on them causing him to fear he might have killed Alison. We later find out that Spencer's father had had an affair with Jason's mother. When Spencer finds this out, she knows something's up, and she looks back on memories. When she remembers Ali telling her weird things on a night when her parents had been fighting about Jason and Melissa kissing, she figures out that Ali had subtly told her about Jason being her half-brother. When she approaches him, he confirms her suspicions and they become closer and eventually he lends her $2,000.
Jessica DiLaurentis (Anne Marie DeLuise - Season 1; Andrea Parker:Season 2-present) is the identical twin-sister of Mary Drake. As children, Mary framed Jessica for the death of a toddler, which resulted in Mary being sent away to Radley. Jessica adopted Mary's first-born child, Charles, whom she helped transition into Charlotte after the child was admitted to Radley. Jessica kept the existence of Charles/Charlotte a secret from her children, and told her husband that the false grave for Charles was real. Jessica later had an affair with Peter Hastings, which produced Jason. A few years later, she gave birth to Alison, who disappeared in High School, and spearheaded a charity fashion show in Alison's memory. Jessica was later murdered by her sister Mary Drake (whom Jessica had planned to murder first with Peter) and buried by her daughter, Charlotte. Her body was then discovered by Alison and the other Liars, and her murder officially solved years later.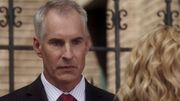 Kenneth DiLaurentis (Jim Abele) is the husband of Jessica and Alison's father. He is also the adoptive father and biological Uncle of Charlotte, and the legal father and step-father of Jason. Kenneth adopted his sister-in-laws son, Charles, along with his wife. However, after he learned that Charles enjoyed wearing female-oriented clothing, he banned it from happening and grew to dislike his adopted son. After finding Charles almost (accidentally) drowning Alison in (unknowingly) hot water in an attempt to soothe her, he convinced Jessica to admit him to Radley. He never visited him, but was saddened when his wife told him that Charles had taken his own life in Radley, and that she had buried him in Carol's backyard. In the early seasons, he hasn't yet forgiven Hanna for saying Alison was alive three-days before her body was discovered. In Season 4, he files for divorce from Jessica, and she believes that this is his way of coping with Alison's believed death, and divorcing her is just a way of erasing Alison from his mind. In Season 5, after Alison returns he supports her throughout her journey and whilst in prison. In Season 6, he learns that Charles is alive but has transitioned into Charlotte. After this discovery, he turns his back on Charlotte and anyone who helped her - which includes Alison and Jason.
Mary Drake is Alison's maternal Aunt, and the identical twin-sister of Jessica DiLaurentis. Mary is also the mother of Alison's adoptive sister and biological cousin, Charlotte, and the mother of her best-friend Spencer Hastings. After Charlotte's death, Mary returned to avenge her daughter and receive justice. In order to do so, she had to convince Alison she was crazy, and worked with Archer Dunhill to do just that.
Friends/Enemies: " Frenemies"
Duncan Albert (Lachlan Buchanan) is a boy Alison met in Brookhaven when she was pretending to be

Vivian Darkbloom. When the girls are in Brookhaven, Duncan mistakes Aria for Vivian when she puts on Alison's red coat. Duncan then gives Aria his number and they later meet up at Rosewood High. There Duncan tells her that he knows Vivian was actually called Alison and that Alison talked about them. He is shocked when he hears about Alison's death. They later meet up again and he takes Aria flying. Duncan tells Aria that he took Alison flying many times and he says that she felt safe in the air, because no one could get to her and she was in control. It is made clear that Duncan was in love with Alison, but Alison had Ian. He also tells her that he picked Alison up from Hilton Head the morning before she went missing, which is how the girls find out that Alison was near Rosewood that morning, hours before she met up with them.
Charlotte DiLaurentis (Vanessa Ray) is an ex-girlfriend of Jason DiLaurentis, who was friends with Alison as well. They spent a summer vacation together in Cape May. It seems that CeCe taught Ali her scheming ways, both act quite similarly. When CeCe returns to Rosewood in Season 3, the girls immediately notice the similarities between the way she acts and how Ali acted. Cece also learned a lot about the other girls from Alison. She was with Alison and Detective Wilden in Cape May the summer Ali died. She saved Spencer from being bitten by a snake. As of Season 4, she is the Liar's main suspect as to who they think Red Coat is. Furthermore, in Bring Down the Hoe, a Red Coat is seen laying on a chair and in the ending scene  she is seen wearing a black hoodie while spying on Ezra and Aria in Ezra's Apartment. Implying that she may be in the A-Team. It was later revealed in Season 6 that not only was she the second A, but she was also a transgendered Charles DiLaurentis.
Jenna Marshall (Tammin Sursok) is Toby's younger stepsister. Jenna was accidentally blinded after Alison 

threw a firecracker into Toby's shed, intending to play a prank on him. At the time, Jenna had been in a sexual relationship with Toby (it is later discovered that Jenna had forced Toby into the relationship, threatening to tell their parents he had forced himself on her if he did not). Although Toby is still afraid of Jenna, further attempts to rekindle their relationship a year later were unsuccessful. Jenna attended a school for the blind in Philadelphia before returning a year later when Alison's body is found. This leads to conflicts with the girls, who feel guilty about what they did to Jenna, and having let Alison pin the blame on Toby. During season 2 we find out that Jenna is scheduled to have a tricky eye operation that has a slim chance upon recovery of returning vision and in the episode "If These Dolls Could Talk" it was revealed that Jenna can now see after surgery, although she keeps her sight a secret and pretends that the surgery has failed. She was able to see for a short time in Season 3 but by Season 4, her vision has worsened.
Other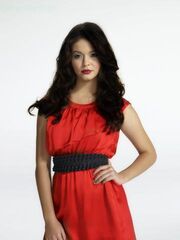 Vivian Darkbloom (Sasha Pieterse) is the secret alter ego of Alison DiLaurentis. After Caleb begins hacking "A's" phone, the girl's discover that Alison had created an alter ego, after she too was being victimized by "A." The name "Vivian" comes from Latin, and it means "Alive." The full name is also an anagram of "Vladimir Nabokov" who wrote the novel "Lolita". Very few people know Vivian's true identity, some of them are Duncan Albert, the four liars, and possibly Mona. Ali pretended to be a separate character, Vivian, in order to spy on "A", under their radar. She later gave the alias to CeCe Drake/Charlotte DiLaurentis to help her get out of the country as she was wanted for Darren Wilden's murder.
Acquaintances of Mona Vanderwaal
Friends
Lesli Stone (Elizabeth McLaughlin) is one of Mona's friends whom she met in Radley. A first glance, Lesli is perceived to be a good friend of Mona's who is left sad and devastated after her death. She also seems relatively harmless and simply wants to know how Mona got murdered as well as to make sure that her murderer (who at that time is believed to be the accused Alison) does not go unpunished. However, later on in the season, Lesli is shown to be two-faced as she testifies against the Liars and Alison in court. She is completely different as compared to her earlier demeanor where she seems friendly. Lesli is vicious in her

description of how the Liars seemingly aided Alison in her murder of Mona and how they were highly suspicious and wary towards her. She also wastes no time in vilifying Alison in court and produces a card that Mona allegedly sent her containing evidence of how Alison had threatened her. 

In Season 6, after Mona's return to Rosewood, Lesli is again shown to be totally different from the Liars' intial perception of her as a loyal friend to Mona. She verbally threatens Mona and later lashes out at her. Lesli is slightly emotionally unstable. This is evidenced by her swift change in attitude towards Mona and the Liars. She's also incapable of staying in control when she loses her temper as seen when she lashes out at Mona. Lesli is also hinted at being violent at times when she repeatedly pounds the steering wheel in her car when she receives unpleasant news. She also has history of mental illness as she was a long-term patient at Radley. Lesli's duplicitous nature is further revealed when the Liars find out she was a roommate of Bethany Young, a character who is mired in the mystery of Big A. This implies she knows a lot more about their predicament than she lets on.
Family
Leona Vanderwaal (Sydney Penny) is Mona's mother. She is first introduced in the mid-season finale of season 5.

At first, she seems clueless, doesn't know whats going on. But when the girls leave again from Mona's house, she asks Hanna if Mona is still scared of Alison. This means that she knew what was going on between Alison and Mona.
Other characters
The Friends /Enemies/ Frenemies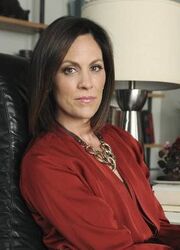 Anne Sullivan (Annabeth Gish) is a therapist who the girls are forced to see to deal with Alison's death. She is visited by A and attempts to reveal A's identity to the girls; A subsequently finds a way to keep her quiet. She returns once Mona ("A") has been caught and explains that Mona ("A") threatened the life of her son to get her to disappear. She then is the one to explain Mona's mental issues to the girls in the jail before Mona ("A") is put in a mental facility.
Anonymous Characters
Community content is available under
CC-BY-SA
unless otherwise noted.