Currently, Emily Fields owns an iPhone 6 Plus.
Motorola V3i
In the "Pilot", Emily, just like Spencer, Hanna and Aria, received a text from "A" on her black Motorola V3i. It is also seen in "The First Secret", when she receives a text from Ben.
Microsoft Kin Two
From Season 1A to 1B, Emily owned a Microsoft Kin Two.
Samsung Intercept
From Season 1B through Season 3A, Emily owned a pink Samsung Intercept.
iPhone 4S
From Season 3B and onwards, Emily has owned a black iPhone 4S in a purple case.
In "To Plea or Not to Plea", when Hanna was arrested, "A" hacked into Emily and Aria's phones and deleted all the A texts, so there wasn't proof to get Hanna out.
Samsung Galaxy S6 Edge
From Season 6B and onwards, Emily has a black Samsung Galaxy S6 Edge in a butterfly case. The phone was run over by a car in Episode 17 and was damaged.
iPhone 6 Plus
In Episode 6x18 and onwards, Emily is seen with a white and gold iPhone 6 Plus in a white case. In 7x04 and onwards, Emily is seen with her iPhone in a green flower case by LUOLNH.
Apple Watch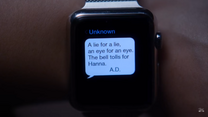 Emily also has a stainless steel Apple Watch with a silver Milanese loop band which she uses to receive messages from A.D in 6x20 and 7x01.
.
Ringtone
Community content is available under
CC-BY-SA
unless otherwise noted.