"
When I was at my most lonely and unhappy and angry place... You loved me. Even when I was an ugly human being, you saw a beautiful soul. You make the world a better place because you see the good in it. And you make me a better woman because you searched for one. Do you promise to do that every day for the rest of our lives?
"
Emison is the romantic relationship and friendship between Alison DiLaurentis and Emily Fields. They are one of the five major ships in the Pretty Little Liars fandom.
Relationship
Emily and Alison first met in junior high, when Alison took Emily under her wing and invited her into her group of friends. Emily, unbeknownst to both of them at the time, had a crush on Alison. The girls were the closest girls in the group and told each other secrets that no one else knew and shared memories. Alison knew that Emily was gay and used this to discreetly tease her or make her uncomfortable about her sexual orientation. As time went on, the pair shared romantic notions and eventually shared kisses. However, Alison refused to accept her bisexuality and rudely turned Emily when it came to having a relationship. Alison went missing soon after, and Emily was devastated over the loss of her best friend. When Emily found out Alison was alive, she helped her return home and the pair began to form a bond once again. Alison was seemingly more comfortable in her sexuality and slept with Emily. The girls had the foundation to start a relationship, but their relationship fell apart before it could get more serious. As time went on, both girls dated other people, with Alison only dating males while Emily owned her sexuality. It wasn't until years later when Alison was unknowingly inseminated with Emily's daughters (a cruel pregnancy orchestrated by "A"), that the pair accepted their feelings for one another and started a relationship. For two-years, they raised their twin daughters together before Alison proposed to Emily.
Series
Dating Timeline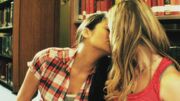 First Kiss: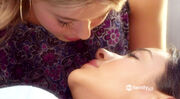 Second Kiss:
First Hook-up: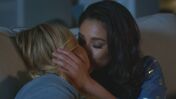 Second Hook-up: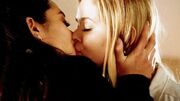 First Relationship:
Parenthood: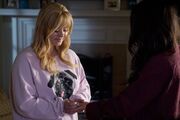 Engagement:
Threats to Emison
Past
Music in Emison Scenes
Memorable Places/Items
The Kissing Rock - Alison once told Emily (and the other Liars) a story about the Kissing Rock being a place for lovers to visit, and asked Emily who she would take there, knowing that Emily secretly wanted to take her. The initials EF+AD are spray-painted on the side of the rock inside a heart, presumably standing for Emily Fields+Alison DiLaurentis. Years later, Alison took Emily to the kissing rock where she had planned a romantic picnic with candles, and the two had sex there.
Rosewood High Library - Alison read Emily a romantic poem about loving someone against promise and reason, which lead to the pair having their first kiss. Emily was also outed by her friends for loving Alison as more than a friend by Darren Wilden after she read an angry letter Emily wrote to Alison about her rejection.
Alison's Bedroom - Emily and Alison had sex together for the first time in Ali's bedroom. Emily also temporarily stayed in Alison's room while her house was under construction. The two also spent notable times in her bedroom such as Ali telling Em to break-up with Ben, Emily staying there to comfort Ali when the latter was grieving the death of Jessica, Emily comforting Ali after Charlotte's death, and Emily finding Ali's red jacket and remembering their memorable moments together.
Emily's Bedroom - Alison came to visit Emily in her room one night while she was missing to talk. Later, Emily admitted to her mom that she did have feelings for Alison before her disappearance and told Pam that she was working on her feelings for Alison. Other memorable times include: Emily staging a confrontation between Paige and Alison and acting as a buffer, Emily letting her stay in her room when she didn't want to go home, and Alison apologizing for their messy past and admitting that their past kisses weren't just for practice.
Paris/Eiffel Towers - Alison once told Emily that they should go to Paris and that Emily would look good on the Eiffel tower with the wind in her hair. When asked, Ali said they would go away forever. While in Welby, Ali mentioned to Emily that they missed their flight (to Paris) and Emily assured her that they would take the next one. When Emily saw the Eiffel Towers in Alison's room, she remembered them talking about going to France together.
Snow Globe - On the day of her disappearance, Alison gave Emily a snow globe, and asked her not to tell the others as she hadn't gotten them any presents, making this gift special for Emily. Alison also confessed to Emily that of all the girls, she was the only one who understood her and could be completely honest with. In the snow globe was a key that Alison wanted to keep safe, knowing that Emily would guard it for her. Emily kept the snow globe for years, and may still have it.
Trivia
Deleted Scenes
In "Choose or Lose" Emily and Alison are cleaning up the kitchen when Emily comments that they spend a lot of time putting the house back together. She is worried that it might be the universe telling them something, but Alison isn't so sure since the situation has been pretty extreme lately. Emily adds that the situation has always been extreme and that their lives have always been crazy. The only difference is that now they are literally facing a ticking clock, and Alison interjects that they have less then fourteen-hours to decide which one of the Liars go to prison. Emily thinks that they should leave town, but Ali isn't sure that they can leave their friends and the town right now. Emily isn't really sure if she really wants to go, and adds that she's not really sure about anything at the moment. Alison states that she is sure of something, and walks closer to Emily. She then adds that she thinks there is something they can do to make their decision easier. Emily smiles and looked her girlfriend up and down.
Children
Quotes
Alison: [reading to Emily] I loved her against reason, against promise, against peace, against hope, against happiness, and against all discouragement that could be.
Alison: Shy in the streets, sexy in the sheets.
[Alison and Emily exchange a smile]
Alison: You and me in sweet Paris. How does that sound?
Emily: Maybe we should learn to 'parler francais' before we go.
Alison: We could start in the South of France. Dancing through the sunflower fields... Lounging around in our bikini's in the French Riviera. You'd look so good on top of the Eifel Tower, the wind in your hair...
[Emily stands up and walks over]
Emily: How long are we going away for?
[their hands touch on the photograph]
Alison: How about forever?
Alison: Just because you and I kissed in the library doesn't mean I'm into you like that. I like boys. And trust me, if I'm kissing you, it's practice for the real thing.
[Alison to Emily in a flashback]
Emily: I loved Alison. As more than a friend. I just never had the chance to tell her in the right way.
Alison: That bitch thinks that is what you really want... To be completely free of A.
Emily: Do you know who A is?
Alison: Of course, I do.
Emily: You have to tell me.
Alison: I don't think that's a good idea.
Emily: Why?
Alison: Because only two can keep a secret if one of them is dead. You have to decide what you want, Emily. You can stay here, or you can come with me.
[Alison leans down and kisses Emily]
[Emison in Emily's "dream"]
Alison: I saved your life, twice. I risked everything for you.
Emily: You destroyed me, okay? I thought you were dead.
Alison: But I'm not... Aren't you glad that I'm not?
Alison: That's why I need you. You always saw the best version of me. The person I want to be.
Emily: Mrs. DiLaurentis, I want you to know that you're not the only one who's seen, Ali. I have too.
Jessica: Of course, you have. You loved her as much I did. I wish that Ali could have returned those feelings. I couldn't have asked for a better person to love her then you.
Emily: It's weird. There's one story where she says that I'm so desperately in love with her I'd rob a bank if she asked me to, and another where she says I always put my friends and she wishes she was more like me.
[Emily about the entries in Alison's diary]
Shana: Ali said she missed you the most. You were her favorite. Nobody loved her as much as you. She gave you a choice, to stay or go with her. Before she left, she kissed you.
Emily: Where is she? Where is Ali?
Shana: I never know. She's always on the move, she finds me.
Emily: How long have you known that she's alive?
Shana: Since Mona went to Radley.
Emily: You've known this whole time? Why did she-? Did she come to you?
Shana: She wants to meet you, Emily. Tonight. But you have to go alone, that's the only way it will be safe.
Emily: Why me?
Shana: My guess? Because you were her favorite.
[Emily and Shana talk about Alison and the night of the barn incident]
Emily: It's really you.
Alison: I've missed you so much.
[Emison huge and are reunited]
Alison: I know I can trust you, Em. I'm just not sure about them.
Emily: Why?
Alison: You never stopped caring about me did you? Even after everything I put you through. You don't know how much I regret hurting you. If I could do it all over again things would be so much different.
Alison: When I was talking to Paige... I realized that I owe you an apology too. I always made you think your feelings for me were totally one-sided. That wasn't true. Those kisses weren't just for practice.
Emily: I don't know what you want me to say.
Alison: You don't have to say anything.
Emily: Why are you telling me this now?
Alison: I just thought you should know.
Alison: You probably don't remember what I said to you when I pulled you out of that barn.
Emily: I remember every word. I just... Don't know what's real and what I made up. You said you missed me the most.
Alison: You were the hardest one to leave behind.
Alison: Em. I know I screwed up. Em. Will you look at me? Please?
Emily: Why wouldn't you just tell us the truth? You know, it's so much easier then lying.
Alison: I didn't tell you everything because I was afraid I was going to lose you. Please.
[She goes to kiss Emily but she stands up]
Emily: That's not gonna fix this.
Alison: I never thanked you for what you did tonight.
Emily: I didn't do anything.
Alison: You risked your life for me, Em. Most people when they see danger run in the opposite direction as fast as they can.
Emily: It's-it's getting late. Do you want me to take you home?
Alison: I don't wanna me alone tonight. Can I stay here? We'll just sleep. I promise.
Emily: Yeah, yeah of course.
Pam: It was really nice having that time with Alison.
Emily: Why was it so important to have Ali here tonight?
Pam: I wanted to see the two of you together. You know, hindsight's twenty-twenty and I just realized that maybe you thought of her as more than just a friend before she left.
Emily: I did.
Pam: A lot changed while she was gone. How do you feel now?
Emily: I'm... Working on it.
Pam: Look, Honey, I can't tell you how your heart should work. But just remember that you may have saved Alison once, but you don't need to keep saving her.
Alison: You heard.
Emily: Yeah, but I didn't understand. You identified him? Ali, I thought we were in this together.
Alison: We are.
Emily: No, we're not. Whatever A has planned affects all of us, not just you.
Alison: I waited as long as I could. Everyone was looking at me. Being in that place... You weren't there, Em.
Emily: When? When wasn't I there? When Hanna broke her leg because of A? When I almost died in an elevator because I was trying to find out who killed you? Or when Spencer had to check into Radley because of everything you're disappearance put us through? The past several years haven't been easy for any of us. But what makes it okay is that we stick together. We don't turn on each other.
Alison: I have a plan.
Emily: Oh, I'm sure you do. The problem is that you'll throw us under a bus just to pull it off. I stuck up for you! Against Paige, against Spencer, against everyone! I wasted so much time on you.
Alison: Emily. I'm gonna make it right. I am. I can still find out who A is. Please.
Emily: I'm done, Ali. I am so done with you.
Alison: Emily? I didn't mean to scare you.
Emily: No, you didn't.
Alison: I seriously saw the hair on the back of your neck rise when you heard my voice. I was surprised to get your message. You made your feelings for me crystal the last time I saw you.
Emily receives a text from Aria asking where A
Emily: Sorry. My mom's at the store. Um, last minute shopping.
Alison: Why am I here, Emily?
Emily: It bothers me. I mean, tomorrow is Thanksgiving and you and I aren't even speaking.
Alison: I wasn't surprised when the other turned on me. But you were the one that I trusted.
Emily (quietly): The loyal one.
Alison: What?
Emily: Nothing.
Alison: I'm sorry I disappointed you.
Emily: Ali, wait. I don't want things to be like this.
Alison: Neither do I.
Alison: There's no way the others are going to let you be friends with me if that's what you want.
Emily: I make my own decisions. It's not a group vote.
Alison: I've had the chills all day. Do you have any tea?
Emily: Chamomile?
[Emily starts to leave but turns to see Alison looking in her phone]
Alison: Your mom never shops at the last minute. You've got a text from Hanna she wants to know if you're still keeping me busy. I'm A, right?
Emily: I don't know. Are you?
[Emily walks to Alison and takes her phone back]
Alison: I actually believed you.
Emily: Must hurt. When they loyal one betrays you.
[Alison scoffs walking past her banging into her shoulder as she does then turns]
Alison: That was a quite a performance Em. Bravo.
Emily: You don't think we owe her an apology?
Spencer: Aria, we formed a human blockade.
Emily: She's locked in a cell because of us.
Aria: No, she's locked in a cell because of karma. Well, and because of us.
Emily: Okay look, no one is saying she's a saint.
Spencer: Or a decent human being.
Emily: But she's on trial for a murder that she didn't commit. Mona set her up and then almost killed herself and now Ali's going down for it. I wouldn't wish that on my worst enemy.
Emily: Hello, Ali.
Alison: Hello, Emily.
Emily: Are you okay?
Alison: Never better.
Emily: You'll be fine.
Alison: Really? What makes you say that?
Emily: I'm sorry.
Alison: No, I'm sorry. I didn't call to say that. I just... Listen, tomorrow. Will, you be there?
Emily: I'll try.
Alison: You'll try?
Emily: I'll be there.
Alison: Thank you. Somebody said it was raining. Is it raining back home?
Emily: Yes it-it's raining.
Alison: Goodnight, Em.
Emily: Goodnight, Ali.
Emily: You gonna be okay?
Alison: Yeah. I spent my whole life dreaming about getting away from here. But, now this is the only place I wanna be.
Emily: Love you.
Alison: Love you too.
[They hug; Emison goodbye before the time-jump]
Alison: Can I stay here for a bit? I could really use someone to talk to.
Emily: I can't stay, I actually have somewhere to be. Great. Elliot told you. Yeah, well they're my eggs and I made the decision to I need to do it. You can say whatever you wanna say I don't care just... Promise me you won't tell my mom.
Alison: Emily. Elliot didn't... Honestly, I had no idea. You're donating your eggs?
Emily: Oh, my god. I'm such a jerk.
Alison: When is this happening?
Emily: Uh, today.
Alison: And you're going by yourself?
Emily: Ali, you don't have to wait here with me.
Alison: There is no way I'm gonna leave you here alone. I'll be right here when you wake up.
Alison: I had an amazing dream about her in the hospital. She wanted me to know she was proud of me.
Emily: I had a dream like that. After my dad's funeral. I fell asleep on the couch and he woke me up. He was wearing his dress blues and he looked so handsome. He came to say goodbye.
Alison: Think it was really him?
Emily: I like to think so. Maybe it felt so real because I wanted it to be.
Alison: Well, I hate that you have to babysit me. But I'm really happy that you're here.
Emily: Me too.
Alison: Emily? You were supposed to wake me up.
Emily: It took me longer to get here then I thought it would.
Alison: I can't move. I think something's wrong with me.
Emily: You're in the hospital.
Alison: We're gonna miss our flight.
Emily: We'll take the next one.
Emily: Ali...
Alison: Don't.
Emily: You don't have to go through this alone. I know your upset we gave your jacket to A.D. and you have every right to be-
Alison: Spencer already explained it to me.
Emily: Well she left something out. We are so sorry. I am so sorry, Ali
Alison: I know.
Emily: How was your first day back at the school?
Alison: Usual pranks.
Emily: Well, at least you've already been teaching there. It's not like it's your first time back. Like deciding to take a job out of the blue or something.
Alison: Okay. How about we skip the part where I try and figure out what's going on and you just tell me?
Emily: I'm thinking about applying for a coaching job at the High School. And... I was wondering how you would feel about me being there with you.
Alison: I'm fine with it.
Emily: Really?
Alison: Yeah, in fact, I'd love it. Why? What? Did you want me to say that I didn't want you to?
Emily: No, no not at all I... I don't know. I'm not even sure I wanna do it.
Alison: It doesn't hurt to apply.
Emily: No, you're right.
Alison: Five years ago... Who would have thought we'd both end up back at RHS.
[Alison is crying. Emily wipes her tear]
Emily: Hey, it's going to be okay.
[Alison kisses Emily who pulls back]
Emily: Ali, you're really vulnerable right now.
Alison: That's not why, I promise.
[they kiss again]
Alison (to Emily): You're not doing this alone.
[Emily's phone rings and she answers it]
Emily: Ali?
Alison: Congratulations. You're a mother.
Emily: The blood test.
Alison: It's you and me.
Emily: It's not just the two of us. There was someone else involved.
Alison: Well, it wasn't Dunhill. It's the wrong blood type. So. That narrows it down to a couple million. Hey, are you still there?
Emily: Yeah. Yeah, I'm here.
Alison: What are you thinking?
Emily: I'm not thinking at all right now.
Alison: I know how I feel when she looks at me. I never felt that with anyone before. It's like... She sees who you really are. Maybe that's the scariest part. You look at her, and you look at her eyes and you wanna be worth the effort. You wanna be the person she sees.
Emily: I don't know why I thought I had to protect you. You're basically the strongest woman I know.
Alison: You've always protected me, Em. Ever since I met you I knew I could count on you.
Alison: I want to do this. Together.
Emily: What do you mean, together?
Alison: I want to be a family. Over the years, I've been so many failed relationships and I always made excuses why. But I know the reason. Paige tried to get me to say it but I didn't want to say it to her.
Emily: What-
Alison: I love you.
[Alison takes the bear from Emily and sets it aside]
Alison: You told me not to do this until I was ready.
Emily: Do what?
Alison: This.
[They kiss]
Alison: Love you.
Emily: Love you, too.
[they share a kiss and Alison hands her the babies, and watches Emily walk away]
Alison: I just want you to know that you always have family.
Gallery