"
When I was at my most lonely and unhappy and angry place... You loved me. Even when I was an ugly human being, you saw a beautiful soul. You make the world a better place because you see the good in it. And you make me a better woman because you searched for one. Do you promise to do that every day for the rest of our lives?
"
Emison is the romantic relationship and friendship between Alison DiLaurentis and Emily Fields. They are one of the five major ships in the Pretty Little Liars fandom.
Relationship
Emily and Alison first met in junior high, when Alison took Emily under her wing and invited her into her group of friends. Emily, unbeknownst to both of them at the time, had a crush on Alison. The girls were the closest girls in the group and told each other secrets that no one else knew and shared memories. Alison knew that Emily was gay and used this to discreetly tease her or make her uncomfortable about her sexual orientation. As time went on, the pair shared romantic notions and eventually shared kisses. However, Alison refused to accept her bisexuality and rudely turned Emily when it came to having a relationship. Alison went missing soon after, and Emily was devastated over the loss of her best friend. When Emily found out Alison was alive, she helped her return home and the pair began to form a bond once again. Alison was seemingly more comfortable in her sexuality and slept with Emily. The girls had the foundation to start a relationship, but their relationship fell apart before it could get more serious. As time went on, both girls dated other people, with Alison only dating males while Emily owned her sexuality. It wasn't until years later when Alison was unknowingly inseminated with Emily's daughters (a cruel pregnancy orchestrated by "A"), that the pair accepted their feelings for one another and started a relationship. For two years, they raised their twin daughters together before Alison proposed to Emily.
After another two years, Alison and Emily struggled to find their footing in their relationship now that A is gone. While they love each other, their issues boiled down to trust and who they are as people and a couple no that A is out of their lives. After Alison was chosen for a faculty position at BHU, she moved from Rosewood to Beacon Heights to pursue her degree. While they still remain in a relationship, they are on separate journies for the time being.
Series
"
Emily loves me. She just can't get past the past.
"

— Alison to Mona
Emily and Alison have since gotten married and are still co-parents to their twin daughters. However, they still struggle to move beyond their complicated past. While they love each other and remain married, it has become hard for them to trust one another and figure out who they are without A.
Alison received papers from the Rosewood county family and law courts. She ignored the papers along with the influx of missed calls and texts from Emily. When Mona finally confronted Alison about her weird behavior, Alison explained that she saw a picture of Emily and the girls on Instagram that morning. Emily wasn't wearing her wedding ring, which she assumed meant that she had moved on. Mona helped her realize that if she had moved across the country she must have known how this was going to end, to which Alison admitted to convincing herself that Beacon Heights was the fresh start she thought would help her marriage.
A few days later, she texted Emily that she was sorry for having avoided her, but the last step had been really hard for her. She then tearfully signed the divorce papers and removed her wedding ring, setting it on the papes as she cried. She looked solemnly at a picture of her, Emily, and the twins on her mantle.
Dating Timeline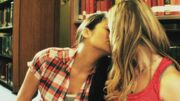 First Kiss:
Started: The Perfect Storm (1x09) - Flashback
Reason: The Liars wait in the library before the exam, and Emily gets a text from "A" that sends her on a hunt for the book "Great Expectations" in the library. Seeing the book makes her flashback to when Alison had been reading the same novel one day alone in the library.
Second Kiss:
Started: Over My Dead Body (2x12)
Reason: Emily is trapped in a barn due to "A". Someone drags her out, and Emily, on the brink of death having inhaled dangerous fumes, hallucinates that she sees Alison. Alison says that it's good to see her again and that she misses her the most. It has since been revealed that Emily did not hallucinate Alison, and Alison did, in fact, drag Emily from the barn.
First Hook-up:
Started: Miss Me x 100 (5x05)
Reason: In Alison's bedroom, Emily asks if Alison is sleeping. Rolling over to face the center of the bed, the girls stare at each other before Emily leans in for a kiss, which leads to another, and another.
Ended: Miss Me x 100
Reason: Emily finds out that Alison lied about slapping Mona. In Emily's bedroom, Alison tries to kiss her, but Emily moves away and tells Alison that a kiss is not going to fix this.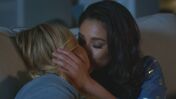 Second Hook-up:
Started: The DArkest Knight (7x10)
Reason: Alison confides in Emily over the fact she is pregnant. Later that night, they are on the couch. Alison starts crying and Emily tells her everything will be okay. Alison leans over and kisses Emily, in which Emily says that Alison is vulnerable. Alison tells her that's not why she's kissed her, and then leans in to kiss her again They continue to kiss and end up falling asleep on the couch.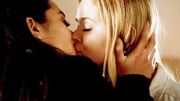 First Relationship:
Started: The Glove That Rocks the Cradle (7x16)
Reason: Alison and Emily have a talk in the baby's nursery, where Emily says that Alison is the strongest woman she knows but doesn't get why Alison always keeps pushing her away. Alison responds that she doesn't know either but that she's ready to stop. She tells Emily that she wants to become a family. Emily doesn't understand it and Alison tells her that over the years she's been in many failed relationships and that the reason why they failed is that she loves Emily. This is the first time Alison says 'I love you' to Emily. With Alison finally admitting her feelings, they come together.
Parenthood:
Started: Prior to 'Til Death Do Us Part (7x20)
Reason: Alison gave birth to her and Emily's daughters in the time jump in the series finale 7x20. The first time we see them as parents, Alison and Emily are proud and happy moms to two beautiful twin girls. They are a very loving and happy family.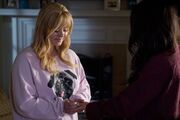 Engagement:
Started: 'Til Death Do Us Part (7x20)
Reason: Alison is in love with Emily and knows she wants to spend the rest of her life with her. She wants Emily to know she will always be there for her and that she will always have a family. It's clear that Emily and Alison are the happiest together and they love each other more than anything. When Alison proposes, Emily happily says, "yes".
Marriage & Long-Distance
Started: June 30, year unknown, two years before Pilot.
Long Distance: Before Pilot (1x01)
Reason: Alison received a job offer at Beacon Heights University where she could teach and attend the university to get her degree at the same time. (1x01)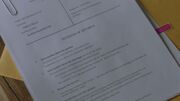 Divorce
Started: "The Ghost Sonata" (1x04)
Reason: They couldn't make the long-distance work and, accordingly to Alison, Emily couldn't overcome Alison's past mistakes and trust her completely. They remain co-parents to their twin daughters.
Threats to Emison
Current
The Past - While Emison loves each other deeply and are dedicated to making their relationship work, Emily struggles to overcome their tumultuous past and trust Alison after all the things she did.
Past
Paige McCullers - Paige and Emily had an on and off again romantic relationship, and were dating throughout High School. However, Alison and Paige have a very rough past, as Ali had bullied her throughout High School. Paige disliked Alison while Alison didn't trust or like Paige. Paige tried to stop Emily from helping Alison when found out she was alive and tried to get Emily to leave Alison.
A - Alison was on the run from "A" since her disappearance, and was forced to stay out of Rosewood and pretend to be dead in order to protect herself and others. When she returned, she was constantly threatened and forced to do things that she wouldn't normally do. She started keeping secrets from Emily because of A. Later, A framed Alison for being "A" and turned Emily against her. "A" also turned pair against each other a number of times and made it difficult for Emily to trust Alison.
Archer Dunhill - Archer was Alison's boyfriend and later husband, who managed to get Alison to push Emily away after Charlotte's death. Alison later married Archer, and he started convincing Emily that Alison had a psychotic break.
Alison's Sexuality - In her own way, Alison self-jeopardized her relationship with Emily, as she refused to admit her true feelings for her. She constantly pushed Emily away and made Emily question her choice to trust her. Ali often sunk back into her old ways, by making romantic moves towards Emily when she was feeling down or wanted Emily to stay with her. She often declined her true feelings for Emily as she didn't want to admit her bisexuality.
Music in Emison Scenes
"Every Summer" by U.S. Royalty (played as Ali asks Em who she wants to" take to the kissing rock) "The Jenna Thing"
"Cordial Invitation" by Giant Drag (played as Ali teases Emily about being into Jenna) "The First Secret"
"Come On Back" by Amy Stroup (played as Alison paints Emily's toes and tells her to break up with Ben since she deserves better) "Bring Down the Hoe"
"Hear, Say, See" by Kathryn Hallberg (played as Emily is at the Brew when she finds a note from Alison) "Love ShAck, Baby"
"Surrender [Piano Version]" by Digital Daggers (played as Emily is at the Kissing Rock to meet with Alison) "Love ShAck, Baby"
"Little Bit" by Hannah Miller (played as Emily gets ready to meet up with Alison) "Close Encounters"
"Never Get To Heaven" by Sarah Blaine (played as Emily comforts Alison when they find Mrs. D's body) "Whirly Girlie"
"Begin Again" by Rachel Platten (played as Emily and the other Liars meet with Alison outside of the school) "Miss Me x 100"
"Every Breath You Take" by Denmark & Winter (played as Emison hook-up) "Miss Me x 100"
"Fool For You" by Garrison Starr & AG (played as Alison asks Emily if she can stay the night, Emily stays up and watches over her as she sleeps) "Run, Ali, Run"
"A Pain That I'm Used To" by Ameritz (played as Emily is on the phone with Alison and they hang up. Also plays when Alison is in the courtroom and looks for Emily) "The Melody Lingers On"
"There's a Ghost" by Fleurie (played as Emily reads Alison's letter about coming back to town) "Of Late I Think Of Rosewood"
"Every Breath You Take (Re: Imagined)" by Denmark & Winter (played as Emily remembers notable moments of their relationship while in Alison's room) "Tick-Tock, Bitches"
"In Too Deep" by The Sweeplings (played as Emily notices Alison is crying and comforts her when Alison kisses her) "The DArkest Knight"
"Breathe" by Fleurie (played as Alison tells Emily she's decided to have the baby, Em promises to help her through the pregnancy and thanks her, and they hug) "In the Eye Abides the Heart"
Memorable Places/Items
The Kissing Rock - Alison once told Emily (and the other Liars) a story about the Kissing Rock being a place for lovers to visit, and asked Emily who she would take there, knowing that Emily secretly wanted to take her. The initials EF+AD are spray-painted on the side of the rock inside a heart, presumably standing for Emily Fields+Alison DiLaurentis. Years later, Alison took Emily to the kissing rock where she had planned a romantic picnic with candles, and the two had sex there.
Rosewood High Library - Alison read Emily a romantic poem about loving someone against promise and reason, which lead to the pair having their first kiss. Emily was also outed by her friends for loving Alison as more than a friend by Darren Wilden after she read an angry letter Emily wrote to Alison about her rejection.
Alison's Bedroom - Emily and Alison had sex together for the first time in Ali's bedroom. Emily also temporarily stayed in Alison's room while her house was under construction. The two also spent notable times in her bedroom such as Ali telling Em to break-up with Ben, Emily staying there to comfort Ali when the latter was grieving the death of Jessica, Emily comforting Ali after Charlotte's death, and Emily finding Ali's red jacket and remembering their memorable moments together.
Emily's Bedroom - Alison came to visit Emily in her room one night while she was missing to talk. Later, Emily admitted to her mom that she did have feelings for Alison before her disappearance and told Pam that she was working on her feelings for Alison. Other memorable times include: Emily staging a confrontation between Paige and Alison and acting as a buffer, Emily letting her stay in her room when she didn't want to go home, and Alison apologizing for their messy past and admitting that their past kisses weren't just for practice.
Paris/Eiffel Towers - Alison once told Emily that they should go to Paris and that Emily would look good on the Eiffel tower with the wind in her hair. When asked, Ali said they would go away forever. While in Welby, Ali mentioned to Emily that they missed their flight (to Paris) and Emily assured her that they would take the next one. When Emily saw the Eiffel Towers in Alison's room, she remembered them talking about going to France together.
Snow Globe - On the day of her disappearance, Alison gave Emily a snow globe, and asked her not to tell the others as she hadn't gotten them any presents, making this gift special for Emily. Alison also confessed to Emily that of all the girls, she was the only one who understood her and could be completely honest with. In the snow globe was a key that Alison wanted to keep safe, knowing that Emily would guard it for her. Emily kept the snow globe for years, and may still have it.
Trivia
Emily loved Alison before she went missing and believed that Alison didn't feel the same way.
Alison broke Emily's heart when she said that when she kissed Emily, it was practice for kissing boys later on. Despite this, Alison told Spencer in Radley that, "practice is better than the real thing". However, in "Miss Me x 100", Alison apologized for making Emily think that she didn't feel the same way about her, stating those kisses weren't just for practice. Making it clear that Alison has had feelings for Emily too. 
Alison refers to Emily as "Girl Crush" in her diary, hinting that she had feelings for Emily while she was away.
Alison was the first girl that Emily liked romantically and had a crush on, and also was the first girl she kissed.
They both had their first same-sex kiss with one another.
Alison also wrote a poem or entry in her diary called "Mermaid" where she refers to Emily as "her beautiful mermaid". 
Alison gave Emily a snow globe that was her Grandmothers. Shana later said that Alison told her it was for someone special, but never told her who it was. 
Alison was the only person Emily told that she didn't really have sex with Ben, even after she falsely admitted to it earlier. 
Ali knew that Emily was gay, and teased her about it after she ogled Jenna during the Halloween party in "The First Secret". 
They planned to go away to Paris together a few times, and the Eiffel Tower and France are mentioned to be tied to them ever since. 
Alison wanted Emily to break-up with Ben, as she believed she deserved better and even offered to break-up with Ben for her, which Emily thought was wrong. 
During Season 1, Emily wore the friendship bracelet that Alison gave her every episode; even while she was dating Maya. Emily was last seen wearing it in "A Person of Interest." She took it off when she began seeing Paige.
Out of the four other liars, Alison was always the closest with Emily and vice versa.
Alison has told Emily a number of times that she was her favorite.
Alison saved Emily's life three times; the first was when she was stuck in a barn with a running car, the second when she was about to be sawed in half by A, and the third when she pulled her out of the cabin fire.
Emily has saved Alison's life once when Alison was being attacked by A in her living room and Emily fended her off.
After being hypnotized and put into a dream-like state by Dr. Sullivan, Emily saw that she had killed Alison, despite her not actually being the one to do it.
Alison told Emily about CeCe and helping CeCe escape the country, and is the only Liar she told about it.
When Ali spent the night at Emily's, Emily stayed up all night and watched over Alison as she slept to make sure she was safe.
Emily is the only person that Alison told about what really happened with Cyrus Petrillo.
In Season 5, Emily was the first Liar to defend Alison, and the first to believe that she had changed for the better. She was also the last Liar to turn her back on Alison, believe that Ali is A, and believe that Alison killed Mona.
Alison took Emily to her appointment to get her eggs donated, as she refused to let her be alone.
Emily took Alison to Welby so that the latter could get the help she thought she needed. Emily was also one the first person to try and get her out.
Emily was the first and only person Alison originally told about her pregnancy, and Emily supported her completely through her decisions and helped her.
They had their first kiss after the time-jump on Alison's couch in her living room, and later woke up together there.
Alison carried Emily's twin-daughters, as she was artificially inseminated during her stay at Welby with Emily's fertilized eggs. This drew the pair closer, and they eventually started a romantic relationship together as they realized they wanted to be a family.
Alison and Emily had two daughters

during the time jump in "

'Til Death Do Us Part

", 

Grace DiLaurentis-Fields and Lily DiLaurentis-Fields.
Alison proposed to Emily with Em's grandmother's ring. Alison also did this with the help of Emily's mom, Pam. However, the super-romantic proposal she had planned never got to happen. Instead, she proposed in the living room of their house.
In the finale episode of PLL, a behind-the-scenes picture of Sashay from Season 1 can be seen in the background when Emily is cleaning up the living room.
Emison is married in "Pretty Little Liars: The Perfectionists", with their wedding being the only one out of the four endgame ships not be seen.
They are currently the only long-distance endgame couple that is canonically known.
The PLL Instagram account posted a series of text messages between Alison and Emily before she left for Beacon Heights that showed more of their hardships in their marriage. The video can be found here.
Emily initiated the divorce process prior to "The Ghost Sonata", however, Alison didn't receive them until then. Emily had already signed her name by then, and Alison added hers after much turmoil.
Many details about their wedding was revealed via their divorce papers. Such as, that they were married on June 30th in Rosewood, Pennsylvania.
I. Marlene King has stated that she always took fan opinions into account when thinking about Emison and their fate.
Shay Mitchell (Emily), Sasha Pieterse (Alison), Ian Harding (Ezra), and Andrea Parker (Mary/Jessica) openly ship Emison over the other ships in the show.
I. Marlene King and Sara Shepard have confirmed that Emison will still be together in Pretty Little Liars: The Perfectionists, despite Shay Mitchell not confirmed to be appearing.
When asked to design the Emison wedding, Sasha stated that she would love it if the couple had a beach wedding, since Emily loved her time in California. She also thinks that Alison would love a flowing wedding dress, as Ali would love the pictures and Emily would love the environment.
Sara Shepard wrote two novels about the Emison love-story, which were released exclusively online. The books, however, are more true to the Pretty Little Liars novel series then the TV series. The books are titled, "Pretty Little Love" and "Pretty Little Lost" respectively.
After the cancellation of Pretty Little Liars: The Perfectionists, Marlene responded to a fan about the fate of Emison, saying they lived happily ever after in Rosewood with Grace and Lily.[1]
Deleted Scenes
In "Choose or Lose" Emily and Alison are cleaning up the kitchen when Emily comments that they spend a lot of time putting the house back together. She is worried that it might be the universe telling them something, but Alison isn't so sure since the situation has been pretty extreme lately. Emily adds that the situation has always been extreme and that their lives have always been crazy. The only difference is that now they are literally facing a ticking clock, and Alison interjects that they have less then fourteen-hours to decide which one of the Liars go to prison. Emily thinks that they should leave town, but Ali isn't sure that they can leave their friends and the town right now. Emily isn't really sure if she really wants to go, and adds that she's not really sure about anything at the moment. Alison states that she is sure of something, and walks closer to Emily. She then adds that she thinks there is something they can do to make their decision easier, and Emily smiles and looks Alison up and down.
Children
Quotes
Alison: [reading to Emily] I loved her against reason, against promise, against peace, against hope, against happiness, and against all discouragement that could be.
Alison: Shy in the streets, sexy in the sheets.
[Alison and Emily exchange a smile]
Alison: You and me in sweet Paris. How does that sound?
Emily: Maybe we should learn to 'parler francais' before we go.
Alison: We could start in the South of France. Dancing through the sunflower fields... Lounging around in our bikini's in the French Riviera. You'd look so good on top of the Eifel Tower, the wind in your hair...
[Emily stands up and walks over]
Emily: How long are we going away for?
[their hands touch on the photograph]
Alison: How about forever?
Alison: Just because you and I kissed in the library doesn't mean I'm into you like that. I like boys. And trust me, if I'm kissing you, it's practice for the real thing.
[Alison to Emily in a flashback]
Emily: I loved Alison. As more than a friend. I just never had the chance to tell her in the right way.
Alison: That bitch thinks that is what you really want... To be completely free of A.
Emily: Do you know who A is?
Alison: Of course, I do.
Emily: You have to tell me.
Alison: I don't think that's a good idea.
Emily: Why?
Alison: Because only two can keep a secret if one of them is dead. You have to decide what you want, Emily. You can stay here, or you can come with me.
[Alison leans down and kisses Emily]
[Emison in Emily's "dream"]
Alison: I saved your life, twice. I risked everything for you.
Emily: You destroyed me, okay? I thought you were dead.
Alison: But I'm not... Aren't you glad that I'm not?
Alison: That's why I need you. You always saw the best version of me. The person I want to be.
Emily: Mrs. DiLaurentis, I want you to know that you're not the only one who's seen, Ali. I have too.
Jessica: Of course, you have. You loved her as much I did. I wish that Ali could have returned those feelings. I couldn't have asked for a better person to love her then you.
Emily: It's weird. There's one story where she says that I'm so desperately in love with her I'd rob a bank if she asked me to, and another where she says I always put my friends and she wishes she was more like me.
[Emily about the entries in Alison's diary]
Shana: Ali said she missed you the most. You were her favorite. Nobody loved her as much as you. She gave you a choice, to stay or go with her. Before she left, she kissed you.
Emily: Where is she? Where is Ali?
Shana: I never know. She's always on the move, she finds me.
Emily: How long have you known that she's alive?
Shana: Since Mona went to Radley.
Emily: You've known this whole time? Why did she-? Did she come to you?
Shana: She wants to meet you, Emily. Tonight. But you have to go alone, that's the only way it will be safe.
Emily: Why me?
Shana: My guess? Because you were her favorite.
[Emily and Shana talk about Alison and the night of the barn incident]
Emily: It's really you.
Alison: I've missed you so much.
[Emison huge and are reunited]
Alison: I know I can trust you, Em. I'm just not sure about them.
Emily: Why?
Alison: You never stopped caring about me did you? Even after everything I put you through. You don't know how much I regret hurting you. If I could do it all over again things would be so much different.
Alison: When I was talking to Paige... I realized that I owe you an apology too. I always made you think your feelings for me were totally one-sided. That wasn't true. Those kisses weren't just for practice.
Emily: I don't know what you want me to say.
Alison: You don't have to say anything.
Emily: Why are you telling me this now?
Alison: I just thought you should know.
Alison: You probably don't remember what I said to you when I pulled you out of that barn.
Emily: I remember every word. I just... Don't know what's real and what I made up. You said you missed me the most.
Alison: You were the hardest one to leave behind.
Alison: Em. I know I screwed up. Em. Will you look at me? Please?
Emily: Why wouldn't you just tell us the truth? You know, it's so much easier then lying.
Alison: I didn't tell you everything because I was afraid I was going to lose you. Please.
[She goes to kiss Emily but she stands up]
Emily: That's not gonna fix this.
Alison: I never thanked you for what you did tonight.
Emily: I didn't do anything.
Alison: You risked your life for me, Em. Most people when they see danger run in the opposite direction as fast as they can.
Emily: It's-it's getting late. Do you want me to take you home?
Alison: I don't wanna me alone tonight. Can I stay here? We'll just sleep. I promise.
Emily: Yeah, yeah of course.
Pam: It was really nice having that time with Alison.
Emily: Why was it so important to have Ali here tonight?
Pam: I wanted to see the two of you together. You know, hindsight's twenty-twenty and I just realized that maybe you thought of her as more than just a friend before she left.
Emily: I did.
Pam: A lot changed while she was gone. How do you feel now?
Emily: I'm... Working on it.
Pam: Look, Honey, I can't tell you how your heart should work. But just remember that you may have saved Alison once, but you don't need to keep saving her.
Alison: You heard.
Emily: Yeah, but I didn't understand. You identified him? Ali, I thought we were in this together.
Alison: We are.
Emily: No, we're not. Whatever A has planned affects all of us, not just you.
Alison: I waited as long as I could. Everyone was looking at me. Being in that place... You weren't there, Em.
Emily: When? When wasn't I there? When Hanna broke her leg because of A? When I almost died in an elevator because I was trying to find out who killed you? Or when Spencer had to check into Radley because of everything you're disappearance put us through? The past several years haven't been easy for any of us. But what makes it okay is that we stick together. We don't turn on each other.
Alison: I have a plan.
Emily: Oh, I'm sure you do. The problem is that you'll throw us under a bus just to pull it off. I stuck up for you! Against Paige, against Spencer, against everyone! I wasted so much time on you.
Alison: Emily. I'm gonna make it right. I am. I can still find out who A is. Please.
Emily: I'm done, Ali. I am so done with you.
Alison: Emily? I didn't mean to scare you.
Emily: No, you didn't.
Alison: I seriously saw the hair on the back of your neck rise when you heard my voice. I was surprised to get your message. You made your feelings for me crystal the last time I saw you.
Emily receives a text from Aria asking where A
Emily: Sorry. My mom's at the store. Um, last minute shopping.
Alison: Why am I here, Emily?
Emily: It bothers me. I mean, tomorrow is Thanksgiving and you and I aren't even speaking.
Alison: I wasn't surprised when the other turned on me. But you were the one that I trusted.
Emily (quietly): The loyal one.
Alison: What?
Emily: Nothing.
Alison: I'm sorry I disappointed you.
Emily: Ali, wait. I don't want things to be like this.
Alison: Neither do I.
Alison: There's no way the others are going to let you be friends with me if that's what you want.
Emily: I make my own decisions. It's not a group vote.
Alison: I've had the chills all day. Do you have any tea?
Emily: Chamomile?
[Emily starts to leave but turns to see Alison looking in her phone]
Alison: Your mom never shops at the last minute. You've got a text from Hanna she wants to know if you're still keeping me busy. I'm A, right?
Emily: I don't know. Are you?
[Emily walks to Alison and takes her phone back]
Alison: I actually believed you.
Emily: Must hurt. When they loyal one betrays you.
[Alison scoffs walking past her banging into her shoulder as she does then turns]
Alison: That was a quite a performance Em. Bravo.
Emily: You don't think we owe her an apology?
Spencer: Aria, we formed a human blockade.
Emily: She's locked in a cell because of us.
Aria: No, she's locked in a cell because of karma. Well, and because of us.
Emily: Okay look, no one is saying she's a saint.
Spencer: Or a decent human being.
Emily: But she's on trial for a murder that she didn't commit. Mona set her up and then almost killed herself and now Ali's going down for it. I wouldn't wish that on my worst enemy.
Emily: Hello, Ali.
Alison: Hello, Emily.
Emily: Are you okay?
Alison: Never better.
Emily: You'll be fine.
Alison: Really? What makes you say that?
Emily: I'm sorry.
Alison: No, I'm sorry. I didn't call to say that. I just... Listen, tomorrow. Will, you be there?
Emily: I'll try.
Alison: You'll try?
Emily: I'll be there.
Alison: Thank you. Somebody said it was raining. Is it raining back home?
Emily: Yes it-it's raining.
Alison: Goodnight, Em.
Emily: Goodnight, Ali.
Emily: You gonna be okay?
Alison: Yeah. I spent my whole life dreaming about getting away from here. But, now this is the only place I wanna be.
Emily: Love you.
Alison: Love you too.
[They hug; Emison goodbye before the time-jump]
Alison: Can I stay here for a bit? I could really use someone to talk to.
Emily: I can't stay, I actually have somewhere to be. Great. Elliot told you. Yeah, well they're my eggs and I made the decision to I need to do it. You can say whatever you wanna say I don't care just... Promise me you won't tell my mom.
Alison: Emily. Elliot didn't... Honestly, I had no idea. You're donating your eggs?
Emily: Oh, my god. I'm such a jerk.
Alison: When is this happening?
Emily: Uh, today.
Alison: And you're going by yourself?
Emily: Ali, you don't have to wait here with me.
Alison: There is no way I'm gonna leave you here alone. I'll be right here when you wake up.
Alison: I had an amazing dream about her in the hospital. She wanted me to know she was proud of me.
Emily: I had a dream like that. After my dad's funeral. I fell asleep on the couch and he woke me up. He was wearing his dress blues and he looked so handsome. He came to say goodbye.
Alison: Think it was really him?
Emily: I like to think so. Maybe it felt so real because I wanted it to be.
Alison: Well, I hate that you have to babysit me. But I'm really happy that you're here.
Emily: Me too.
Alison: Emily? You were supposed to wake me up.
Emily: It took me longer to get here then I thought it would.
Alison: I can't move. I think something's wrong with me.
Emily: You're in the hospital.
Alison: We're gonna miss our flight.
Emily: We'll take the next one.
Emily: Ali...
Alison: Don't.
Emily: You don't have to go through this alone. I know your upset we gave your jacket to A.D. and you have every right to be-
Alison: Spencer already explained it to me.
Emily: Well she left something out. We are so sorry. I am so sorry, Ali
Alison: I know.
Emily: How was your first day back at the school?
Alison: Usual pranks.
Emily: Well, at least you've already been teaching there. It's not like it's your first time back. Like deciding to take a job out of the blue or something.
Alison: Okay. How about we skip the part where I try and figure out what's going on and you just tell me?
Emily: I'm thinking about applying for a coaching job at the High School. And... I was wondering how you would feel about me being there with you.
Alison: I'm fine with it.
Emily: Really?
Alison: Yeah, in fact, I'd love it. Why? What? Did you want me to say that I didn't want you to?
Emily: No, no not at all I... I don't know. I'm not even sure I wanna do it.
Alison: It doesn't hurt to apply.
Emily: No, you're right.
Alison: Five years ago... Who would have thought we'd both end up back at RHS.
[Alison is crying. Emily wipes her tear]
Emily: Hey, it's going to be okay.
[Alison kisses Emily who pulls back]
Emily: Ali, you're really vulnerable right now.
Alison: That's not why, I promise.
[they kiss again]
Alison (to Emily): You're not doing this alone.
[Emily's phone rings and she answers it]
Emily: Ali?
Alison: Congratulations. You're a mother.
Emily: The blood test.
Alison: It's you and me.
Emily: It's not just the two of us. There was someone else involved.
Alison: Well, it wasn't Dunhill. It's the wrong blood type. So. That narrows it down to a couple million. Hey, are you still there?
Emily: Yeah. Yeah, I'm here.
Alison: What are you thinking?
Emily: I'm not thinking at all right now.
Alison: I know how I feel when she looks at me. I never felt that with anyone before. It's like... She sees who you really are. Maybe that's the scariest part. You look at her, and you look at her eyes and you wanna be worth the effort. You wanna be the person she sees.
Emily: I don't know why I thought I had to protect you. You're basically the strongest woman I know.
Alison: You've always protected me, Em. Ever since I met you I knew I could count on you.
Alison: I want to do this. Together.
Emily: What do you mean, together?
Alison: I want to be a family. Over the years, I've been so many failed relationships and I always made excuses why. But I know the reason. Paige tried to get me to say it but I didn't want to say it to her.
Emily: What-
Alison: I love you.
[Alison takes the bear from Emily and sets it aside]
Alison: You told me not to do this until I was ready.
Emily: Do what?
Alison: This.
[They kiss]
Alison: Love you.
Emily: Love you, too.
[they share a kiss and Alison hands her the babies, and watches Emily walk away]
Alison: I just want you to know that you always have family.
Gallery
Videos
Community content is available under
CC-BY-SA
unless otherwise noted.