"
I know it sounds obvious, but love and imagining seeing Ezra again, being able to focus on him really got me tethered to something real.
"
Ezricole is the couple name for the former romantic relationship between Ezra Fitz and Nicole Gordon. They met at The Brew when Nicole was trying to found Emily and they started dating shortly after.
During the time jump, Ezra wrote a book named "Ostinato" about his relationship with her, but they broke up shortly after because Nicole went missing and was presumed dead.
Ezra went through alcohol problems because of this, but managed to finish writing a second book about Nicole named "Then and Now" two years later with Aria's help.
When Nicole was found alive in "The DArkest Knight", Ezra was already in another relationship, but they decided to remain friends and even Ezra lived near the clinic where Nicole was being treated for a while. However, their friendship was broken when she discovered that Ezra had written a book about her in which she ended up dead, in addition to that, in the same book Aria gave voice to Nicole, assuming that hers had been completely taken away. Upon discovering that, Nicole had a setback, then she left Rosewood for therapy and never returned.
Series
Season 6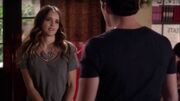 Nicole enters The Brew asking if Emily works there, and Ezra listens to her and replies that she doesn't work there anymore but that he the owner, Ezra Fitz, and he can pass the message to Emily if she wants him to. Nicole recognizes his name and asks if he used to be Emily's teacher, he tells her she used to be but he had a career change. Nicole introduces herself and claims to be a friend of Emily's who worked with her in Haiti.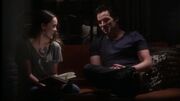 Then Nicole complains that Emily changed her email and number so she could never catch up with her. Ezra tells her that she had to do it after the trial, but Nicole looks at him confused by what Ezra asks when was the last time she and Emily spoke. Nicole tells him that she was in India for the last few months, and she asks Ezra what trial he is talking about. Ezra texts Emily to let her know that Nicole was trying to find her, and while Ezra and Nicole wait for her, they start chatting at The Brew. When Emily arrives, Ezra offers her and Nicole a coffee. That night, Ezra and Nicole are alone at The Brew talking and laughing together.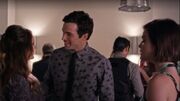 Ezra and Aria are talking at the art gallery when Nicole shows up and introduces herself to Aria. She compliments Aria saying that she is very excited to see her art, Aria thanks her for coming and proceeds to leave Ezra and Nicole talking alone. Outside the art gallery, Aria tells Ezra that Nicole seems to be nice. Ezra tells Aria that Nicole like is a photographer too, she saw her postcard at The Brew and he suggested that they could come at the gallery together. Ezra tells Aria that he invited Nicole because he had some questions about Habitat for Humanity, as he is considering going on a mission with her.
We discovered that in the Time Jump Ezra wrote a book about Nicole called "Ostinato" prior to her going missing while on a humanitarian mission in Colombia. The publisher of Ezra's books is very angry that Ezra has not made any progress on his second book lately because of his depression caused by Nicole's disappearance.
Jillian proposes to Ezra to work with Aria to write a book about Nicole, and he agrees.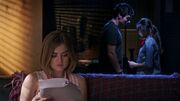 Aria is reading over the final goodbye scene that Ezra wrote and pictures Nicole and Ezra having the conversation that she's reading. In the conversation, Ezra tries to convince Nicole that she should go to the coast with him, but she tells him that she promised to take care of the children of one of her friends. Ezra insists but she rejects him, jokingly saying that he is being selfish and that he is a baby. Ezra takes those jokes coldly and keeps insisting Nicole should go with him to the coast.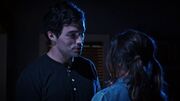 Nicole continues to politely insist that she can't, but Ezra doubts if she can't or doesn't want to. Nicole asks him not to take the situation that way, so Ezra stops pressing her. He tells her that he's going to leave, and from the cold way he says it, Nicole asks him not to leave like that. Ezra angrily asks "Like what?". After a few seconds Nicole says "fine" and he leaves.
Jillian tells Ezra that the book about Nicole will be published around Christmas and that there should be a book tour, TV rights, and a prequel.
Season 7
When Ezra and his fiancé are getting ready to elope, he gets informed by the FBI that they have reasons to believe Nicole is alive.
Ezra discovered that Aria deliberately dismissed a call from "Nicole" to his number. As an apology, Aria gives Ezra tickets to go to Colombia to found out if Nicole is alive.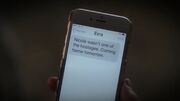 From Colombia, Ezra texts Aria telling her that Nicole wasn't one of the hostages.
Nicole is found alive in Colombia and in the emotional encounter she had with Ezra they kiss. Ezra and Nicole returned off-camera to the United States, and Ezra tried to speak to Nicole on the plane about what happened, but she wasn't ready for that.
Ezra went to New York and he is staying in an apartment near the recovery facility where Nicole is being treated.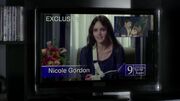 We can see Nicole on the news talking about how imagining seeing Ezra again, and being able to focus on him really got her tethered to something real. Later that day, Nicole escaped from the clinic and went back to Ezra's apartment, because that was the last place she called home.
Nicole slept in Ezra's apartment and there she discovered Aria and Ezra's engagement. When she has the opportunity to speak with Ezra, she congratulates him and tells him that she is very happy for him. However, later that day, Nicole discovers the book that Aria and Ezra wrote about her and she suffered a setback, so her parents took her back to the clinic.
We can see how Aria enters Ezra's apartment while he is picking up the pages of the book that Nicole threw away, and Aria picks up one of them that has a note: "This memory of us kept me alive. I can't tell you how many nights I thought about you and our love, and I knew that I had to be strong". Without saying anything, Ezra takes that page away from Aria and continues to pick them up.
Nicole's parents ask Ezra to talk to Nicole's new doctor, so he plans to go to Maine and talk with him. Aria confronts him about that decision, but when she is arguing he just says "Please, when I get back" and leaves to the airport. Being at the airport, he changes his mind about going to Maine with Nicole and returns home.

The Glove That Rocks the Cradle
Jillian meets Ezra and suggests that he should do the press tour for his book about Nicole alone because Aria wasn't the happy ending that people wanted but Nicole was. In the press tour, a fan asks him if Ezra is going to do another book where he continues to talk about his story with Nicole, but he says his story with Nicole is over and he has already moved on.
Dating Timeline
Happened in: "The DArkest Knight" (7x10)
Reason: Nicole was found alive in Colombia and in the emotional encounter they had they shared a kiss.
Music For Ezricole Scenes
Gallery