"
It's Christmas, and I promise, you don't wanna miss it.
"
How the 'A' Stole Christmas is the thirteenth episode of Season 5 of Pretty Little Liars. It aired on December 9, 2014, as the series first Christmas episode.
Synopsis
The episode opens with the girls walking through town. Spencer says that she and Toby aren't exchanging gifts this year because she feels funny celebrating when she is out on bail for murder. They stop by a Christmas tree where they are supposed to make a Christmas wish. Hanna flashes back to the last time she was here- with Mona- and gets emotional.
A lawyer approaches them and informs them that he is handling Mona's affairs and she instructed him to deliver the letter to Hanna a month after her death. Hanna opens it and it is a bunch of drawings of Alison's house and
all of her hiding spots. The girls are certain that they can use Mona's drawings to find proof that Alison killed Bethany Young and Spencer didn't. A Santa Claus walks by and hands Aria a snow globe – she shakes it and realizes it is a picture of the liars inside it and a note from 'A':
"'A' Takes A holiday And You Should Too."
Meanwhile, at Alison's house, she is sleeping in her room and the lights start flickering.  She sits up in bed and is shocked when her dead mother walks through the door. She tells Alison, "She has a lot to show you, pay attention." Alison gets out of bed and curls up on the couch with a picture of her mother and goes back to sleep. She wakes up to see that she has gone back in time. She sees herself as a young child, playing "Silent Night" on the piano. Mona's ghost is also there. Mona tells Alison that "It isn't pretty but she needs to see it." 
Young Alison finds two Christmas presents hidden in the piano and opens them – she finds two yellow dresses in the boxes and her mom walks in. Alison wants to know why her parents got two dresses – her mom tells her that she has to lie and can't tell anyone there were two yellow dresses or else her daddy will leave them. Young Alison agrees to keep the secret for her mom.

Spencer is in her room getting ready for the Christmas dance – she and the other girls have a plan. Toby is sitting in his wheelchair in Spencer's room looking at Alison's window.  Spencer explains that this could be her last Christmas as she has seen the look on her lawyers' face and has realized that she is a lost cause.
Hanna and Caleb volunteer to hand out gifts to young children. Hanna talks to a deaf girl named Claire using sign language. Caleb Rivers points out a mean little girl who keeps calling him "dum dum." He calls her "Ali's little Mini Me." The girl tells her friends it's okay to make fun of Claire as she can't hear them. Hanna tells the mean little girl, "You better start looking over your shoulder because you are making a lot of enemies and in Rosewood bitches get buried." The girl tries to get out of there. but Hanna tells her posse that they don't need a leader and all they need is each other. This makes the girls stay. Hanna then tells Caleb that she doesn't believe Alison has changed.
Rosewood High students are caroling at a nursing home for the elderly. There, Ezra surprises Aria with two gifts- earrings and a dress- even though they agreed to be "low key." Sydney corners Emily and tells her that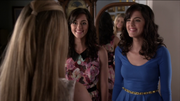 she just wants to wish Emily "Merry Christmas," but Emily snaps on her. Meanwhile, Paige is arguing with her parents on the phone – they want her to go to California with them right after Christmas.  At Alison's house she is giving Cindy and Mindy a make-over.
Spencer, Hanna, Emily, and Aria head to the charity Ice Ball organised by the DiLaurentis family, decked out in gowns, but can't find Alison anywhere. Spencer checks in with Santa, who is actually Lucas, and reminds him that it is his job to
make sure Alison stays at the dance. Alison finally arrives, making a grand entrance with four girls following her with masks on. Hanna and Spencer sneak out the back, while Alison is busy wowing everyone. Aria and Emily stay behind at the dance to keep an eye out for 
"A."
 Aria is shocked when she sees Alison kissing a Santa Claus but has no idea who it is. Aria informs Emily about this, who is visibly upset.
Aria is looking for Alison when she bumps in to Holbrook, who is also dressed as Santa. He teases Aria, telling her that she is on his "naughty" list. He tells Aria that Rosewood is growing on him and that he has decided to extend his stay there. He also complements her on dress and tells her that he thinks Ezra has very good taste and walks away.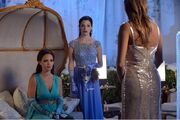 Alison steps outside and someone in a white robe follows her. When they are out of sight of everyone, the hooded person takes off their robe- it's Cece Drake. Meanwhile, in the dance, Sydney and Jenna corner Emily and reveal that they were two of the masked girls that showed up with Alison. Sydney and Jenna explain that they are just being friends with Alison because they are doing what they have to do to survive. They also think that Ali killed Mona, but being "friends" with Ali is purely self-preservation. They won't be safe until Alison is locked away.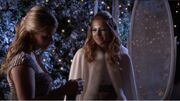 Cece has gotten Alison perfume from Paris as Christmas gift. Alison thanks Cece for coming to her during a time of need as it was Alison's first christmas after her mother's murder. Alison also confides in Cece that she had a dream about Mona. Cece tells her that Mona cannot hurt her anymore and suggests that Ali's "ex-friends" were the ones to worry about.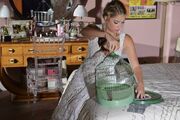 At Alison's house, Spencer and Hanna are searching all the hiding spots Mona told them about in her letter. Toby is watching them from Spencer's bedroom window. Hanna finds a passport hidden underneath a bird cage with the name "Holly Varjak," with Ali's photo, in case Ali needs to leave town in a hurry. Meanwhile – Spencer finds a cut up old newspaper and realizes that Ali was talking to someone in the personal ads just like she used to with Mona.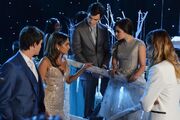 At the dance, Emily, Aria, Ezra and Caleb are watching Alison and the hooded figure leave and Holbrook follows them. They are convinced that Alison has been sleeping with Holbrook for a while and he is the one that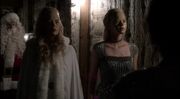 helped Cece leave the country and frame Spencer for Bethany's murder. They chase Ali and Cece outside with Paige and Lucas helping them corner them. But, when Ali and Cece turn around, they realize that it is Cindy and Mindy wearing masks –and they just fell for a decoy.
Spencer and Hanna are still searching Alison's house. Caleb calls Toby and warns him that Alison left the party and that they can't get a hold of Spencer and Hanna. Toby hangs up and looks back in Alison's house and sees 'A' with a butcher knife. Spencer is hiding behind a chair, but Hanna is up in the attic and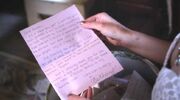 has no idea that someone else is in the house. Spencer texts Hanna to warn her but realizes that Hanna has left her phone downstairs. Meanwhile, Hanna has found a bunch of Alison's letters. One of the letters is from Bethany and she realizes that Ali knew Bethany and she invited her to Rosewood on Labor Day weekend – when she was killed. Suddenly, 'A' shows up in the attic and knocks out Hanna. Spencer hears Hanna screaming and runs upstairs. She finds her passed out on the floor and "A" has gone out the open window.

Spencer, Aria, Emily, Hanna, Caleb, Paige and Ezra, all head to Spencer's house to regroup. Spencer tells everyone that she feels "cautiously" optimistic about her case now that they have the letter proving Alison invited Bethany to Rosewood. This instantly lightens everybody's moods.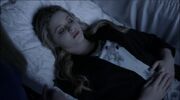 Meanwhile, at Alison's house, Mona's ghost is showing Alison her future – she takes her to a church where she is lying dead in a coffin. It is Alison's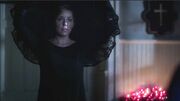 funeral. Alison's mother shows up dressed as the Black Widow and tells her that "they are coming for her." Alison, now scared, screams and tries to get out of the church. She wakes up from her nightmare screaming Mona's name.
Meanwhile, Aria, Spencer, Toby, Caleb, Hanna, Emily, Ezra, and Paige are all snowed in and spend Christmas together. Paige breaks the news to Emily that her parents are moving her to California for good before
graduation as they feel Rosewood is not safe anymore. Hanna fells guilty and wishes Mona was there with them. Everyone settles down for Christmas dinner. Meanwhile, Alison is watching them through a window from the outside and is upset. She then walks away.
Suddenly, they hear a noise and head outside where they see a decorated Christmas. They realize that 'A' has done this and left them a message in Christmas lights on Spencer's barn, "
Merry Christmas Bitches – A
".
Notes
In her will, Mona gifted Hanna with a hand drawn map of the DiLaurentis house, and all of Alison's hiding places.
Aria spied Alison kissing someone dressed as Santa Claus, who was later revealed to be Detective Holbrook, at the Ice Ball.
Sydney and Jenna reveal to Emily they also think that Alison killed Mona.
Hanna found a letter from Bethany to Alison, mentioning that Bethany was coming to Rosewood on Labor Day.
Jessica DiLaurentis was seen dressed as the Black Widow in one of Alison's dream.
Title and Background
Marlene King revealed the title in her Reddit interview.
The title refers to the 1957 Dr Seuss' book, "How the Grinch Stole Christmas".
Main Cast
Supporting Cast
Trivia
The table read was on July 14, 2014.
Filming began July 16, 2014 and wrapped July 25, 2014.
The episode was watched live by 2.09 million viewers.
Featured Music
"Sleigh Ride" by Fun. - (Aria and Spencer talk about Christmas; the girls admire the Christmas decorations).
"We Wish You A Merry Christmas" by Instrumental Piece - (Flashback: Hanna and Mona talk about their Christmas wishes).
"25 Days of Christmastime" by Caroline Brooks - (Hanna and Caleb hand out presents to children at the Church).
"Silent Night" by Piano Piece - (Alison's Dream: Alison and Mona talk, while a young Alison plays the piano).
"O Come All Ye Faithful" by Pretty Little Liars Cast - (The school choir sings, while Aria serves cookies to Shady Days Nursing Home residents).
"Jingle Bells" by Sugar & The Hi Lows - (Emily and Sydney talk; Emily and Paige kiss under the mistletoe; Alison makes over Cindy and Mindy).
"Celebrate" by Farmdale - (Everyone waits for Alison's arrival at the Christmas Ice Ball).
"Fight Song" by Rachel Platten - (Alison arrives with her new masked army of followers).
"This Is The Season" by Blake & Kristy - (Aria sees Alison kissing someone dressed as Santa).
"Up With The Volume" by Bekuh BOOM - (Aria talks to Holbrook; Paige tells Caleb and Ezra that Emily and Aria lost Alison).
"Showstopper" by Sweetersongs - (Emily watches then follows Alison's new followers who reveal themselves to be Sydney and Jenna).
"Back Burner" by Amy Stroup - (Ezra and Caleb corner Holbrook while Aria and Emily follow Alison and the woman in the white cape).
"Hark! The Herald Angels Sing" by Pretty Little Liars Cast (covered by Janel Parrish) - (Ghost Mona sings to Alison).
"Have Yourself A Merry Little Christmas" by Christina Perri - (Everyone celebrates Christmas together; Paige tells Emily that her parents want her to move; Hanna looks at a photo of Mona; Alison watches as everyone has Christmas dinner; Emily makes a toast).
Quotes
Emily: Ruin one of us. Ruin all of us.
Aria: I saw Ali kissing Santa Claus.
Mona: It's Christmas, and I promise you don't want to miss it.
Spencer: Be careful tonight. You can't trust anyone.
Jenna: We are doing what we have to do to survive.
Caleb: I'm pretty sure a kid peed on me.
Mona: And the monster was born.
Jessica: Now tell me what happened. The real story.
Gallery
Behind the Scenes
Promotional Photos
'Twas the Night Before ChirstmAs
Screencaps