"
Happy Birthday to my sweet Sash. Here's to 10 years of loving you! Hope today is as perfect as you are, my queen 💕
"

— Janel's birthday wish to Sasha
Jasha is the real-life pairing between Janel Parrish and Sasha Pieterse, who portray on-screen frenemies, Mona Vanderwaal and Alison DiLaurentis respectively.
They acted alongside one another on Pretty Little Liars and its spin-off, Pretty Little Liars: The Perfectionists. They have known each other for ten years, and unlike their television counterparts, the women are best friends. They often hang out off-set and keep in touch when they're apart.
Background
Janel and Sasha met in 2010 when they both book their respective roles on Pretty Little Liars. The two didn't have many scenes together in the first season, and therefore, didn't see much of one another. However, as Sasha was in the show more, they got to know each other better and see more of one another. They then became friends and started hanging out outside of the show. Janel has stated that she was shocked to learn of Sasha's actual age to the latter's maturity-level.
Press events and personal lives
In 2012, they both attended Victoria's Secret: What Is Sexy? Party in Beverly Hills. They represented part of the Pretty Little Liars cast at the event, alongside Keegan Allen and Holly Marie Combs.
In 2016, they both participated in the Pretty Little Liars RevelAtions Con in Germany together. They also did a few panels with one another, where they answered fan questions. When Sasha was asked about baby-names for her and Hudson Sheaffer, her then-boyfriend and current husbands, first child, Janel jokingly stated that Janel would be a great name for a girl, and Janelo for a boy. This made Sasha laugh, and she was also able to avoid answering the question or talking about having children. At the same con, they sang the PLL theme song together.
In 2017, Janel was present at Sasha's twenty-first birthday celebration where they drank alcohol together for the first time. Later that year, the girls went to Paleyfest together, where they were able to do a panel as a duo. During their panel, the women talked about Mona and Alison's relationship. Janel also congratulated Sasha on her engagement to Hudson Sheaffer.
At a con in 2017, they read an iconic Hanna and Mona scene together after Sasha revealed that she had auditioned for the role of Hanna Marina before she auditioned to be Alison. Janel was surprised that Hanna was her first choice and jokingly said that she would have been Alison then. They both commented on how different the show would have been. However, both love their respective characters and couldn't imagine playing anyone else.
In 2018, Sasha congratulated Janel on her engagement to her long-time boyfriend, Chris Long. Janel, in turn, congratulated Sasha on her wedding as well as her marriage to Hudson Sheaffer. The girls planned to celebrate their respective personal accomplishments the next time they were together.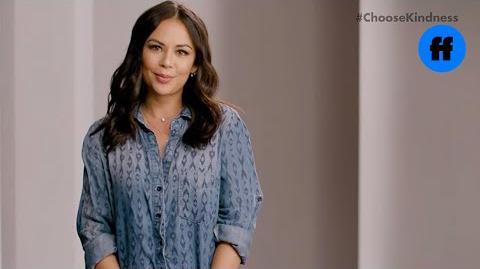 In October 2018, both Janel and Sasha participated in a campaign for Disney and ABC's #ChooseKindness PSA. In their respective videos, which was combined into one via Freeform's channel, the women opened up about the bullying they had experienced. This bullying occurred in the industry, at school, and on social media. Sasha opened up about her hormone disorder, PCOS, and her struggle with weight gain and how some fans were cruel to her. Janel took the opportunity to open up about her bullying in school, and how she was teased for looking, talking, and dressing differently than most girls due to her racial heritage.
On November 17, 2018, Sasha invited Janel, Chris (Janel's husband), and Janel's sister over for Friendsgiving at her house. The event was hosted by Sasha and her husband, Hudson.
In the latter half of 2018, it was announced that they would star alongside each other once more in the Pretty Little Liars spin-off, Pretty Little Liars: The Perfectionists. They also briefly reunited on the Warner Bros. lot when they visited Troian Bellisario and I. Marlene King on the set of Famous In Love.
Janel wished Sasha a happy birthday on Instagram saying, "Happy birthday, sweet Sasha. Birthday hugs SOON". They later took pictures together during the table read for The Perfectionists and had dinner together that night, when Janel joined Sasha and her fiance, Hudson.
They sang karaoke together on March 25, 2018, alongside their fellow Perfectionists cast members, Sydney Park, and Eli Brown. This is the first time they have sang a duet together since singing the PLL theme song at a panel in 2016.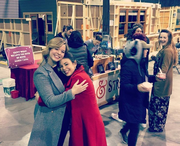 On the last few days on set, the girls purchased a Salt & Straw for the cast and crew to enjoy on their final days of production. They incorporated a monogrammed pillow saying, "Happy wrap! We love you guys so much. Sasha + Janel. They also filmed their final seasons on the same day and wrapped on the same day. Later, when Janel was unable to attend the Season 1 wrap party, Sasha, along with the rest of the cast, brought a cardboard cutout of Janel to the party. Sasha was seen taking photos with it, posing with it, and brought her to the photobooth pictures.
On February 5, 2019, they attended TCA 2019 alongside their fellow castmates. Janel and Sasha then took part in a photo shoot together.
Janel wished Sasha a happy birthday on Instagram and included a caption saying, "Happy Birthday to my sweet Sash. Here's to 10 years of loving you! Hope today is as perfect as you are, my queen 💕". She also included five pictures of them together.
On March 10, 2019, Janel, Sasha, Chris, and Hudson went to Disneyworld together. They later met up with their PLL: The Perfectionist co-star and friend, Sofia Carson. The trio went through Disneyworld together.
Quotes
My relationship with Sasha is-is so loving. She's like a little sister because she's so much younger than me, but she's also like an older sister to me because she's so wise. It's been almost ten years and I can't remember the exact day that we met!
Janelly-Bean! She means so much to me. We've been on such an awesome journey together and we just created a really good friendship over - basically a decade.
Sasha gives the worlds best advice.Friendship test compliment section
I wish I had your lips. Thank you for being such a beautiful person inside and out.
Trivia
Despite their characters animosity towards one another on-screen, they insist that none of those feelings travel off-screen.
Janel took Sasha out to drink for her twenty-first birthday, and they celebrated alongside some of their mutual friends.
Both participated in the dance competition Dancing With The Stars, although in different seasons.

They publicly supported one another when they each were on Dancing With The Stars.

Janel refers to Sasha as, "Sasha bear", while Sasha refers to Janel as, "Janelly bean".
They did the Pretty Little Liars RevelAtions Con Germany together in 2016.
They have both starred in episodes of Hawaii Five-0.
Both were excited to film The Perfectionists, and couldn't wait to start filming with one another again.
They work out together and use this time to motivate each other and get in shape.
They ate dinner together after filming The Perfectionists one day, and cooked together.
They sang a duet together during karaoke.
As a wrap-gift for The Perfectionists, Sasha gave Janel a book about puppies.
They FaceTimed one-day after filming for The Perfectionists wrapped, as they missed each other, and wanted to meet each other's dogs for the first time.
Sasha's favorite part about filming the Pilot was being with Janel again and the familiarity of her.
Both were their respective weddings at the same time.
Although she wasn't able to attend Sasha's wedding, Janel commented on Sasha's wedding post telling Sasha, "You guys are perfect.".

On another post, Janel commented, "perfection" regarding how Sasha looked in her wedding dress.
Her final comment was on Hudson Sheaffer's post when she commented, "she's a Queen" in reference to Sasha.

On October 15, 2018, Sasha met Janel's dog, Klee, for the first time.
Sasha's birthday message for Janel via Instagram read, "Happy happy 30's pretty lady! I can't believe I've known you for almost a decade! You have such an amazing spirit and soul ♥️ I hope your day is as beautiful as you are @janelparrish 😘".
Sasha and Janel played pool on Janel's birthday with their husbands.[1]
Janel's birthday message for Sasha read, "Happy Birthday to my sweet Sash. Here's to 10 years of loving you! Hope today is as perfect as you are, my queen 💕".
They go on double dates together with their husbands, who are also friends.

One of the double dates included a trip to Disneyland.

Despite being older then Sasha, Janel often goes to Sasha for advice because Sasha is wise beyond her years and very mature.[2]
Janel describes her relationship with Sasha as sisterly since Sasha is both a "little sister" and "big sister" because Sasha gives her all the wise and good advice.[3] Sasha, in turn, stated that she loves Janel and they double date all the time with their husbands, who are also best friends.[4]
Both of their favorite plot twists is when Toby is seemingly revealed as "A".
They are wine-drinking buddies.
Gallery