Joel is the couple and friendship name for Jenna Marshall and Noel Kahn. They met on "The First Secret" when Jenna was new in town and Noel decided to invite her to a party at his house.
After Noel and Mona broke up in Season 2, Jenna becomes close to Noel and it gets clearly that she is dating him. They may have been together during the summer between Season 2 and Season 3, although it is unclear. Jenna and Noel broke up after "This is a DArk Ride" for unknown reasons, but it's possible that Jenna cheated on him with Shana Fring.
After the time jump, they are still friends, and are seen sharing a drink with Sara Harvey in "Along Comes Mary". After Noel's death, in "These Boots Were Made for Stalking" Jenna returns to Rosewood and reveals that Noel murdered Sara and threatened to murder her as well because he wanted the money from her eye surgery.
Series
Season 2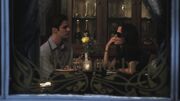 Jenna and Noel are sitting together in Rive Gauche.
Spencer, Hanna and Emily watch Noel from across the way and wonder if he is Jenna's replacement for Garrett.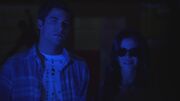 Noel and Jenna are laughing and kissing on a bench. Later that day, Jenna and Noel are in the music room when Aria walks in, Noel asks if Aria is looking for someone, and Aria says she's looking for Caleb. Noel and Jenna laugh, and say that Caleb better not come back there.
Season 3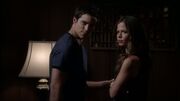 Noel and Jenna are in Noel's cabin and Aria challenges Noel to a game of "Truth". Playing truth, Jenna tells Aria and Spencer that her and Noel know they lied about being at Spencer's lake house the night that Ali's body was stolen.
Nate drops by to see Emily at the coffee shop. He spots Jenna with Noel and starts getting angry. After Noel leaves Nate walks over to Jenna and starts harassing her about giving her a late birthday present. She heatedly tells him to get out of her way.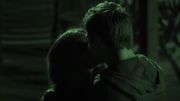 The Liars are watching the Kahn's cabin footage, at about 1:14 AM we see Noel and Jenna arrive at the cabin, kiss and then go inside. Seconds later Maya leaves the cabin and is grabbed by someone on her way out. Spencer points out that Garrett was arrested a full hour earlier, so he could not have been Maya's killer, nor could it have been Noel and Jenna because they were inside.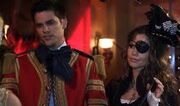 As the girls are talking to Noel, he begins to choke on something. Everyone starts to get concerned, but it ends up being a prank. Jenna starts laughing at the joke. Later that day, Jenna witnesses the fight between Noel and Toby.
Season 7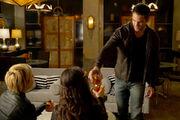 Noel returned to Rosewood to team up with Jenna and Sara. He meets up with them at The Radley for drinks, asking why he was needed.
Noel is held captive by Hanna. He later escapes and meets up with Jenna to get revenge over The Liars.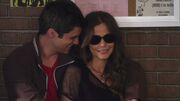 Started: "The First Secret"
Reason: Jenna was new in town and Noel invited her to his party. At Noel's party, they are seen chatting cozily.
Ended: "The DArkest Knight"
Reason: Noel passed away.
Gallery