Pretty Little Liars Profile: Lucas Gottesman

Lucas Gottesman was often taunted and bullied at school. He found friends in Hanna Marin and Caleb Rivers, which made him a target of "A." He had a crush on Hanna, but she was oblivious to the fact. He was blackmailed into helping The A-Team by Mona, and he helped them between Season 2 and Season 3. He was homeschooled, because he didn't feel safe at Rosewood High, when Mona returned. However, he has since returned to Rosewood High School as revealed in "Thrown From The Ride." Lucas is portrayed by Brendan Robinson.
Series
Appearances (34/160)
Relationships
Hanna Marin: Good Friends/Former Crush (on Lucas's side) (see "Lanna")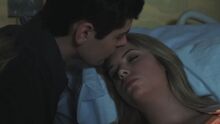 Started: Season 1
Revealed: "Moments Later" (He kisses her on the forehead)
Reason: Hanna was dating Sean at the time, and plus she only saw Lucas as a friend. However they stayed friends.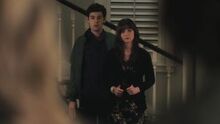 Danielle: Ex-girlfriend(possibly)
Mystery Girlfriend: Dated/Serious
Trivia
In the last episode of Season 2, he was seen at the dance talking to Jenna and The Black Swan, by Aria, Hanna, and Emily. Later in Season 3, the Black Swan was discovered to be Melissa Hastings who was supposedly distracting Jenna due to blackmail from "A". What Lucas was discussing with Jenna is currently unknown.
After "UnmAsked" (probably even earlier in the series), Lucas gets blackmailed by Mona and is forced to work for her. He claimed that his main job was delivering messages between Mona and Jason. If he didn't do what he was told, Mona threatened to expose him for selling test answers to other students.
In Season 3, Lucas turned "dark", seemingly due to the fact that he was blackmailed into helping Mona.
Lucas was the one that gave Emily the massage in "Touched by an 'A'-ngel" as revealed by Mona.
Lucas was A's helper which is Mona Vanderwaal.
He seems to have a crush on Hanna in the first three seasons.
In Season 5, Lucas confides in Hanna about his "new girlfriend," but her identity has not been revealed.
In Season 7, it is revealed that Lucas had been Charles' childhood friend, having been in the same camp as him.
Books - TV Series Comparison
In the books, his name is Lucas Beattie.
His character is also quite different; in the books, he was popular in the seventh grade until a (true) rumor spread that he had a crush on a then chubby Hanna, and a jealous Alison spread the second rumor that he is a hermaphrodite. After this, he became unpopular. In the TV series, while Lucas had a crush on Hanna, he was never popular.
In the books, Hanna and Lucas both like each other. But because of Hanna's obsession with popularity, their relationship doesn't work out. It is suspected in the television series that Hanna has some minor romantic feelings for Lucas.
In the books, he has dirty blonde hair and light blue eyes, while in the TV series he has black hair and brown eyes.
Quotes
Lucas [telling Hanna she looks pretty in unflattering photos]: You do, sort of, in a post-apocalyptic, ragtag-band-of-survivors kind of way.
Lucas: Icebergs turn over. They just roll over and turn up all that buried junk. You don't want to get too close when that happens.
Lucas: It's better for a lot of people if Mona stays crazy, right?
Caleb: Dude, You tried to set fire to my girlfriend!
Lucas: Yeah sorry about that, I was being ground down by trivial bureaucracy.
Lucas [about Carl, the janitor]: He's out of it. Thirty years of breathing floor wax does wicked things to your brain. And there's the vodka.
Hanna: Ugh, I got three hours of sleep last night. I look like something Carl coughed up.
Lucas [to Hanna]: This is not about the stupid fireworks Hanna
Lucas [about Sean]: I mean who does not want a big slobbering beast who can catch a ball in the end zone
Gallery
|}
Community content is available under
CC-BY-SA
unless otherwise noted.