"
I absolutely believe in destiny and the idea that everything happens for a reason. People come in and out of our lives for a purpose.
"

— Lucy Hale

Karen Lucille "Lucy" Hale, credited as Lucy Hale, is an American actress and singer born on June 14, 1989. She is best known for her role as Aria Montgomery on the ABC Family series Pretty Little Liars. She is also known for her role as Rose Baker on the CW series Privileged and her cameo role as Sherrie Marconi in the horror film Scream 4.
She released her debut album, Road Between, on June 3rd, 2014.
Life and Career
Hale is from Memphis, Tennessee. She was born being named Karen Lucille Hale. She first appeared on television as part of the reality show American Juniors in 2003. She was part of the vocal quintet formed with the top 5 finishers. After American Juniors, Hale had guest roles on shows such as Drake and Josh, Ned's Declassified School Survival Guide, The O.C., and How I Met Your Mother as Robin Scherbatsky's younger sister, Katie. She also appeared in two episodes of the Disney Channel Original Series Wizards of Waverly Place as Justin Russo's gothic girlfriend Miranda Hampson.
Hale appeared in NBC's short-lived re-imagining of the Bionic Woman as Becca Sommers. She made her big screen debut in The Sisterhood of the Traveling Pants 2 portraying Effie Kaligaris, the younger sister of Lena. Hale then co-starred in the CW TV show Privileged as Rose Baker. She also starred in the Lifetime TV movie Sorority Wars.
In 2009, Lucy starred in the television film Fear Island, which was only released in Canada.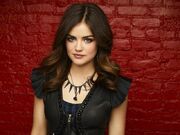 In December of 2009, Hale was cast as Aria Montgomery in the TV series Pretty Little Liars, a role that has since gained her international attention. She auditioned for the role of Hanna before being offered Aria's character.
Hale was cast as the lead for A Cinderella Story: Once Upon a Song which aired in January 2012.
Lucy hosted the April 25 episode of Punk'd where she successfully pranked co-star Ian Harding, Vanessa Hudgens and Josh Hutcherson.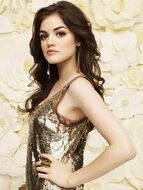 On June 11, 2013, Hale announced that she is the new Ambassador of the beauty brand Mark Girl.
Lucy, along with Glee star Darren Criss, co-hosted the 2013 Teen Choice Awards on August 11, 2013.
On June 3, 2014, Lucy Hale released her first album Road Between, which debuted at #2 on the country charts. Her first single, "You Sound Good To Me," was released back in January 2014. On June 21, Lucy made her Grand Ole Oprey debut, a dream of hers.
On March 16, 2017, Hale was cast in the Blumhouse supernatural thriller film Truth or Dare. The film was released in theaters on April 13, 2018.
Filmography
Appearance
Awards
Year
Award
Category
Work Nominated
Result
2010
Teen Choice Awards
Choice Summer TV Star: Female
Pretty Little Liars
Won
2011
Teen Choice Awards
Choice Summer TV Star: Female
Pretty Little Liars

Won

2012

Teen Choice Awards
Choice TV Actress: Drama
Pretty Little Liars

Won

2013
Gracie Awards
Outstanding Performance by a Female Rising Star
Pretty Little Liars
Won
Teen Choice Awards
Choice Summer TV Star: Female
Pretty Little Liars
Won
Trivia
Lucy dated David Henrie, her Wizards of Waverly Place co-star from 2006-2008.
She is afraid of spiders, snakes and flying.
Her Ex-Boyfriend is Alex Marshall from the band "The Cab."
Her lucky number is 2003. It's her number in the American Juniors competition. It was also the year when she won. This was also the year that she began acting.
Lucy loves to go shopping, dancing, and hanging out with friends.
She loves Glee and is friends with Glee star Lea Michele.
Lucy's mom's name is Julie Hale. The youngest of three, she has a sister, Maggie, and a step-brother, Wes.
When she won American Juniors, she sang "Call Me", which she realized was about strippers.
Lucy Hale was mistaken for Selena Gomez by Justin Bieber  fans. They wanted to steal her phone to call Justin.
When Lucy was 15 years old she went on a date with Big Time Rush's Kendall Schmidt.
Hosted the prank show Punk'd in April 2012 and played an elaborate prank on friend and co-star Ian Harding.
Her favorite person is Ellen DeGeneres.
Many people thought she was -A because of footage of her wearing all black in Fear Island.
Both Lucy and Ashley play the younger siblings of two characters on the famous TV show, How I Met Your Mother ,  Barney and Robin, who are engaged, making Lucy and Ashley characters in-laws.
She is good friends with seven-time Grammy winner, Taylor Swift.
Lucy auditioned for a role in the film Fifty Shades of Grey .
She has designed a limited edition collection for Hollister.
Her real name is Karen Lucille Hale.
In an interview, she said all she listens to in the car was the soundtrack to Glee.
According to a tweet of her's, she enjoys eating ranch dressing for breakfast.
When she was on The Ellen Show, she was given a box of light bulbs.
Her first onscreen kiss was with Leighton Meester for an unaired pilot that didn't get picked up for series.
Book Series
Lucy Hale is mentioned twice in the Pretty Little Liars book series. The first time is in Deadly, as the book is dedicated to her (as well as fellow actresses Troian Bellisario, Ashley Benson and Shay Mitchell. The second time Lucy is mentioned is in Toxic, when Hanna is imagining who will replace Hailey in the movie (Burn It Down).
Gallery