'Pretty Little Liars' Profile: Marco Furey
Play Sound
"
Well, soon is soon. It's not the same as now, is it?
"

—

Marco convincing Spencer to stay at the bar.
Marco Furey is a character on Pretty Little Liars . He is Rosewood's newest detective making his debut appearance in Season 7. He is portrayed by Nicholas Gonzalez.
Season 7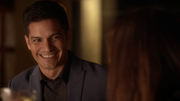 Marco makes his first appearance in this episode. While at The Radley, he buys a drink for Spencer while the two were at the bar. She tells him that she has to leave soon, but he tells her to stay because 'soon isn't now'. He small talks her, as she gives away that she was burying a body, but he thought she was being sarcastic.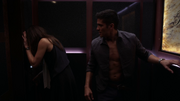 The two start talking about things like 'charm school' He then insists on paying for their drink, but she goes ahead saying that she wouldn't want him to get the wrong idea. which leads into Spencer throwing him into the elevator and making out. As the two were undressing, Spencer then realizes that she is cheating on Caleb, and stops the elevator. Marco then apologizes, and lets her out of the elevator.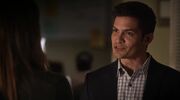 It is revealed to Spencer that Marco is Toby's new boss. He is in charge of the "Elliott Rollins" investigation. He later asks Alison DiLaurentis to go to the police station to tell her where her "husband" was last seen.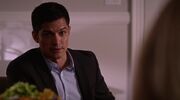 Marco arrives at Alison's house to reveal that her husband is, in fact, Archer Dunhill and that he is wanted for theft and fraud in the UK. He adds that he may still be around, so they need to be careful. After that, Spencer comes to speak with Marco outside the house to let him know that circumstances have changed and that their relationship shouldn't go beyond their moment at the Radley. Later, Marco leads the investigation at Alison's house when she is attacked by a fake cop.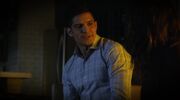 Marco visits Spencer to tell her that Archer Dunhill is in France and that the investigation is now out of his jurisdiction. He then offers Spencer dinner, but the latter refuses because she has recently left a relationship. At night, Spencer calls Marco to tell him about the dollhouse videos, but someone breaks into her house and steals the USB drive. Marco gets to this point and tries to search the house, to no avail. He then helps Spencer by placing a tarp over the window that was smashed by the storm. Marco reassures her by telling her that he is glad she called him. Later, Spencer asks him to stay with her because she doesn't want to be alone. Marco accepts and takes her in her arms to comfort her.
Marco leads the investigation into the "kidnapping" of Hanna Marin by Noel Kahn. He thanks Toby for his hard work in his department and says he shouldn't feel pressured to stay longer in Rosewood because of the investigation. Spencer later apologizes for lying to Marco the day before, but Marco reassures her by saying that he understands why she did it. Without thinking, Spencer kisses Marco on the cheek, which is noticed by everyone.
Later, Hanna returns and tells Detective Furey that she had just gone to find the girl Noel had pushed down the stairs. At night, Marco comes to see Spencer to tell her that he has stationed police officers in front of the doors of the five girls. He has brought some Italian food with him and Spencer agrees to stay with her for dinner.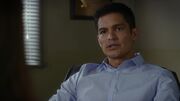 Spencer comes to see Marco at the police station. He tells her that Archer knew Jenna and Noel. He then reveals that the gun that was used by Jenna was a different caliber than the one used to shoot Spencer. He points out that this other gun is missing, and Jenna and Mary Drake too.

These Boots Are Made For Stalking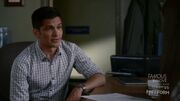 Spencer reveals to Marco that Mary Drake is her biological mother. She gives him the letter written by Mary and then asks him to find her. Marco tells him that he is continuing the investigation, but that he still doesn't have a concrete lead. At this point, Jenna arrives at the police station to speak with Marco. She says that she has been hiding since the incident, but that now she has to tell the truth. Marco tells her that they are not alone, and Jenna tells him that she knows because she can hear Spencer's breathing.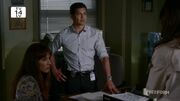 She then says that Noel Kahn killed Sara Harvey and who was going to kill her too. He told Jenna that some of the money Charlotte had left was intended to pay for a new operation for her eyes. Therefore, Noel recruited Jenna to find the money, but he was determined to keep it all to himself, because he was broke because his parents had cut him off. Jenna then says that Noel made her come to his old school for the blind to get rid of her. She would have brought the gun just to defend herself against it. However, all she had to say to Spencer and her friends was just to make it seem like she was Noel's friend, so she could get out alive. Marco then escorts Jenna to another room to take her statement, while Jenna begins to sob. Spencer then tells Marco that he needs to stop Jenna, because she is lying. Marco says that he can't do anything without proof.
Marco offers Spencer to spend the day with him to change her mind. Marco takes her to a game room in his old neighborhood to play table tennis. After a game, Marco notices that Spencer's shoulder injury is bleeding. Then he looks for a first aid kit to deal with this. Marco then opens up to Spencer by talking about a woman who helped him a lot when he was a child and who worked at this center. Getting closer and closer, Marco and Spencer end up kissing. At the end of the episode, Marco opens an envelope that was sent by "A" to the police station. Contains a decomposing finger from Archer Dunhill's corpse.
Marco wakes up in Spencer's bed. They spent the night together after Marco comforted her after Yvonne Phillips died. She is leaving for work when he receives a message informing him of new information in the investigation. Later, he visits Alison in high school to tell her that it is now a homicide investigation as Archer's finger comes from a decomposing body. Marco then asks her if she has any idea who might have sent it, Alison says that she can't really trust anyone these days.
Marco reveals that he regards Mary Drake as the main suspect in the Archer murder case. He then asks Spencer if she suspected this when she asked him to find her biological mother. Spencer replies that she didn't know Archer was dead when she asked for his help. He later tells Alison that he is convinced that Archer died the night he disappeared, when her friends came to complain about the way she was treated at Welby. He adds that he believes that several people are involved in this story because someone wanted it to appear that he was alive, while someone else sent part of his body to the police.
Late at night, while Spencer has a date with Mary, he waits for her outside for almost an hour. Spencer is surprised by her strange behavior and Marco explains that all of his theories about this murder revolve around she and her friends. He then reveals that Archer's credit card was used at Radley's bar the night they met there. He asked to see the signature on the receipt to find out who used it, as Spencer remembers pulling the card out by mistake. Totally terrified, Spencer asks Marco if she can leave, and Marco replies that he can't stop her.

The Glove That Rocks the Cradle
Marco tries to get Spencer to confess that she killed Dunhill during an interrogation. He reminds her that the credit card receipt will confirm this in a few days. Later, Spencer goes to Marco's apartment to convince him not to continue investigating her. As she starts to cry, Marco gives her a handkerchief, but he tells her that he cannot close his eyes and go against the grain of justice.
The next day, Marco calls Spencer to stop playing and give him the USB key she stole. However, Spencer turns the situation around by saying that people would find it strange to learn that she was alone with Marco in her apartment late at night. Marco tells Spencer that a flood at the Radley destroyed the receipts he needed. He then announces that he will now investigate Spencer's friends to find out the truth.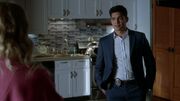 Marco comes to the loft to talk to Hanna about the flooding at The Radley. He also bumps into Caleb and he notes that it's a strange coincidence that the security system he designed was cut off at the same time. Marco clarifies that they have lost this evidence, but that more evidence is piling up.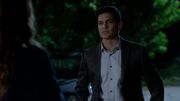 Later, he comes to see Spencer when she is leaving her house. Spencer makes him understand that the situation is becoming inappropriate, and that she hopes he has no trouble separating the professional from the private. Marco specifies that he did not want to bring her to the station so as not to embarrass her because he learned from Ashley Marin that Spencer dated Caleb a short time ago. He then asks Spencer if she was interested in him just because she needed a cop on her side. Spencer replies that if he has real questions for her, he can do it in his office, and she won't be the one embarrassed. Marco then gets back into his car and leaves.
Linda reveals that Marco asked to be removed from the case because his personal involvement was an obstacle to the smooth running of the investigation.
Appearances (12/160)
Season 7 (12/20)
Trivia
Even though Marco had a relationship with Spencer, he still put his duty ahead of her and withdrew himself from the case when things got too personal.
Gallery