Miles Corwin is a minor character first introduced in Season 3 of Pretty Little Liars. He is portrayed by Andrew Elvis Miller.
Biography
Miles Corwin is a Private Investigator that Spencer Hastings hired to follow Toby Cavanaugh and find information on the location of the A-Lair.
Series
Out of the Frying Pan, Into the Inferno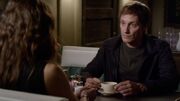 Spencer meets with the mysterious man named Miles at a coffee shop. It is revealed that he is a private investigator that she is paying for his services.
Miles meets Spencer in an empty alley to tell her what he learned about the A lair.  ⠀⠀⠀⠀⠀⠀⠀⠀⠀ ⠀⠀⠀⠀⠀⠀⠀⠀⠀ ⠀⠀⠀⠀⠀⠀⠀⠀⠀ ⠀⠀⠀⠀⠀⠀⠀⠀⠀ ⠀⠀⠀⠀⠀⠀⠀⠀⠀
Appearances (2/140)
Trivia
In I'm Your Puppet, the body that Emily and Hanna found in the morgue looked exactly like him. Despite this, Bryan Holdman stated on Twitter that it wasn't him.
Community content is available under
CC-BY-SA
unless otherwise noted.