"
Listen to me—that taste in your mouth, that's what dying tastes like. Get used to it, because you're gonna choke on it everyday for the rest of your long, miserable life.
"

Mona Vanderwaal is a main character in the television series Pretty Little Liars and its spin-off, Pretty Little Liars: The Perfectionists on Freeform. She is portrayed by Janel Parrish.
Mona was a student at Rosewood High School before she graduated and attended Duke University. She was revealed to be the first and original "A" in "UnmAsked" and was sent to Radley Sanitarium for psychological and emotional treatment for several months. Once she received treatment, she was considered emotionally stable and released.
In "Taking This One to the Grave", she was believed to have been murdered and an investigation was launched into her death. It was later revealed that Mona faked her death with the help of "A", who had taken over the game while Mona was in Radley. However, in "Welcome to the Dollhouse", everyone learned that she was alive, having been double-crossed and being held captive in A's dollhouse ever since.
Two-years later, she was later revealed to be the killer of Charlotte DiLaurentis, the second A. She accidentally killed Charlotte by pushing her against a pipe, however, her reasons for confronting her were to protect the Liars from the game starting up again. She is currently holding Mary and Alex Drake hostage in France, in her own dollhouse located in the basement of a doll shop.
Biography
Mona was born and raised in Rosewood by her mother, Leona. Mona became friends with Hanna Marin in the 8th grade, and they were great friends.[2] However, when Hanna became part of Alison DiLaurentis' clique in 9th grade, their friendship slowed and eventually ended. Mona was then subjected to intense bullying by Alison, while Hanna and the other girls watched it happen.
Mona never forgot the way Alison had treated her, labeling her as an outsider and a dork. She was even nicknamed "Loser Mona" by Alison and called that by the entire school. She was bullied by Alison, who told everyone she was nothing and treated her like she was invisible. So much so, that Mona herself began to believe it. She resorted to playing with dolls since she didn't many any friends left due to Alison's bullying.
After Alison's disappearance, Mona began behaving like Alison after she assumed Alison's place as the Queen Bee of Rosewood High School. She targeted Hanna, as she figured Hanna wouldn't pass up the opportunity to become popular after having been on the bottom rung of the latter. Mona and Hanna helped each other become skinny and "beautiful" over the summer and became best-friends once again. When they returned to school the following year, they reigned over the students together. Mona taunted Lucas Gottesman in the same way Alison used to torture her, and nicknamed him Hermie, despite once being his friend when Alison bullied them both.
Hanna and Mona's friendship stayed strong until the infamous "A" began torturing the Liars, which forced Hanna to become closer to her old friends. The Liars didn't like Mona, and this is a source of conflict for Hanna and Mona's friendship. In the Season 2 finale, Mona is revealed to be "A", the one torturing, blackmailing, and physically harming Hanna and Hanna's friends. Mona was angry at the Liars for taking Hanna away from her back in 9th grade and bullying her for being different. She was then admitted to Radley Sanitarium where she underwent aggressive therapy to treat her mental health issues.
In Season 3, Mona was a patient at Radley where she was visited by Hanna, Spencer, and Caleb. Unbeknownst to anyone at the time, she was being manipulated by someone wearing a red coat who got her excited to play the game again. When she was released from Radley she attempted to make amends with Hanna, who struggled to forgive her for all the things she did as "A". Mona remained under the influence of red coat until the incident at Thornhill when she was removed from the A-Team.
In Season 5, when Alison is revealed to alive and returning to Rosewood, Mona forms her own army of students and people who were victimized by Alison prior to her disappearance. The goal of the army was to fight against Alison's return and make it clear that Alison wasn't wanted in the town. Her army eventually disbanded and she was able to grow closer to Hanna after framing Alison to be a horrible person. Also during this time, she had an on-and-off again relationship with Mike Montgomery.
In the Season 5 summer finale, Mona found what she believed to be proof of Alison being "A", and was prepared to tell the Liars. She was then believed to be brutally murdered in her own home after the Liars entered the house and saw it torn to shreds.
Due to the amount of blood spread over her home, the police concluded that her wounds must have been fatal and her death was ruled a homicide. In "Welcome to the Dollhouse," Mona was shown to be alive but was held captive by "A", who turned on her after their plan to "kill" Mona. Mona was than forced to pretend to become Alison and her hair was dyed blonde by A. She was also tortured and forced to play games with A. When the Liars escaped the Dollhouse, Mona left Rosewood for several weeks to recuperate from her traumatic experience.
Personality
Mona is a very self-conscious person. Due to the bullying and rejection, she faced when Alison was around, Mona developed a complex in which she is not happy with her life. Although she does not show this side of her in public, this is why Mona felt such a need to remain popular, beautiful, and best friends with Hanna. This is also why she started tormenting the girls as "A," because she was afraid that the Liars would steal Hanna from her again, who was her only friend.
Mona is a brilliant young woman who can speak French, hack computers, and do voice impressions. She can be considered a genius but also has a personality disorder, which was diagnosed by Dr. Anne Sullivan.
Series
Pretty Little Liars
Pretty Little Liars: The Perfectionists
Appearances
Pretty Little Liars (92/160)
Romantic Relationships
Noel Kahn: Dated/Ex-boyfriend (see "Nona")
Mike Montgomery Dated/Ex-boyfriend (see "Mina")
First Relationship:
Started: "Bite Your Tongue"
Ended: "Cover For Me"
Reason: Mona admits to Emily that she started dating Mike so she could get closer to Aria Montgomery and find out information for Ezra, but she fell for him and didn't want to drag him into her mess, so she ended the relationship.
French Man: Boyfriend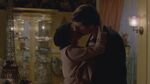 Relationships
The Liars
Hanna Marin: - Best friends (see "Manna")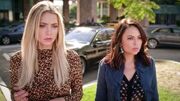 After Alison's disappearance, the four girls (Spencer, Hanna, Aria, and Emily) grew apart, and Hanna grew closer to Mona, as they had many common interests. They both loved vogue, they both wanted to be popular and together they gave themselves full makeovers and became the 'it' girls of the school. They love to go to the mall and shoplift. In the season 2 finale, It is revealed that Mona is the elusive A tormenting the girls. However, the two of them started up their friendship again, with Hanna even letting Mona stay with her after she was released from a psychiatric facility. Mona helped Hanna a number of times, and Hanna learned to trust Mona again even after all she did to her.
Alison DiLaurentis: - Former enemies/rivals (see "Monison")
Alison and Mona have a complicated and long history, mainly due to Alison's antagonistic ways towards Mona while the pair were in High School. Alison often bullied, mocked, and shunned Mona, nicknaming her, "Loser Mona", and turning everyone in the school against her and making her an outsider. This caused Mona to loathe Ali, and she became the infamous villain known as, "A", to punish her and her friends. She planned to kill Alison one night, and followed her out and through the woods. She hit her over the head, but was shocked to see that it wasn't Alison but Bethany Young. Later that night, Mona was driving home when she saw Alison walking after being pulled out of the ground, and gave her a ride to the Lost Woods Resort and told her to run away. Alison the disappeared, and Mona became the original A to punish Alison's friends for bullying her. When Alison returned, Mona was originally afraid, but the girls eventually settled into an understanding after a miniature war took place. Mona then faked her death and framed Alison as the murderer in hopes of catching the new A and becoming a hero, but was kidnapped by A instead and Alison was sent to prison. Alison then helped to find Mona and The Liars, and the two settled into an understanding once more. In the present day, Mona and Alison are friendly towards one another for the sake of Hanna, but still, have a large distrust for one another. Additionally, Mona is the killer of Alison's adoptive sister and biological cousin, Charlotte DiLaurentis. While they are no longer enemies and have stopped tormenting one another, they aren't considered friends and mainly tolerate one another when in public settings.
Spencer Hastings: - Friends/rivals (see "Spona")
Mona and Spencer were educational rivals throughout High School, and when it was revealed that Mona was A, Spencer and Mona became enemies. Over the years, they have become friends due to Mona's relationship with Hanna. In many episodes, Mona says things that the Liars don't understand but Spencer can. Spencer also helped the other Liars free Mona from the whole she was in at the Dollhouse. She also agreed to be "friendly" towards Mona for the sake of Hanna.
Emily Fields: - Friendly (see Monily)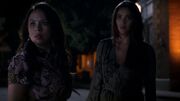 Originally, Emily only knew Mona through her negative interactions with Alison. After Alison's disappearance, Emily became a distant friend to Mona due to Hanna's friendship with both of them. When Mona started receiving texts from A, Emily grew closer to Mona but they still weren't considered one another friends. After Mona was revealed to be the infamous A torturing them, Emily didn't trust Mona and never fully had. Years later, Mona helped Emily (and the other Liars) find out information about Charlotte, and Archer, who Alison's sperm donor was and the doctor who performed the procedure and helped her (along with the other Liars) beat Liars Lament. The two are now friendly with one another, although Emily doesn't completely trust Mona and probably never will, with Mona wanting to earn Emily (and everyone else's) trust.
Aria Montgomery: - Frenemies (see Monaria)
The two didn't have much to do with each other, although before Alison's disappearance, Alison and Aria were walking one day and Mona tried to follow them to hang out with them. Aria told Alison maybe they should wait, but is convinced to run away from her. Their relationship didn't seem to get any better when Mona started dating Aria's younger brother, Mike. Aria did not trust Mona, due to what she's done in the past. Eventually, Aria warmed up to Mike and Mona's relationship. Years later, Mona was the first to figure out Aria was on the A.D. team. When Hanna brought Mona to Aria and Ezra's rehearsal dinner, Aria was not pleased to see her.
Family
Leona Vanderwaal: - Mother/Daughter
Leona and Mona have an interesting relationship, as Leona has only interacted with Mona on a few occasions. Following Alison's return, Leona was afraid that Alison's tormenting and bullying had begun again with her daughter, and confronted Hanna about it. Later, over the Christmas holiday, they planned to leave town to visit their family but Mona had to stay behind to handle some things but promised to meet her mother there. When Mona was believed to be dead she went after Alison as she believed that Ali had killed Mona and knew where her daughter's body was. When Mona returned to Rosewood from the Dollhouse, Leona picked her daughter up from the hospital and the pair went on a spa trip together. They also visited Saratoga together.
Other Friends
Lucas Gottesman: - Friends and former allies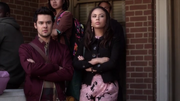 Lucas and Mona bonded over their mutual hatred for Alison, and their fear of Ali returning to her wicked ways when she came back to Rosewood High after having been missing for over a year. Lucas was also a member of "Mona's Army", and helped her in her attempt to stop Alison from rising to popularity again so she couldn't bully anyone else. Additionally, Lucas was rather nice to Mona when they were both at the bottom of the social rankings in High School, which made Mona feel better on days when Alison would torment her.
Lesli Stone: - Former friends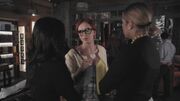 Lesli and Mona met when the duo were both patients at Radley Sanitarium. No one really knew about the pair's friendship except for Mona's mother, Leona. Lesli first appeared after Mona's faked death and seemed genuinely upset about the fact her friend was dead. She also helped Mona put Alison in prison, by falsifying and exaggerating evidence for her. However, when Mona returned, Lesli lashed out at Mona and blamed her for the fact that she was now an accessory to Mona's crime (faking her death). In an attempt to make it up to Lesli, Mona tried to steal Lesli's Radley file so that the Liars wouldn't find out that she was in Radley and knew of Charles. Mona failed and this lead Lesli to lash out at Mona and the two consequently stopped being friends.
Notes
It was unclear whose side she was on; "A"'s side or The Liars'. However, in the Season 5 mid-season finale "Taking This One to the Grave," Mona was revealed to be on The Liars' side as she was helping them find out about Bethany Young.

It was later revealed that she was helping "A" to make the Liars think that Alison was "A". After the Liars (included Mona) were rescued from "A"'s dollhouse, she returned to being on the Liars' side to help them find out who Charles really is.

Janel Parrish had a recurring role for the first two seasons, but was upgraded to a series regular for Season 3.
In "Touched by an 'A'-ngel," we learn that Mona can speak French conversationally, which is also referred to at the end of the episode "Je Suis une Amie." She was also part of Rosewood High French club as we learn in Now You See Me, Now You Don't.
Mona wanted to be friends with Hanna after she saw her bow after doing a backflip on the trampoline and puking.
In "The Naked Truth," we learn that Mona can do perfect impressions of people. We also learn that, like Caleb, she is an expert hacker. She was able to easily access the school's private database, even though she did not know the password.
The lyrics Mona sang in "Kingdom of the Blind," are:
In the eye abides heart
Every pure and tender feeling
All emotions worth revealing
Through the eyes their charm impart

which is a song by Beth Nielsen Chapman; the song was written in 1841 and was originally composed in German as "In den Augen liegt das Herz" by Franz von Kobell. 
Mona secretly gave Hanna a website and other words like "Maya knew." and "Not safe."
In Crazy," Mona says "I miss my dolls." In "The Lady Killer," once Mona gets to visit the new lair, we see her dolls of the girls in the dollhouse and their accessories laid out in front as if she had just been playing with them.
At the end of the video Mona made in "She's Better Now," Mona is heard talking to an unknown person, who seems hesitant, and asked him/her to back out if they can't take it.
Although Mona and Hanna broke friends often, they were friends when she died and Hanna was extremely upset as she was crying more than the other girls when Mona was pronounced dead.
Mona's personality is slowly revolving around Spencer (she joins the Decathlon Team, she starts to dress like her [scholarly and preppy], she listens to classical music, and even "admires" and "respects" her). They even have similar jobs after the time jump. 
Mona's last name was spelled Vanderwall in Season 1 and 2 but it was changed to Vanderwaal in Season 3 for unknown reasons, most likely because that is how Sara Shepard spelled it in the series.
Mona is the one who convinced Alison to disappear.
In in Season 5 summer finale, "Taking This One to the Grave", Mona was believed to have been murdered in her home by an unknown assailant.
In Pretty Isn't the Point, Mike reveals that Mona intended to fake her own death as part of a plan to expose "A", but "A" double-crossed her.
In Welcome to the Dollhouse, it is revealed that Mona is, in fact, alive and being held captive by "A".
Trivia
Janel Parrish originally auditioned for the role of Spencer Hastings. After being informed she did not get the part, she re-auditioned for the role of Mona, and got the part.
In "Never Letting Go," Mona mocks Aria at the fashion show dress rehearsal while Aria is practicing her catwalk: "Are your legs always that short, Aria?" In the same episode, Spencer alludes to Mona being five feet tall. Mona's and Aria's Wikia page both show that they share the same exact height: 5'2"!
Mona along with Hanna has appeared in character in commercials for TRESemme hair products including TRESemme Climate Control Mousse and TRESemme Fresh Start.
Mona is up on her Wizard of Oz references, as she tells Lucas in "The Perfect Storm" to ask the wizard to give him a penis. "A" is up on their Wizard of Oz references too, custom designing a fortune cookie that reads "There's No Place Like Homecoming." (Dorothy's words at the end of the film: There's No Place Like Home.") Also, in "Can You Hear Me Now?," "A" sends a flier towards the Pretty Little Liars that reads, "Ding Dong, the Bitch is Dead," a reprisal of the film's song "Ding Dong, the Witch is Dead."
Janel Parrish revealed in an interview that she did not know she was "A" until a week before they started filming for the finale, but she was always hoping that she was "A."
Mona is released from Radley in "She's Better Now" which implies what the title meant.
Mona's favorite Holiday is Halloween, she likes it better than Christmas because it involves more makeup.
Mona got kicked off the A team at the end of the Season 3 finale and is now considered to be part of the liars.
"A" puts a doll of Mona with the liars in the dollhouse in "A is for A-L-I-V-E."
Mona is one of the two female characters with history of mental illnesses. The other one is Meredith Sorenson.
In "EscApe From New York," Mona formed a group (including Lucas Gottesman, Melissa Hastings, and Paige McCullers) of people who have been mistreated by Alison in the past. It is known as "Mona's Army".
In 'Til Death Do Us Part , Mona kidnaps Mary and Alex and holds them captive in her own dollhouse in Paris, presumably to make sure they can't start the game again.
Book Comparisons
Main article: Mona Vanderwaal (Book Character)
In the show, Mona has dark hair and brown eyes. In the books, she has blonde hair and blue eyes.
In the books, Mona witnessed The Jenna Thing and received burns from the accident. While in the show, only Toby saw what The Liars did.
In the books, Jenna and Mona were friends, but in the series, they hardly knew each other.
In the TV series, Spencer is the first to find out that Mona is A. In the books, it was Hanna.
In the show, Mona dated Noel. In the books, she hooked up with Noel's brother Eric, before her death in Unbelievable.
Mona dies after she's revealed as "A" in the books. In the TV show, Mona survives the fall and is admitted to Radley Sanitarium and becomes an ally to the liars after the events of A DAngerous GAme.
In the books, Mona becomes "A" as revenge for the Liars taking part in the blinding of Jenna Cavanaugh. In the TV show, Mona starts being A and also created the "A-Team" because she feels that the Liars (possibly including Alison, as she received notes from "A" as well) "took" Hanna away from her.
In the books, Mona is the first A, and seems to have no accomplice. In the show, Mona started the A-Team, and while she was in Radley, Charlotte DiLaurentis stole the game from her.
Mona dated Lucas before Ali disappeared in the books. This never happened on the show.
In the books Mona was much more reckless, getting wasted, helping Hanna crash Sean's car, and showing her underwear to guys for fun.
In the books, Mona's friendship with Hanna was just a ploy to get information, whereas, in the show, they had a real friendship with Mona seemingly atoning for being A.
In the show Mona and Mike are dating, however in the books they barely interact.
In the book, Mona is killed when she accidentally falls off a cliff after a fight with Spencer at the quarry whereas, in the TV show, Mona is still alive. In the TV show, she also fakes her death in Taking This One to the Grave, in order to get Alison arrested.
On September 25th, 2017, it was announced that Mona would return for the Pretty Little Liars spinoff, Pretty Little Liars: The Perfectionists.
Quotes
Mona [to Hanna]: This sounds totally gay, but if I saw you struttin' it in that dress and kickin' up those heels, I would think about doing you.
Hanna: We had so much fun last summer.
Mona: And some of it was even legal.
Mona [to Lucas]: You can go now. This beauty doesn't need a beast.
Mona: I was eating three almonds a day, and you were getting liposuction?
Mona [to Hanna]: I'm making sure you don't host a pity party for yourself and invite a cheese cake.
Mona [about her birthday gifts]: Whatever it is, I'm sure I'll love it. And if not, I'll return it.
Emily: I can't blackmail a school official.
Mona: Honey, you can't be a shark if you're toothless.
Mona: Frankly, I'd like to take that cane and whack her like a pinata.
Mona [to Spencer]: You're not the only genius in this car. You, bitches, underestimated me.
Mona: It's easier to forgive an enemy than it is to forgive a friend.
Mona [to Spencer]: I admire you Spencer, so I'm going to let you choose how this ends tonight. You can join the 'A-Team' or disappear.
Mona [to Aria and Hanna]: Miss Aria, you're a killer, not Ezra's wife.
Mona [to Emily, Spencer, and Aria]: Look, I'll take heels over a hoodie any day of the week. But just because I'm not A anymore, doesn't mean I can't recon your asses when I need to.
Mona: And who's looking cray-cray now, Spencer?
Mona: Looks like someone's been skipping their anger management class.
Hanna: You were on the Halloween train dressed like Caleb.
Mona: To think we were this close to our first kiss.
Mona [to Alison]: I don't have to hide, you do. And you're gonna wish you stayed dead.
Mona [to Aria]: Alison is "A"! And now I can prove it.
Mona: Game over Alison. I win.
Mona: Mona? I know it's been a while, but I haven't changed that much, have I? You guys it's me. Alison.
Mona: It thinks it beat me! But I am still here! I am the one who's winning the game!
Mona [to Emily]: Seems whatever I do ends up this way. Good intentions that look like trash.
Mona [to Wren disguised as A.D.]: Are you here to kill me?
Mona [to Alison outside BHU]: By my calculations, he could be...dangerous.
Gallery
References
↑ mentioned in 5 Years Forward
Characters (The Perfectionists)
Groups
The Perfectionists