"
Mona: Are you trying to say that you care about me?
Alison: Sort of. I know how easy it is for you to go down the rabbit hole and not come back. So, I need you to stay connected to reality - and to people.
"
Monison is the frenemy and rivalry pairing between Mona Vanderwaal and Alison DiLaurentis throughout Pretty Little Liars and Pretty Little Liars: The Perfectionists.
Mona and Alison each spent a portion of their lives torturing the other, Alison as a bully in high school, and Mona as the infamous stalker, "A". Their current relationship is complicated, as they have a very tumultuous past, but still, have the potential of being allies. Since becoming co-workers at Beacon Heights University, the women have been forced to trust one another, and have learned to put their past in perspective.
Relationship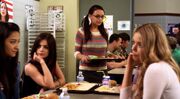 The relationship between Mona and Alison is a tumultuous and complicated one, primarily due to their treatment of one another throughout High School. The relationship started as antagonistic, as Alison bullied and treated Mona poorly in their first few years at Rosewood High. Mona, desperate to fit in, often hung around Alison and her friends, only to be rejected by the group and humiliated by them a number of times. Alison even nicknamed her, Loser Mona, and turned the school against her, to the point where Mona even believed she was a loser. Alison continuously bullied Mona and treated her poorly out of amusement. This angered Mona and she started sending Alison threatening messages and texts under the alias, "A", in an attempt to scare her, which she succeeded in doing. However, she never really wanted to hurt Alison, only scare her enough to where she would stop bullying Mona and everyone else.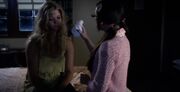 One night, Mona was out for a walk, when she saw whom she believed was Alison walking alone. Mona was so overcome with rage and anger towards the girl who had made her life a living hell, that she hit her over the head with a shovel. This was later revealed to not have been Alison, but Radley Sanitarium escapee, Bethany Young. When Mona found the real Alison walking down the street covered in dirt and bleeding, Mona brought Alison back to the Lost Woods Resort, where she helped her disappear. Mona then became A to torture Alison's inner circle, and eventually Alison herself, for how they treated her.
After Alison returned, their relationship worsened, with Mona even framing Alison for her death and being A. Alison was then sentenced to prison for murder but was eventually released when Mona was discovered to be alive and being held captive but the real A. The two girls seemingly let bigons be after everything that happened, but still had a heavy distrust for one another.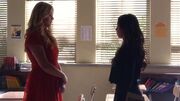 Five-years-later, they no longer have an antagonistic relationship, as they have reached a mutual understanding. However, their relationship is later strained when Mona confessed to killing Alison's cousin and adoptive sister,
Charlotte
, in self-defense. Even though Alison originally wanted to turn Mona over to the police, she was persuaded not to by the other Liars. After a year went by and Mona sought treatment at
Welby State Psychiatric Hospital
, the two were able to be cordial with one another when in the same room. However, they don't trust one another, as they both know what the other is really capable of.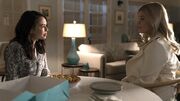 Two years after the events of "
'Til Death Do Us Part
", Alison receives a job offer at
Beacon Heights University
where she would be a TA while working on getting her degree. She arrives in the quaint to-perfect town and discovers that
Mona
, who is the staff selection at BHU, was the one who brought her to
Beacon Heights
.
Series
Pilot Alison arrives in Beacon Heights and moves into a new home near BHU. She is exploring her home when she hears a knock on the door and is surprised when Mona is standing there with a butcher knife. Seconds later, Mona raises up a box declaring that she brought pie. Once inside the home, Mona is cutting the pie while Alison warily stands away from Mona and the pie. She asks what Mona is doing in Beacon Heights, to which Mona replies that she works at BHU as faculty selection - and she chose Alison. Ali wants to know why she didn't tell her, and Mona asks if she would have come if she knew, to which Ali admitted that she wouldn't have. They also catch up on their lives from the past two years, including Alison's marriage to Emily and Mona's return from France. Mona also offers to give her a tour of the grounds the next day. During their tour, Alison points out the Taylor Hotchkiss Memorial Garden, and Mona explains the circumstances surrounding Taylor's death. She also adds that Alison is living in her old house, but not to worry, since the furniture has been changed. Sex, Lies and Alibis Alison enters Mona's apartment and is attempting to speak to a deeply distracted Mona, who immediately begins writing on a mirror in red pen. Alison looks around the apartment and notices that the walls and windows are covered with papers, strings - the entire home is covered in mathematical equations. Alison asks Mona if she's been holed up in the apartment since Nolan's death, to which Mona admits guilt over his death. Alison is flustered for a moment before calmly asking her if she was with Nolan before he died - if she pushed him. Mona quickly turns demanding to know what kind of person Alison think she is, but Alison only looks around the room. Mona returns to her mirror asking why she's there, and Alison takes out her phone and asks Mona to please look at her. Mona does and Alison proceeds to question her about the text she received from Nolan Hotchkiss requesting that they meet on the roof to talk. She states that the text from the dead guy felt very "A-like" to which Mona checks the time and says that it was sent before Nolan was killed which meant it was just a network malfunction. Mona admits that it looks as if Alison killed him, before humming and once again returning to her work while Alison watches her incredulously. Alison returns to the apartment later that night with food and key lime pie - Mona's favorite. Mona is worse than when Alison left before, rendered near incoherent and muttering mathematical equations to herself. She states that the reason Nolan is dead is that she didn't do anything when her algorithm red-flagged him - he didn't belong at BHU. Alison thinks it was because he was dangerous, but Mona says that it was also because he had the ability to push another student to the point of snapping. By not telling Claire about her son, Mona indirectly created a killer. Alison points out that Mona is now using her own algorithim to figure out who his killer is, and while she appreciates her guilt, Alison wants to focus on her own problem for a second. Mona continues to work on her code silently while Alison confides in her about feeling as if she's back in Rosewood. Mona mutters code to herself not acknowledging Alison, so Ali tells her that she brought pie - her favorite as the guy in the bakery pointed out. Mona stands up but only to pick up one of her files muttering about something not making sense to her, and Alison tells her she needs her to snap out of it, the nice tone she had before replaced with a sharper one. Mona is now completely lost in her own mind and world, so Alison abruptly slaps her across the face hard enough for Mona's head to turn. Mona looks at her in shock clutching her face. A few moments pass before Alison gently apologizes and Mona eagerly realizes Alison brought her favorite kind of pie, grinning as she hurries into the little kitchen. Following her in, Alison confides to Mona about her problem to which Mona asks when she became such a wuss. The Alion she used to know ruled the world because she played be her own rules, not someone else's. Alison reminds her that she's supposed to be making a habit out of what's right not wrong, to which Mona reminds her that she appreciates that the sentiment, but the nice girl facade she puts up is never gone to last. She more or less tells her that the fake skin she's wearing will never fit her, the old Alison will always be under there ready to explode at any moment.
Quotes
Alison (to the Liars in front of Mona): If you ignore it, it will go away.
[Alison about Mona in a flashback]
Mona: Meow.
Alison: Do I know you?
Mona: No. But you will.
[Alison and Mona at the Halloween party in a flashback]
Alison: Okay, what do you think Loser Mona was doing in there? Praying for bigger boobs?
[Alison to Spencer about Mona being in church in a flashback]
Mona: Hi Alison! I really like your hair. I've been trying to get my hair like that but... It just won't cooperate.
Alison: Mona. There are cancer patients with better hair. If I were you - and I'm happy that I'm not, I would stop trying.
[Alison and Mona in a flashback]
Mona: Alison?
Alison (softly): Crap.
Mona: I can't believe you're here! It's kind of like we're shopping together! (pause) Alison?
Alison: Shh.
Mona: Why are you dressed like that? What's going on? (gasp) Is this some sort of a game?
Alison: Mona. Can I tell you a secret?
Mona: For real?
Alison: It's for real. And for keeps.
Mona: I can't believe you're talking to me!
Alison: Yeah, well. I'm watching someone.
Mona: Who?
[Mona looks out the window; Alison pushes her back]
Alison: Mona. This isn't a game. Just... Pretend like you don't know me and take off. Okay?
Mona: Wow. The Ali D. needs something from Mona Vanderwaal. What's it worth to you?
Alison: What do you want?
Mona: To be popular.
[Mona and Alison in a flashback]
Mona: I'm scared for you, Alison.
Alison: I'm scared for me too.
[Mona and Alison in a flashback]
Mona: Maybe you should die.
Alison: What?
Mona: Let A think you're dead.
Alison: How do I do that?
Mona: You disappear. You should rest. Come one, I got you.
[Alison lays back on the bed]
Mona: Shh... Everything's going to work out exactly the way it's supposed to. You'll see. I'll take care of you.
[Mona kisses Alison on the forehead]
[Mona and Alison in a flashback to the night of Ali's disappearance]
Alison: You saved my life, Mona. I don't know how I can thank you.
Mona: Thank me by staying gone. And staying safe.
Alison: Look at yourself. Ditch the glasses and the barrettes, have Kim at the salon do your hair and ask for Sydney at the makeup counter. Buy everything she tells you too, and never go to school without your face on. Now, burn those knee-socks, tell Manny at the boutique that Vivian sent you. You don't have to be a loser, Mona.
Mona: Thanks, Ali.
[Mona and Alison in a flashback]
Mona: I am so over Ali, I told you. She was never my friend - but Hanna was.
Mona: Did anyone see her?
Emily: See who?
Mona: Alison. She pulled me out of there she pulled us all out.
Aria: No, you're hallucinating.
Mona: She was here, I swear it.
Mona: Alison stole my life from me when she crowned me Rosewood's biggest loser. And she was so convincing, that even I started to believe her.
Alison: Did you follow me? I'm not supposed to be out of my house. But I had to come here to see it all. The girl they made that for... She really is gone. I can't be that person anymore, Mona. I know you hated me, you wanted me to go straight to Hell. Going there was easy, it's the coming back that's hard. But you and me we... We understand each other. I need you Mona. As a friend.
Mona: "The truth will bury you in a New York minute." In case you were wondering, that was me. I sent that text. I guess I should have signed my name because... I don't have to pretend to be anyone else anymore. I don't have to hide. You do. And you're gonna wish you stayed dead.
Paige (to Mona about Alison): Mona. I'm just curious... Do you ever wonder when you became the very thing you're afraid of?
Alison: I'm not afraid of you, Mona.
Mona: You used to be a much better liar.
Alison: What do you want, Mona?
Mona: What I've always wanted. And that's for you to leave town. I don't care where you go or how you get there, I want you gone.
Alison: I'm not a threat to you.
Alison: You're suddenly the victim of what, Mona? My bullying? What do you call what you did to those girls? You almost killed Hanna.
Mona: No one feels worse about that than I do. But-but I'm all better now. Even the doctors say so.
Alison: I don't believe you. If you could prove that we were in New York, you would have done it already. I'm back and I'm staying, so get used to it.
Mona: No one wants you here!
Alison: You're wrong, Mona. Just like before, everyone wants to be my friend, and that's what you're afraid of. All I had to do was say I'm sorry to Cindy and Mindy and they were practically begging me to sit at their lunch table. You're scared because you know that it's not gonna take me long to win over your army of losers. I made you Loser Mona once, and you know I can do it again.
[Mona slap Alison, who slaps her back]
Alison (about Mona): That is the last time I underestimate that bitch.
Mona (to Emily): Give my love to Alison.
Mona (to Hanna): Why do you think I went on the offensive? She scares me to death. I just... Didn't wanna face her alone.
Mona: I'm just trying to protect myself. That's all I've ever been doing. Protect myself from her.
Aria: Is that why you built an army?
Mona: It's hard to keep the troops in line with Alison offers them candy, and a smile, and that lolting little laugh. And maybe you won't believe this, but I'll say it anyway. When she finishes with me she'll come after you, and the others. She can't trust you anymore. Not after Cyrus and... Not after New York.
Mona: Game over, Alison. I win.
[Mona to herself about Alison]
Mona (as a "ghost"): I know you told me never to leave the house without my face on, but as a corpse, this is the best I can do for your ice ball.
Alison: This isn't real.
["Ghost" Mona greets Alison in her dream]
Mona (as a "ghost"): Wake up, bitch! It's Christmas, and I promise, you don't wanna miss it.
Alison (to Jason): I'm being framed, Jason. Spencer, Emily, Aria, Hanna... They're all working together. They wish I never came home and now they want me gone. You have to believe me, I did not kill Mona!
Carla Grunwald (to Hanna about Monison): Each one hated the other, because each one feared the other, because each one knew something about the other.
Linda Tanner (to Alison): Alison DiLaurentis, you are under arrest for the murder of Mona Vanderwaal.
Alison: Have you ever wanted a do-over? I always thought do-overs were for losers. Losers made tragic choices about their hair, clothes, boys. Well, I had everything figured out. But lately, I've had a lot of time to think. What if... What would I do-over if I could? Would a second chance change history? That's it. That's the moment I would change. But it's easy to say you would do something different. If I had the chance to do a do-over... To change both of our lives, would I take it? If I had made another choice that day, maybe Mona's fate would have been different. Maybe I wouldn't have ended up... Here. Maybe I could have made a friend... Instead of an enemy.
Mona (as Alison): You guys. It's me - Alison.
[Mona to liars in the Dollhouse]
Mona: I'm scared about what Alison will do to retaliate for me framing her for murder!
Mona (about her time at Radley): I mean, half the time I thought I was being haunted by Ali, the other half of the time I thought I was auditioning for American Idol.
Alison (to Mona): Thank you for coming. You're the only one who answered my call.
Mona (to Alison): I'm just... Glad I could help. I know I owe you more then just a car ride.
Mona: I killed Bethany. I had been sending Ali threats I didn't want to hurt her I just wanted to scare her. But that night, so many people were mad at Alison. She was all alone in her yard and the shovel was right there... It all happened so fast.
Emily: You hated Ali that much? Enough to kill her?
Mona: When I hit her... All I could hear was Ali berating me, every awful thing she'd ever said to me at all once. But if CeCe hit Ali... Bethany had blonde hair and she was dressed just like Alison. I killed an innocent person.
[Mona admits to wanting Alison dead and killing Bethany]
Alison: Mona. And I thought you were done lurking in the shadows.
Mona: Alison DiLaurentis. Never thought you'd be the one to stick around Rosewood.
Alison: After you ran me out with a pitchfork I actually came to like this place.
Mona: And a teacher even.
Alison: Considering my limited High School experience I have to say I missed it.
Mona: Well, I'm in town for my 21st and I thought we could go out for a drink and celebrate.
Alison: What about your college friends?
Mona: Well, they threw me a party at uh, Duke but it wasn't the same. Come on, don't you have five-minutes for some nostalgia and a little bit of butter-cream frosting?
[Mona and Alison in a special-clip during the time-jump]
Mona: You know, Ali, considering everything we've been through I never thought I'd make it to twenty-one.
Alison: You're not here to celebrate. You're here about her. You applied for a Summer job at Welby - and in Charlotte's ward, no less. It's kind of an interesting choice for a poli-sci major. And Mina Davis - creative. Isn't that your mothers maiden name? Dr. Rollins didn't recognize your name on the application but saw you leave. Thought you looked familiar. We blocked your application.
Mona: I tried to visit Charlotte legit the first time and the hospital wouldn't let me in.
Alison: You needed to put on scrubs for a visit?
Mona: I didn't expect to get much out of her in one rendezvous. Figured it might take a few.
Alison: What do you want?
Mona: I saw you've been posting on social. Seems like she's getting better.
Alison: She is.
Mona: Should Charlotte ever get cell-phone privileges what's she going to post? About us?
Alison: I've spent every day with her for the last four-years. She's changed.
Mona: I'm about to start a career in the public eye, I need to know her intentions.
Alison: Her intentions... Are to get well.
Mona: She was a master at playing the game. Even better than me. You may trust her, but I don't think I ever could. When can I see her?
Alison: When she gets out. And I know she will. Charlotte's been working very hard.
[Mona and Alison in a special-clip during the time-jump]
Alison: Why is she dressed like that?
Spencer: She went back to a safe place. You know, a place before everything went wrong. Where the worst thing she had to worry about was you being mean to her in the cafeteria.
Alison: Mona?!
Mona: I brought pie!
Alison: Mona, what are you doing here?
Mona: I work at BHU. Faculty selection. And I chose you.
Alison: I know in the past we've been more frenemies than friends but... I want you to know that I --
Mona: Are you trying to say that you care about me?
Alison: Sort of. I know how easy it is for you to go down the rabbit hole and not come back. So, I need you to stay connected to reality - and to people.
[Monison in "Sex, Lies and Alibis"]
Alison: Mona, where were you when he was killed?
Mona: What kind of person do you think I am?
Alison: Well...
Mona: Didn't we decide you were going to drop the whole role-model routine and go back to being the old Ali that we know and love?
Alison: What? Lying, conniving, duplicitous -
Mona: Your words, not mine.
Alison: Do you know why I faked my own death?
Mona: Because everyone in Rosewood wanted to kill you?
Alison: Not everyone.
Mona: You're making an awful lot out of one rose.
Alison: It's not just the rose. It's a feeling.
Mona: What kind of feeling?
Alison: The same one that told me you were alive when everyone else thought that you were dead.
Trivia
Alison bullied Mona throughout High School, and nicknamed her, Loser Mona.
Mona started sending Alison threatening messages under the alias of "A", to punish Ali for bullying her.
Mona wanted to kill Alison the night of her disappearance and even hit who she believed was Alison with a shovel. However, this was really Bethany Young.
Mona became A to punish the Liars for being friends with Alison.
After Ali returned to Rosewood, Mona started a group with Ali's former victims to keep her from returning to power in the school and eventually force her out of Rosewood altogether.
Mona turned Hanna Marin into the "new Alison", as she still wanted Alison around despite her being gone.
In order to get in and out of Radley, Mona faked a nurse ID and used the alias "Ali Dee", a direct mention to Alison. Mona even called Alison, "Ali D." in a flashback during "UnmAsked".
Mona falsified a video to get the school and the Liars to turn against Alison and see herself as the victim - she succeeded in doing so.
Alison once vowed to never underestimate Mona ever again.
After Mona's faked death, Alison was haunted by Mona's "spirit", which showed her the past and future. This was later to be actually Alison's own guilt coming out in the form of dreams for her role in Mona's believed death.
Mona framed Alison for her (faked) death, and Alison was sentenced to life in prison because of it. She was later released after Mona was revealed to be alive and held captive by the new A.
Alison was in prison for Mona's murder from "Through a Glass, Darkly" to "Welcome to the Dollhouse".
In a deleted scene, while in prison, Alison changed a scenario in her mind where she was nice to Mona instead of cruel, and the two became friends.
Mona was forced to dress like Alison and pretend to be her while held captive in A's Dollhouse.
Alison helped the police (along with Toby and Caleb) find Mona and the other Liars and rescue them from the Dollhouse.
Mona hallucinated Alison while she was in Radley, and thought that she was talking to Alison when she was really talking to Charlotte (or Hanna).
Mona killed Alison's adoptive sister and biological cousin, Charlotte DiLaurentis, in self-defense.
They were patients at the same psychiatric hospital, though they were committed at different times.
At the end of PLL, Mona had successfully kidnapped Alison's Aunt, Mary Drake and cousin, Alex Drake, and was holding them captive in France.
They are co-workers and staff members at Beacon Heights University, who Alison is a teacher and Mona is in staff selection.
Notes
Gallery
Community content is available under
CC-BY-SA
unless otherwise noted.