"
You bitches never understood me....I ALWAYS get what I want.
"

Noel Kahn was a typical, charming rich boy with a very bad side who frequently threw wild parties. He was portrayed by Brant Daugherty. 
Biography
In Season 1, it's shown that he had feelings for Aria and briefly dates her. Through a flashback, it is revealed that Aria used to harbor a crush on him when Alison DiLaurentis was still alive. He is a student at Rosewood High School and a classmate of Aria's in Mr. Fitz's English class. When Noel discovers that Aria has been seeing Ezra, he ends things with her. Noel has an older brother, Eric Kahn, whom he follows in his footsteps by throwing parties. He is also described as brainy and immature by Alison. During Season 2, he dated Mona, but later broke up with her and then started dating Jenna. It is unclear if they broke up, but it has been implied that they have. In Season 4, it is revealed that he has known Alison is alive and has been helping her. However, he was blackmailed by Alison, but did not reveal his secret. In Season 7, Noel Kahn returned to Rosewood to team up with Jenna Marshall and Sara Harvey. Alison also revealed how she blackmailed Noel: It turns out he pushed a girl down the stairs when he was drunk. Noel was also the prime suspect for Uber A, especially for Hanna, as it was later discovered he helped Charlotte in the dollhouse. He was killed while fighting Hanna and Emily, as he tripped on his own axe and accidently decapitated himself.
Series
Appearances (27/160)
Relationships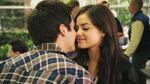 Aria Montgomery: Briefly dated. (see "Ariel")
Mona Vanderwaal: Briefly dated.
Jenna Marshall: Dated.
Friendships
Sean Ackard - Noel is friends with Sean, who gets Hanna to convince Aria to go out with him. At the end of Season 1, he is seen hanging out with Aria's younger brother, Mike. 
Alison DiLaurentis - Alison and Noel have been friends since before Alison's Disappearance. When The Liars find out Alison is alive, they also find out that Noel had known, and had been helping her, alongside CeCe Drake. However, Noel admitted he was blackmailed.
Enemies
Aria Montgomery - Prior to Alison's disappearance, Aria had a long standing crush on Noel. After her return, Noel seems to finally reciprocate, but Aria had moved on with Ezra. Despite this, they form a brief relationship, ruined by Aria not being able to resist Ezra. When Noel discovers the affair, he blackmails Ezra. This, combined with the girls suspecting him of mowing Hanna down and being "A", leads to their break-up. Ever since, Noel seems to hold sharp disdain for Aria and her friends, for obvious reasons.
Spencer Hastings, Hanna Marin, and Emily Fields - Noel seems to strongly dislike the rest of the Liars as well, due to their initial suspicions of him. He can't let go of the grudge he has against them. This came to a head in "This is A Dark Ride", when he snaps at them at the end of the party, accusing them of having something to do with Garrett being murdered and ruining the party. Another example would be when Spencer and Noel confronted each other in March of Crimes. Spencer cut Noel's hand with a fireplace poker, threatening to do worse if he didn't leave, which he did.
Quotes
Noel [to Aria, about Camp Mona]: It's a bummer Camp Mona's a girls only party. I was hoping to see you this weekend.
Noel [threatening Ezra]: I think I know enough to get a better grade on this.
Noel: Careful Alison. I get your jokes, but someday you might meet a guy who doesn't.
Noel [to Alison and the girls about his Halloween party]: Come prepared to be scared.
Noel [about his Halloween costume]: I'm a gynecologist — care to make an appointment?
Noel: Bad boys have nothing on mean girls. Guys have a fight, there's a punch, it's over. Girls don't fight fair. They gang up, keep secrets, plot. They can cut you down with a look.
Hanna [about Noel]: Where does he get off calling other people out? He is the worst, smug, blackmailing, son-of-a-
Noel [to Spencer]: It's kinda hot, knowing you think I'm capable of murder.
Spencer: You lied to me.
Noel: Which time?
Aria [to Noel, while playing Truth]: Did you ever invite Maya St. Germain to any of these parties?
Noel: This is a party Aria, ask me how many sexual partners I've had.
Noel [to Aria, while playing Truth]: Did you ever have sex with your teacher?
Aria: No, I've never had sex with my teacher.
Noel: Bull...
Trivia
Book Comparisons
Noel's Gallery
Community content is available under
CC-BY-SA
unless otherwise noted.