"
Emily, you can trust me with your life.
"

— Paige to Emily
Paily is the name of the romantic relationship between Paige McCullers and Emily Fields. Paily was one of the major relationships during seasons 3 to 5, the 5 year time skip and season 7, and also both Paige and Emily's main and longest romantic relationship throughout the show.
Series
Dating Timeline
First Relationship
Started: "A Person of Interest" (1x19)
Reason: Paige and Emily meet at Hungry Owl Tavern (the Karoke Bar) and discuss Paige kissing Emily and the two bond instantly. Emily, who has been thinking about the kiss, reciprocates Paige's feelings.
Ended: "A Person of Interest "(1x19)
Reason: Paige is still afraid to come out and worries people will think she and Emily are dating. Not wanting to go back to being closeted, Emily tells Paige they should just be friends.
Second Relationship
Started: "Someone to Watch Over Me"(1x20)
Reason: Paige confesses to Emily that she is terrified of coming out. Emily comforts her by telling Paige about how, when she was pretending to be straight, she would look for guys like Paige, who were confident and brave. The two then kiss.
Ended: "Monsters in the End"(1x21)
Reason: Emily ends the relationship with Paige because she doesn't want to be Paige's secret.
Third Relationship
Started: "Stolen Kisses"(3x8)
Reason: Emily is finally ready to accept someone into her life after Maya's death. Realizing she still has feelings for Paige, she goes to visit her and the two rekindle their relationship.
Ended: "Unbridled"(4x23)
Reason: Paige betrays Emily by giving the cops information on Alison.
Fourth Relationship
Started: "Taking This One to the Grave" (5x12)
Reason: Emily wants to talk about their relationship, but Paige says that she is tired of talking and kisses her.
Ended: Between "Fresh Meat" (5x15) and "Over a Barrel" (5x16)
Reason: Paige moves to California and tells Emily she needs space.
Fifth Relationship
Started: "Power Play" (7x14)
Reason: Paige kisses Emily and announces that she is not taking the swim coach position at University of Lowa.
Ended: "In the Eye Abides the Heart" (7x15)
Reason: Emily has decided to have the baby with Alison and Paige thinks they would be unhappy even if they tried to work things out.
Threats to Paily
Past:
Paige - Paige, being closeted, struggled with both her feelings for Emily and her fear of coming out. Paige tried briefly to date Sean, but realized she just felt "phony" when she was on a date with him. Her struggle with her sexuality is what eventually lead Emily to break up with her in "Monsters in the End", not wanting to be Paige's secret.
Samara - Emily first met Samara when attempting to help Paige deal with her sexuality and come out (Samara being the head of a nearby private school's Gay-Straight Alliance). Tired of Paige's issues with coming out, Emily was charmed by Samara's flirtatious comments, and later broke up with Paige to peruse Samara.
A - The A-Team tried to frame Paige for killing Maya, but ultimately failed.
Spencer, Hanna, Aria - Emily's friends decided Paige was "A" (and possibly Maya and Alison's killer) after finding evidence planted by A and learning that Paige used to be bullied by Alison. Their claims of Paige's guilt caused a rift in their friendship with Emily; after realizing they had been deceived by A and discovered Nate had killed Maya, the girls later apologized.
Shana - Emily grew jealous after seeing Paige and Shana interacting and suspected there was a history between them. Paige eventually explained that she had dated Shana for three weeks while Emily was in Haiti, but that she had no feelings for Shana and only wanted to be with Emily.
Alison - Alison was Emily's first kiss and love and Paige's bitter enemy. Now that she is alive, she is a major threat to their already failing relationship.
Paily Soundtrack:
Memorable Places/Items
Emily's Car - This is where Paige and Emily shared their first kiss. This was also Paige's first time kissing a girl.
The Hungry Owl Tavern - Emily and Paige go on their first date and sing karaoke.
Swimming Pool - Both being swimmers, Emily and Paige share many moments in or near the Rosewood High pool. When they begin dating, they kiss by Paige's pool.
Emily's Bedroom: This is where Paige first admits that she is gay. It is also where Paige tells Emily she loves her, and where the two exchange mutual "I love you's" for the first time.
Notes
They are both great swimmers.
Before Paige, Emily was the one who tend to get attracted towards other women. Hence, going out with Paige, who was drawn to her instead, was a whole new experience for Emily.
In "Someone to Watch Over Me" Emily tells Paige that when she was still pretending to be straight, she would look for guys like Paige.
In "Single Fright Female" it's revealed that Paige had a crush on Emily before the Pilot.
Oliver, in an EW interview, stated that for Emily (as the rest of the girls) competition for her affections is coming up. However, many of these romantic interests "don't surface maybe till we're deep in [season] 4A, sometimes earlier than that."
This is Emily's longest relationship so far.
Paige is the first girlfriend that Emily trusted about A.
Paige was the first to say "I love you", but in "A is for A-L-I-V-E" was when they both said to each other.
Emily is the first person that Paige opened up about being bullied by Ali.
Emily takes off her Ali bracelet when she starts dating Paige.
Deleted Scenes
Season 1: In "Je Suis Une Ami" as Emily walks out of the locker room, she sees Paige in the gym running on a treadmill and walks over to the door for a closer look, slightly smiling as she watches Paige workout. After a few seconds of watching, Emily walks away. Also later on in the episode we see Emily on the phone, she has called Paige and it has gone to voicemail. Emily then says that if Paige ever needs to talk about anything, anything at all, she's always available.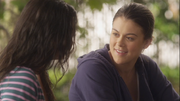 Season 3: Paige is talking to Emily after Swim Practice. Paige is sitting on top of a table and reassures the coach that she will help Emily get back to what she was last swimming season. Paige tells Emily they can workout at Paige's pool anytime and Emily flirtingly tells her they wouldn't get much swimming done, Paige laughs and agrees. Paige then assures her that she will be better in no time and that she just needs to shake of some rust. Emily then thanks Paige for convincing her to stay on the team and Paige says that it wasn't a problem as she gets to see her everyday now. Emily then walks off as her mother is waiting for her and Paige stares lovingly at Emily walking away.
In "Single Fright Female" Emily gets a text from Hanna just as Paige walks into Emily's bedroom with Chinese. Paige says hello and apologies for taking so long with the Chinese as it was busy. Emily lays down on her bed in an exhausted matter and Paige comments on her low-blood sugar and says she definitely needs to "mainline some noodles, 'stat'". Emily claims she's fine and brings up that Hanna is bothering her to go Paige saying to Emily, "I don't want them to be afraid of me".
Quotes
Emily [to Paige]: I haven't been with anyone since Maya. I haven't even thought about it. At least, I didn't think I was thinking about it. I was drunk that night, and I got lost. Only, I didn't really get lost. I was looking for something. I was looking for somebody. And I came here. Don't look away.
Paige: Sometimes I'm still amazed that you're with me.
Emily: I'm amazed that you're with me.
Paige: You mean sometimes things actually work out?
Emily: Sometimes, yeah. When nobody's watching. Things work out.
Emily [to Paige]: Just give me a kiss okay?
Paige [to Emily]: Unpredictable can be good. Look at us.
Emily: I really love you.
Paige: I love you too.
Paige: Okay, truth. What would you change?
Emily: Well, I, um I'd push the beds a little closer together.
Paige [to Emily]: They're gonna want you, Maybe not as much as I do, but that's a good thing.
Emily [to Paige]: I want to live in that room on your computer, and I want to be with you, only you, away from this town. Just you and me together, safe, and starting a real life.
Paige: Don't you want to live in a place where you're not afraid of the dark? In a place where I don't always have to be afraid for you?
Emily: Yes.
Paige: Yes?
Emily: I want to go. I want to be with you.
Paige [to Emily]: We'll live together, and you can decorate the place however you want. We'll study on the beach. Spend weekends in San Francisco, and how much fun would it be to drive across country? You, me, donuts and diners.
Paige: Emily, you can trust me with your life.
Paige [to Emily]: There's nothing I wouldn't do to protect you.
Emily [to Paige]: With all these terrible things in my life right now why do I feel so lucky?
Paige [about her parents]: They want me somewhere safe.
Emily: California has earthquakes.
Promos
Gallery
Community content is available under
CC-BY-SA
unless otherwise noted.