"
If you cause trouble tonight, the odds are stacked against you.
"

— Rosewood Police Department Slogan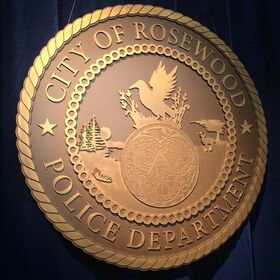 The Rosewood Police Department, commonly referred to as the RPD, is a group of officers and detectives who work together to solve crimes in Rosewood, Pennsylvania.
The Rosewood police officers and its station have been seen and mentioned throughout the series.
Address: 36 Van Allen Street
Series
Employees
Current
Former
Agent Cooper (FBI Agent: worked with the Rosewood Police: Agent Randall's partner)
Agent Randall (FBI Agent: worked with the Rosewood Police: Agent Cooper's partner)
Pam Fields (Desk Worker - on suspension)
Garrett Reynolds (Officer: deceased)
Gabriel Holbrook (Detective: State Police - on suspension)
Darren Wilden (Detective: deceased)
Arrestees
Name
Crime(s)
Case status
Hanna Marin
#1. Shoplifting
#2. Possession of a murder weapon x2
#3. Accomplice in Mona Vanderwaal's murder
Dropped

Overturned
Emily Fields
#1. Possession of a murder weapon
#2. Accomplice in Mona Vanderwaal's murder
#3. Suspect in Archer Dunhill's murder

Overturned
Dropped when Mary Drake confessed
Aria Montgomery
#1. Possession of a murder weapon
#2. Accomplice in Mona Vanderwaal's murder
#3. Suspect in Archer Dunhill's murder


Overturned
Cleared when alibi video surfaced
Spencer Hastings
#1. Possession of a murder weapon
#2. Murder of Bethany Young
#3. Accomplice to Mona Vanderwaal's murder
#4. Suspect for Archer Dunhill's murder
#5. Charged for "The Jenna Thing"
#6. Murder of Alison DiLaurentis

Charges dropped.
Overturned
Dropped when Mary Drake confessed
Community service
Overturned/proven innocent
Toby Cavanaugh
#1. Charged for "The Jenna Thing"
#2. Murder of Alison DiLaurentis' murder
Proven innocent: record esponged both times
Mona Vanderwaal
#1. Assualt, harassment, stalking
#2. Murder of Charlotte DiLaurentis
Committed to Radley Sanitarium
Committed to Welby State Psychiatric Hospital
Garrett Reynolds
#1. Murder of Alison DiLaurentis
#2. Murder of Maya St. Germain
Charges dropped both times
Ashley Marin
Murder of Darren Wilden
Released/dropped after Travis Hobbs identified her
Charlotte DiLaurentis
#1. Murder of Darren Wilden
#2. Evading police custody
#3. Assault, harrassment, attempted murder, stalking
#4. Kidnapping of Mona Vanderwaal, Hanna Marin, Spencer Hastings, Aria Montgomery, & Emily Fields
#5. Kidnapping of Sara Harvey
#6. Attempted murder of Alison DiLaurentis
#7. Suspect in Bethany Young's murder
Escaped police custody
Committed to Welby State Psychiatric Hospital for charages 2, 3, 4, 6
Dropped/overturned
Charges dropped
Alison DiLaurentis
#1. Murder of Mona Vanderwaal
#2. Suspect in Bethany Young's murder
#3. Suspected in Archer Dunhill's murder
Incarcerated: later overturned/released
Dropped
Dropped when Mary Drake confessed
Andrew Campbell
Kidnapping Spencer Hastings, Aria Montgomery, Emily Fields, Hanna Marin, Mona Vanderwaal, and Sara Harvey
Charges dropped
Mary Drake
#1. Murder of Jessica DiLaurentis
#2. Murder of Archer Dunhill
Incarcerated
Gallery