Sasha Pieterse-Sheaffer known professionally as Sasha Pieterse (born February 17, 1996) is a South African-born but American singer and actress. She is best known for her role as Alison DiLaurentis on Pretty Little Liars and Pretty Little Liars: The Perfectionists.
Life and Career
In her younger years, Sasha has managed to build and maintain a working resume with countless appearances on TV shows and movies. Starting with just the additional commercial role Sasha grew into an incredible star. Not only does she act, but she can also sing and play guitar.
At the age of six years old, Sasha Pieterse made her first appearance on Television. Co-starring in a WB Comedy TV Series, Family Affair (2002) as Buffy, she captured the hearts of the nation. As she grew older she developed life in the land of showbiz. Born in Johannesburg, South Africa, the curly-haired child got her break. She was raised in Las Vegas but moved to Los Angeles to further her career. At a young age, her parents noticed how curious she was about stage shows and took decided to enroll her in acting classes. In 2003, a year into her career Sasha won a Young Artist Award for Best Performance in TV series. As she grew and matured into the star she was born to be, Sasha continued booking roles.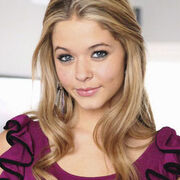 In 2004, She made a guest appearance in Stargate SG1, and it wasn't long before she booked 2 episodes in 2005's TV Series "Wanted." But what got the critics talking was a role she booked on the ever-growing popular drama "House MD;" She played a young girl named Andie with terminal cancer. Her performance was so breathtaking, she was considered for a daytime Emmy for 2005. Sasha continued to rise in the career, landing a role as the creator of "Spy Kids." Sasha had two roles as Marissa and the Ice Princess in The Adventures of Sharkboy and Lava Girl. At the age of nine, she had five acting credits to her name but was not forgetting her commercial work and modeling. She took part in Macy's Passport Show in 2004 and appeared on the cover of Children's Business Magazine.
During 2006, she filmed for a feature starring Sarah Michelle Gellar called The Air I Breathe. She then landed a lead in a "Hallmark Hall of Fame Movie" as Maggie in Claire. Both were released in 2007. Later that year, she appeared as the Goth Girl in Jessica Alba's Good Luck Chuck, and walked the Blue Carpet at the Premiere in September 2007 with gorgeous style getting the paparazzi talking. People have watched Sasha grow from a little girl into a mature teen. She looks slightly older for her age but is mature enough for any role she takes.
In her spare time, she loves to hang out with her friends and go to parties. She has a Pekinese dog named Precious, a Persian cat named Pasha, and a fish named Crystal. She also enjoys music. During 2007 and 2008, she spent time living life as a kid. Though she still booked 2 guest roles, one in "CSI Miami" and a 2009 Release
of a guest appearance in Without a Trace. Sasha supports many charities including Camp Ronald Mcdonald for Good Times, making regular appearances with friends and costars to carnivals and signings. She is also friends with actors Taylor Lautner and Taylor Dooley from working with them on the set of Sharkboy" and Lava Girl. In 2011, Sasha did a Disney Original Movie: Geek Charming, with Sara Hayland and Matt Prokop.
In 2010, brings Sasha returned to TV with a recurring role as Amanda on the hit show, Heroes and as Alison in the highly anticipated Pretty Little Liars TV Show on ABC Family, based on the popular book series by Sara Shepard. She originally auditioned for the role of Hanna.
Sasha also records music, and in 2013, she released her first country single - "This Country Is Badass" followed by "R.P.M", "I Can't Fix You" and "No". She also starred in the film G.B.F as Fawcett Brooks.
In 2014 she appeared in an episode of Hawaii Five-0 as Dawn Hatfield. She played Japonica Fenway in the Paul Thomas Anderson film Inherent Vice.
In 2015 she appears in the film Burning Bohdi as Aria, and 2 years later in 2017, she appeared in the Netflix Original movie Coin Heist.
In 2017, she competed in the 25th season of Dancing With the Stars with her partner, Gleb Savchenko. They made it until the fifth week when they were eliminated and finished 10th place overall. It was later announced after Pretty Little Liars ended, that there would be a spin-off titled Pretty Little Liars: The Perfectionists, starring Sasha and Janel.
In 2018, she married her long-time boyfriend, Hudson Sheaffer, in a destination wedding at Castle Leslie Estate in County Monaghan, Ireland. Sasha's best friend Jailynn Rubio officiated the wedding, and allegedly the couples first dance was choreographed by Sasha's Dancing With The Stars partner, Gleb Savchenko. On May 27, 2020, the couple announced that they are expecting their first child in October.
After the finale of Pretty Little Liars, Sasha started a blog focused on cooking, DIY crafts, baking, and entertaining. She titled the blog, Sasha In Good Taste. She was later signed to Harper Collins publishing company with a book deal for Sasha In Good Taste. Her novel release date is October 10, 2019.
Health
In 2015, fans of Sasha started to notice a significant weight gain on her part and soon became worried about her health. After a slew of hate comments and rumors regarding her weight, Sasha released a statement stating that she had a hormone imbalance which had caused the weight gain.
However, in 2017, she became more outspoken about her health and condition, revealing that she had been diagnosed with Polycystic Ovarian Syndrome, also known as PCOS. She stated that this has contributed to her gaining 70 pounds in two-years. She also stated that her main reason for joining the hit-show Dancing With the Stars was to help her to get back in shape and become healthy again. Since joining the show, she has said that she has lost over 70 pounds.[1] Since announcing her health condition, she has become an advocate and role model for other women with the condition.
Filmography
Film
| Year | Title | Role |
| --- | --- | --- |
| 2005 | The Adventures of Sharkboy and Lavagirl in 3-D | Marissa / Ice Princess |
| 2007 | The Air I Breathe | Young Sorrow |
| 2007 | Good Luck Chuck | Goth Girl "Anisha" |
| 2007 | Claire | Maggie Bannion |
| 2011 | X-Men: First Class | Teenage Girl |
| 2011 | Geek Charming | Amy Loubalu |
| 2013 | G.B.F | Fawcett Brooks |
| 2015 | Burning Bodhi | Aria |
| 2017 | Coin Heist | Dakota Cunningham |
| 2018 | The Honor List | Isabella |
Television
| Year | Title | Role |
| --- | --- | --- |
| 2002 | Family Affair | Buffy Davis |
| 2004 | Stargate SG-1 | Grace |
| 2005 | Wanted | Millie Rose |
| 2005 | House | Andie |
| 2007 | CSI:Miami | Beth Byckley |
| 2009 | Without a Trace | Daphne Stevens |
| 2009-2010 | Heroes | Amanda Strazzulla |
| 2010–2017 | Pretty Little Liars | |
| 2011 | Medium | Teenage Marie |
| 2014 | Hawaii Five-0 | Dawn Hatfield |
| 2014 | Inherent Vice | Japonica Fenway |
| 2016 | Sing It! | Destiny |
| 2017 | Dancing With the Stars | Herself |
| 2019 | Pretty Little Liars: The Perfectionists | Alison DiLaurentis |
Quotes
Sasha's first letter via Instagram: Today is the day. My friends. My forever #pllfamily. In this bittersweet moment (and always), I am forever grateful for these 8 years. There are no words to describe this incredible journey, but I'll do my best. We have truly created an impeccable love story thanks to the wonderful and one of a kind @imarleneking and our amazing cast and crew. I am so ridiculously grateful to each and every one of them. To our amazing fans, I am most definitely forever grateful. You guys have been so loyal and passionate! You have made every second possible, worth it, gratifying, touching, and especially memorable. We truly shot every season, episode, scene, and second for you. You will always have a place in my heart. Thank you for entrusting us with your time for 8 years. You are forever family. It still hurts my soul to not see you every day. I could go on forever! But, I will leave it as pure love. Rosewood forever lives on and this is not goodbye. Love always, Sash
Part of Sasha's goodbye letter on Instagram: Yesterday marked the end of a major chapter in my life. As I'm sure a few of you know, the TV show Pretty Little Liars had it's very last finale last night. I woke up feeling sick with a huge knot in my stomach! It's so surreal that there will be no more live "previously on Pretty Little Liars" and no more "Shhh's" at the end of that now very iconic song. But as I joined my PLL family to watch the finale, I was hit by this wave of absolute joy. It dawned on me that this is an end to an era. A very important era, but even more importantly it was a time to celebrate. To embrace the incredibly wonderful time we all shared together and to soak in every bit of joy it had brought me and others. PLL…playing Alison has been such a crucial part of my childhood and now adulthood. Thank you for always sticking by me, for never giving up on me or Alison.
Ending of Sasha's goodbye letter on Instagram: We. are. family. and Rosewood will forever live on! I wholeheartedly ADORE YOU! Love, Sasha…-A p.s. That's immortality, my darlings.
Sasha (via Instagram):
SO excited for you guys to see
#plltheperfectionists
✨ we put a lot of love into this and I think you are gonna adore it! I love all of you #pll fans tremendously and I know
@janelparrish
and I will make you proud. 🖤 #wearebackbitches
Sasha (via Instagram): Oh Ali, the places you will go. #plltheperfectionists
Via Instagram: That's an official wrap on the pilot of #plltheperfectionists 😍 so proud to be surrounded by so many talented and lovely people! Thank you to our wonderful Portland crew for welcoming us with open arms and teaching us the art of rain dodging. We hope to have many more rainy days in our future 🤞🏼 huge shout out to our incredible fans and to [the cast].
Trivia
She was in the music video for "Rewind" by Skye Stevens.
Sasha Pieterse originally auditioned for Hanna Marin in Pretty Little Liars.
She was twelve when the cast shot the pilot episode for PLL, and thirteen when they shot the first season, making her the youngest cast member.
Due to her being under eighteen during the first few seasons, she wasn't able to play as large of a part in the series as everyone wanted, as her screen time was limited.
Sasha has a nose piercing.
Her favorite color is red.
Her parents were professional acrobat dancers, but didn't have any input when she was on Dancing With the Stars.
She has a dog named Precious, a Persian cat named Pasha, and a fish named Crystal.
If she isn't acting, she would pursue Marine Biology.
Her and her co-stars Ryan Merriman (Ian Thomas) and Janel Parrish (Mona) have both starred in episodes of Hawaii Five-0.
Her favorite food is smoothies.
Sasha likes Aria's style the best.
She prefers Los Angeles to South Africa, where she was born.
On December 22, 2015, she became engaged to long-time boyfriend Hudson Sheaffer. [1]
Ironically, Sasha played a girl named Aria in the 2015 film titled Burning Bodhi, even though she plays Alison on Pretty Little Liars.
She had an A cake for her 21st birthday.
She has a blog called Sasha in Good Taste.
One of her main goals is to write and release a cookbook, which as of 2/18/2018, she has started writing.
She is a contestant on Season 25 of the American reality competition show Dancing With The Stars, but was eliminated on the fifth week and finished tenth place overall.
She reprised her role as Alison DiLaurentis in the Pretty Little Liars spinoff, "Pretty Little Liars: The Perfectionists".
She has talked publicly about having PCOS (Polycystic Ovarian Syndrome) and has become an advocate for other women with the syndrome.
She is still great friends with her Shark Boy and Lava Girl co-stars, Taylor Lautner (the pair are family friends as well) and Taylor Dooley, who lives pretty close to her. Sasha and Taylor Dooley see each other often and are good friends.
She would love to play in the popular movie franchise, Kill Bill.
The most draining scene in PLL for her to film was her emotional scenes in "A is for Answers", as she had to cry for almost ten-hours straight.
If Spencer wasn't the one to have the evil twin, Sasha would have liked it if Hanna was the one with the twin.
Her parents are one of her biggest inspirations, along with her fans.
She loved doing scenes with Troian, due to the relationship that the pair has off-screen.
She originally wasn't a fan of Alison becoming a teacher, but when she realized the backstory she supported it.
One of the things she loved about Emison was that it happened over a long period of time and that they each came to terms with the fact that they can love whoever they want.
Her favorite PLL ship is Emison.
Her favorite Emison moment is when Alison pulled Emily out of the barn in "Over My Dead Body".
She was homeschooled since the beginning of school and graduated at the age of fourteen.
She loved all of the "A" reveals for different reasons, and understands why Charlotte and Alex's were controversial. She especially loved the Alex Drake reveal because of how hard Troian worked and how different and interesting the storyline was.
She loved the babies that played Alison and Emily's daughters in "'Til Death Do Us Part".
She enjoys binge-watching and has a very long list of shows she wants to binge.
She disapproves and was most surprised by Alison doing The Jenna Thing, and realizes how awful it really is.
She has a fear of praying mantis since in her home of South Africa they are six-inches big.
She does not have middle-name.
Her current manager is Blake Lively's mother, Elaine Lively.
Sasha was one of House M.D's then lead actress Lisa Edelstein's favorite guest stars on the show, as she was very impressed that at nine-years-old, Sasha could play a character with such depth.
She has her own jewelry line titled, "Rigid Creations" when she was fourteen-years-old.
She is best-friends with her PLL/PLL: TP co-star, Janel Parrish.
She married her long-time boyfriend, Hudson Sheaffer, in a small ceremony in Ireland.
Her honeymoon was at an elephant rehabilitation center.
She found out about the potential PLL spinoff, Pretty Little Liars: The Perfectionists during Season 6 of Pretty Little Liars.[2]
Her favorite childhood toy growing up was her babydolls.
Gallery
References