Shay Mitchell, born Shannon Ashley Mitchell on April 10, 1987, is a Canadian actress and model. She is best known for her role as Emily Fields on Pretty Little Liars.
Life and Career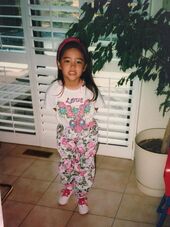 Born to a Filipino mother, Precious, and an Irish- Scottish father Mark, Shay is a native of Mississauga, Ontario, Canada. She has a younger brother named Sean.
Even as a young child, she was interested in the performing arts, declaring to her parents that she would pursue such a career. Shay began dance lessons at the age of five, and she and several of her classmates toured the city to compete with a variety of other dance schools.
At the age of ten, her family moved west to Vancouver, British Columbia. Within a year of their arrival, an international modeling agency held an open casting call for teen and pre-teen girls who were vying for representation. Shay was one of the girls selected.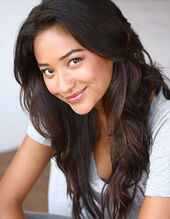 By her late teens, Shay had successfully modeled for a variety of companies in cities as varied as Bangkok, Hong Kong, and Barcelona. Wanting to focus on her true passion for acting, she returned to Toronto and began to study acting with great focus and determination. Her hard work paid off and, after signing with her first theatrical agency, Shay appeared in the hit series Degrassi: The Next Generation in a minor role. She then booked several national commercials. She also landed a recurring role in the Disney XD series, "Aaron Stone". She also guest-starred in the Global series Rookie Blue and appeared in the music video for "Hold My Hand" by Jamaican rapper, Sean Paul.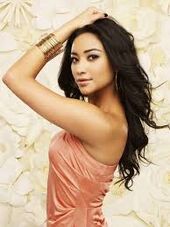 In December 2009, Shay was cast as Emily Fields in the ABC Family television series Pretty Little Liars. She had originally auditioned for the role of Spencer Hastings, which was ultimately given to Troian Bellisario. The series followed the lives of four girls whose clique falls apart after the disappearance of their leader, Alison DiLaurentis. One year later, the estranged friends are reunited as they begin receiving messages from a mysterious figure named "A". A threatens to expose their deepest secrets, including ones they thought only Alison knew. The series ran for seven seasons and was one of the biggest shows in pop-culture history.
In January 2011, Mitchell became a spokesperson for the Pantene Nature Fusion shampoo line.
In 2012, Shay became the new face of American Eagle, and in 2013 she became a mentor for the ACUVUE 1-Day Challenge.
During early 2017, Shay became the face of and spokesperson for the makeup and skin cleaners brand, Bioré. In the same year, she launched her YouTube channel which currently has over two million subscribers. She also started a production company called Amore & Vita Inc with her manager, David Dean Portelli. She later signed a contract with Warner Brothers Television Group.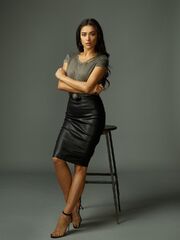 In late 2017, after the series finale of Pretty Little Liars, Shay was announced to have signed onto another TV series titled, "The Heiresses", an adaption of the popular book series which followed the lives of the Saybrook family. The series was being led by Shay's former PLL showrunner, I. Marlene King. She was also cast as Peach Salinger, a main character on the Lifetime series, "You".
In 2018, she became involved in the Know Your Birth Control campaign. She was also nominated for a Teen Choice Award in the Beauty Web-Star category. She has also dedicated much of the year to her goal of traveling around the world.
Also in 2018, her series You, where she plays Peach Salinger, was renewed for a Season 2 by Lifetime before the Pilot was even aired to the public.[1]. Shay also announced that her new horror movie, The Possession of Hannah Grace, formerly known as Cadaver, had received a release date of November 30, 2018.
On June 28, 2019, Shay announced that she and her longtime boyfriend Matte Babel were expecting their first child together. The same day, she announced her YouTube original series, "Almost Ready" that would chronologize her pregnancy and life since her pregnancy. The series aired every other Wednesday on her YouTube channel. On October 20, 2019, she announced the birth of their daughter Atlas Noa. On February 7, 2022, Shay announced that she was pregnant with their second child while simultaneously mourning the loss of her grandmother, commenting "Saying goodbye to a loved one while simultaneously experiencing the joy of welcoming another into this world is the great cycle of life".[2]
Filmography
Year
Title
Role
Notes
2008-2009
Degrassi: The Next Generation
Model
Episode: "Up Where We Belong"
2010
Rookie Blue
Cute Girl
Episode: "Mercury Retrograde"
2010
Aaron Stone
Irina Webber
2 episodes
2010–
2017
Pretty Little Liars
Emily Fields
Lead role; 160 episodes
2012
Fashion Police
Herself
2012
Punk'd
Herself
Episode: "Heather Morris"
2012-2017
Off the Menu
Herself
TV Mini-series; 4 episodes
2013
Immediately Afterlife
Marissa
Short Film
2015
Project Runway
Herself/Judge
Season 13, Episode 12: "Fashion Week: Who's in and Who's out"
2016
Mother's Day
Tina
First major movie
2016
A Trip to Unicorn Island
Herself
Documentary
2017
Cadaver
Megan Reed
Currently Filming
2017
Shades of Shay
Herself
Reality TV show
2018 - present
You
Peach Salinger
Main Role
2018
RuPaul's Drag Race: All Stars
Herself/Judge
Pop Art Ball only
2018
The Possession of Hannah Grace
Megan Reed
Main role
Canceled
The Heiresses
TBA
Lead Role
2019
Almost Ready
Herself
YouTube original series / Reality series
Awards
Quotes
Shay about playing a gay character: Playing this character and not being able to tell anyone that I was gay on the show, or my friends on the show, it felt like such a huge weight was lifted to me after I came out to my dad on the show. And I was like, "I'm free!" I even felt free after that. I was amazing. It was like, I can go to work tomorrow and I'm gay and I can say it.
When people ask me how I feel about kissing a girl I'm like, "it's pretty awesome". I actually almost prefer it sometimes, because they always smell pretty, their lips are soft. It's great.
Shay's goodbye via Instagram: The streets of Rosewood will always feel like home. I will hold each of these girls close to my heart always, as I will Emily. She changed me as a person and I will never be able to say thank you enough.
Trivia
She is of Filipino, Irish, and Scottish descent.
Her favorite books are: Eat, Pray, Love, The Alchemist, The Kite Runner, and Pretty Little Liars.
Her favorite foods are anything Italian, Thai food, her mother's cooking, and Sriracha Hot Sauce.
Her favorite TV shows include Entourage, Californication, and Oprah.
Her favorite vacation place is in Italy.
Her favorite movies include "Vicki Christina Barcelona", "Under the Tuscan Sun", and "The Little Mermaid".
Her top favorite movie is "Selena".
Her celebrity crush was Paul Walker and is currently Ryan Gosling.
She is afraid of clowns and horror movies.

In 2018, she acted in her first Horror Movie Cadaver, which is set to premiere in 2019.

She is double jointed.
She enjoys guided meditation.
She worked in bottle service before she was cast as Emily.
She watches Glee and is friends with Glee stars Naya Rivera and Jacob Artist.
She loves the TV show "Gossip Girl" and was in love with it when it first came out, curiously, Shay in 2018, worked together with Penn Badgley, in the television series You, Penn in the TV series : GG, played one of the protagonists: Dan Humphry. She also enjoyed "The Vampire Diaries", curiously again Shay and Nina Dobrev (the protagonist of TVD), had previously shared the screen, when Shay appeared in a few seconds of a scene with Dobrev in Dregrassi: The Next Genration.
Shares the same birthday with Ryan Merriman who played Ian Thomas in Pretty Little Liars
Is best friends with Ashley Benson in real life.
Runs a blog, known as Amore and Vita, with her best friend Michaela.
Is a supporter and sponsor of the Somaly Mam Foundation.
The girls called her the social media butterfly being the most active and one of the most followed liars on social media
She is very active on YouTube and tries to post every Tuesday.
She was working as a waitress doing bottle-service when she auditioned for PLL.

She practiced her lines for Emily in the coat-check room of the bar she was working at.
She recorded her audition tape in the basement of agency building, and begged the secretary at the desk to film her and do the lines with her.

She found out she had the role of Emily Fields while she was in a universal studios hotel room - the Sheridan - sitting at a desk. David and Robin, her agents, called her and told her the news. She was so excited that she starting screaming, "oh my god!" and spinning around on the swivel-chair.
She received braces after sending in her audition tape.
Her travel-show Shaycation was originally on a major network, but she later moved it to YouTube and made it a series on her channel, due to her busy lifestyle and schedule.
Her favorite 2017 memory was wrapping PLL and shooting Cadaver.
Her Passion Project is shooting Shaycation.
She is really close friends with YouTube beauty-guru Patrick Starr. She actually asked him to do some makeup looks for her while she was on PLL which he agreed too. They have remained close both professionally and personally.
She ate her lunch in the bathroom at school, to avoid the awkwardness of where to sit and who to talk to.
Her current television obsession is Queer Eye.
When asked if she would return for The Perfectionists she said, "You never know. Never say never."
She was the main presenter at the 2018 VMA's.
Shay is the official Godmother of her best friends daughter.
On January 1, 2019, Shay announced that at one point during 2018, she suffered from a miscarriage and lost her child.

However on June 30, 2019 Shay made a video about her channel, where she announced her new pregnancy.
She announced the birth of her daughter on October 20, 2019, but did not reveal a name.
References