"
Wow, someone's crushing on their English teacher.
"

— Simone to Aria
Simone is Aria's former babysitter. She comes back to Rosewood to visit her parents and also to help Ella Montgomery with her English class, where she is asked to be a speaker as an experienced freelance writer. She befriends Ezra Fitz thanks to the suggestion of Ella, much to Aria's chagrin. Simone develops a crush on Ezra, much to Aria's horror. Simone is oblivious to Aria's feelings, and the two have coffee together. After that, Ezra picks up on Aria's envying Simone, who is a talented writer and also age appropriate for Ezra. He admits to enjoying the time spent with her, but assures her that it's nothing more than that.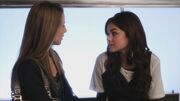 Simone returns to Rosewood and becomes a speaker as an experienced freelance writer, helping Ella with her English class. Ella meets up with Aria with Simone and it is revealed that Simone used to be Aria's babysitter. Ella goes over to Ezra to offer Simone's services, in more ways than one, while Simone gives Aria some career advice. Ella returns to tell Simone that she'll be speaking to Ezra's class. Later, Aria goes to Ezra's Apartment with coffee for herself and Ezra but he tells her he is about to go meet Simone for coffee. He assures her they are only meeting to discuss their writing.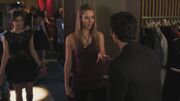 Simone then attends the dance marathon, where she chats happily with Ezra, who, in return, smiles back as they discuss their mutual interests. To add insult to injury, at one point in the dance, Aria sees the two standing together, and in a jealous rage, marches over to them to break it up, only to have Simone unwittingly make a remark about Aria's Cookie Monster paraphernalia when she was a kid. Spencer diffuses the situation by asking Mr. Fitz to dance, thus making it seem like the reason for Aria approaching the two of them was to escort her friend in asking their cute, young teacher to dance. Simone then makes another unwitting remark when she comments on how many female students must have a crush on Mr. Fitz. 
Community content is available under
CC-BY-SA
unless otherwise noted.