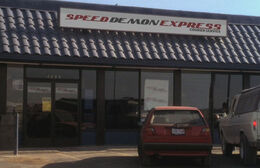 Speed Demon Express is a package delivery company located on Main Street in Rosewood.
Series
Emily picks up a package and discovers Logan Reed is working there.
Melissa also picks up a package there watches a staged Caleb and Mona making out when she comes outside.
Notes
Emily mentions that this store is on Van Owen Street in The Devil You Know, but it appears to be on Main Street like all the other shops in Rosewood.