"
How lucky am I to have something that makes saying goodbye so hard?
"
The Pretty Little Liars (or simply, The Liars) is a nickname for the five original Liars, Alison DiLaurentis, Spencer Hastings, Aria Montgomery, Hanna Marin, and Emily Fields. Later, Mona Vanderwaal became part of the group after she was kicked off The A-Team and became a victim of A as well.
Members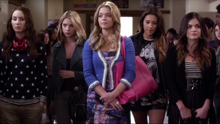 Allies
Storylines
Alison DiLaurentis, the former "Queen Bee" of her clique and the most popular girl in school before her disappearance and alleged death. Although she cared for her friends, she enjoyed using their deepest, darkest secrets against them to keep them in line. Charming and manipulative, Ali was skilled at finding ways to blackmail and play with others. Although she was hated by many, others adored her. Alison disappeared a year prior to the beginning of the series, and in "Pilot" a body is found and assumed to be her's. The show's main premise revolves around the mystery of Ali's murder. Alison is later revealed to be alive, but is hiding from "A" who is still after her. Alison is currently widowed to Elliott Rollins (real name Archer Dunhill) and engaged to Emily.
Spencer Hastings, the "Genius" of the group. She is an extreme perfectionist and overachiever who always tries to please her wealthy parents, who clearly show more affection towards her older sister, Melissa. Spencer tends to fall for her sister's boyfriends, first with Wren Kingston and then with Ian Thomas. Spencer had been the only person brave enough to ever stand up to Alison before her disappearance. Out of all of the girls, she is the most competitive. Spencer is currently in a relationship with Toby (presumably) and considered the leader of the group.
Emily Fields, the "Jock" of the group. She can be described as the sweet, caring and kind girl, also being very sensitive. Emily was closest to Alison before her disappearance and was also in love with her. A closeted lesbian at first, Emily was later outed by "A". She also falls in love with and dates Maya St. Germain. During this time, she also befriends Toby Cavanaugh, Jenna's step-brother, and Spencer's current boyfriend. Even though everyone was distrustful of Toby for being accused of killing Alison, a strong friendship developed between the two. In the Season 2 finale, Maya was murdered by her stalker, Lyndon James, who also tried to kill Emily and her current girlfriend, Paige McCullers, in the Season 3 summer finale. In Season 4, Emily got into a big accident because of "A", causing her to become unable to swim and wonder for her scholarship. Emily was dating Sabrina first they where on hold and later they broke up. She is currently engaged to Ali.
Aria Montgomery, the "Artist" of the group. Aria has a passion for art and literature. She is kind and very supportive, and a bit naive. Aria returns to Rosewood with her family after spending a year in Iceland. At a bar, she meets Ezra Fitz and kisses him, only to discover on her first day of school that he is her English teacher. They decide to secretly continue their relationship and do so for some time until eventually making their romance public. Then Ezra finds out about him having a child, the relationship is strained and is eventually ended when he gets a teaching job at Rosewood High again. However, Aria was dating Liam Greene, until she broke up with him for Ezra, whom she is now married to.
Hanna Marin, the new "It Girl" of the group who has struggled with self-image issues and bulimia. Known as "Hefty Hanna" before Alison disappeared, Hanna subsequently transformed herself into the most popular girl in school, along with her best friend, Mona Vanderwaal. She falls in love with Caleb Rivers, a phone hacker and relative newcomer to Rosewood. Hanna always sticks up for her friends. Hanna is currently married to Caleb, after breaking off her engagement with Jordan Hobart.
Mona Vanderwaal, the "Outsider" of the group who always tried to befriend The Liars when Alison was their Queen Bee, but they rejected her at every try. For a while, she was the best friend of Hanna, and the girls were starting to warm up to her until she revealed herself as A in UnmAsked as the Original A who had been targeting the four girls. Throughout Season 3, she was working with The A-Team until being kicked off by Red Coat at the end of "A DAngerous GAme". She also receives her first official message from "A" as one of the Liars in "A is for A-L-I-V-E. However, despite technically being a Liar herself, it wasn't until after the events of "Miss Me x 100", that the other girls (minus Alison) began to include her. The bond with the four girls grew stronger once they found out she was alive in "Welcome to the Dollhouse" and lived through the traumatic experience alongside them. It was revealed in the series finale that Mona was in a relationship with a French boy.
Series
The Books
Quotes
Alison [to the Liars]: We'll be friends forever.
Mona [about the Liars]: They were the best of friends.
Alison [to the Liars]: Friends share secrets. That's what keeps us close.
Alison [to Elliott, about the Liars]: You don't know them as much as I do.
Gallery
First 'A' Messages
Community content is available under
CC-BY-SA
unless otherwise noted.