"
Today closes the chapter on a very significant part of my life. Being Spencer Hastings in the crazy world was a rare and beautiful gift. A gift that will continue to give for the rest of my days on this Earth. And I wanted to say thank you to all the people who gave it to me.
"

— Troian Bellisario
Troian Bellisario-Adams, known professionally as Troian Bellisario, (born October 28, 1985) is an American actress. She portrayed Spencer Hastings and Alex Drake in the Freeform series Pretty Little Liars.
Life and Career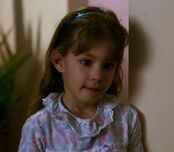 Troian Avery Bellisario was born in Los Angeles County, California. She is the daughter of television producer Donald Bellisario and actress Deborah Pratt. Pratt portrayed a character named Troian in the Quantum Leap episode "A Portrait for Troian". The character Troian was named after Troian Bellisario. Deborah, her mother, is African American, which makes Troian 50% African American. She is the half-sister of Michael Bellisario. The actor Sean Murray and the producer Chad W. Murray are her stepbrothers. Her step-brother, Sean Murray plays Special Agent Timothy McGee on the hit TV series NCIS which Troian guest-starred on as Timothy McGee's sister.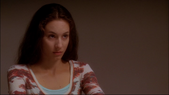 Bellisario made her acting debut in the 1988 film Last Rites at the age of three. From 1990 to 2007, she guest starred on Quantum Leap, Tequila and Bonetti, JAG, First Monday and NCIS, television series that were produced by her father Donald Bellisario. In 1998, she co-starred with Mary-Kate and Ashley Olsen in the film Billboard Dad.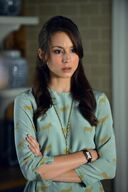 Beginning in 2006, Bellisario began appearing in a number of independent short films such as Unspoken, Archer House, and Intersect. In November 2009, Troian was cast as Spencer Hastings in the TV series Pretty Little Liars, based on the book series by Sara Shepard. She later also plays Alex Drake, Spencer's twin-sister in the same series.
In 2012, Troian stars in the short film Exiles as Juliet, and Joyful Girl as Belle. In 2013, she stars in a film titled C.O.G. as Jennifer.
In 2017, she made her directorial debut after directing an episode of PLL. She went on to write and produce her own movie which she titled Feed. The movie starred herself and Tom Felton. After the finale of Pretty Little Liars, she confessed that she wanted to do more directing.
In 2018, she directed an episode of the hit Freeform series, Famous In Love. In the same year, she directed an episode of Freeform's, Good Trouble.
Personal Life
In 2016, Troian married a fellow actor, Patrick J. Adams, who is best known as the star of the hit USA Network show, Suits. Her fellow PLL castmates, Ashley Benson, Lucy Hale, Ian Harding, Keegan Allen, Tyler Blackburn and Sasha Pieterse attended the wedding. I. Marlene King was also in attendance.
In August 2018, E! News confirmed that Troian was pregnant with her and Patrick's first child. Despite the article, Troian refused to comment on whether or not she was really pregnant, wanting to keep the pregnancy under wraps.
On October 8, 2018, both she and Patrick announced via Instagram that she had given birth to their first child, an 8lb girl name Aurora. Over half of the PLL cast have met her daughter, including PLL executive producer, I. Marlene King.
On June 4, 2021, Troian announced the birth of her second daughter, Elliot Rowena Adams, via Instagram. She stated that Elliot was born on May 15 under wild circumstances.[1] Herself and Patrick spoke to Katie Lowes about how different her pregnancy with Elliot was to Aurora's, and told the story of how Elliot was delivered: in a car in the parking lot of a hospital.[2]
Filmography
Year
Film
Role
Notes
1988
Last Rites
Nuzo's daughter
Theatrical film
1990
Quantum Leap
Teresa
1 episode
1992
Tequila and Bonetti
Teresa Garcia
1 episode
1998
JAG
Erin Terry
1 episode
1998
Billboard Dad
Kristen
Direct-to-video film
2002
First Monday
Kimberly Baron
2 episodes
2005–2006
NCIS
Sarah McGee
2 episodes
2006
Unspoken
Jani
Independent short film
2007
Archer House
Tatum
Independent short film
2007
Intersect
Victoria
Independent short film
2010–2017
Pretty Little Liars
Spencer Hastings
Alex Drake
Main Role
2010
Consent
Amanda
Main role
2011
Peep World
P.A.
Theatrical film, post-production
2012-2013
Lauren
Lauren
Main Role (YouTube Series) 
2012
Pleased to Meet You
Carson
Main Role
2012
The Come Up
Jessica
Independent short film
2012
Exiles
Juliet
Independent short film
2012
Joyful Girl
Belle
Independent short film
2013
C.O.G.
Jennifer
Main Role
2013
Exiles
Julliet
Short film: actress, writer, and executive producer
2013
Immediately Afterlife
Bennett
Short film with Shay Mitchell
2015
Surf Noir
Lacey
Short film
2015
Still a Rose
Short Film
2015
Martyrs
Lucie Jurin
2015
Suits
Claire
Guest; episode: "Fork in the Road"
2017
Feed
Olivia Grey
Main Role
2018
Clara
Clara
Main Role
2019
Where'd You Go Bernadette?
Becky
2019
Like Turtles
Molly
Short Film
2020
Stumptown
Jenna Marshall
1 episode
2020
Life on Mars
Stella
Short Film
2021
Chuck Hank and the San Diego Twins
Claire
Short Film (Post-production since 2014, expected 2021)
2021
Ways & Means
TV Film
Directorial
| Year | Film | Notes |
| --- | --- | --- |
| 2017 | Pretty Little Liars | Directorial debut; acted while directing; 1 episode |
| 2018 | Famous In Love | 1 episode |
| 2018-2021 | Good Trouble | 3 episodes |
| 2020 | Life on Mars | Sole director and writer |
Trivia
Troian's Father, Donald P. Bellisario, wrote the Quantum Leap episode, A Portrait for Troian, which aired in 1989 when Troian was four. Troian's mother, Deborah Pratt, played "Troian" in the episode.
She is the step-sister of Sean Murray (via Vivienne Bellisario and Donald Bellisario), who plays Agent Tim McGee on NCIS. She has appeared in it several times as Sarah McGee, Tim McGee's sister.
Starred in a short movie called Immediately Afterlife with Shay Mitchell.
Her best friends on the set of Pretty Little Liars are Keegan Allen, Shay Mitchell, Lucy Hale, Ashley Benson, Tyler Blackburn, Sasha Pieterse and Ian Harding.
Troian's taste in music is made of mainly indie rock.
Troian has a special necklace that she wears with anything. This is her "must-have" accessory.
In a fantasy world, she would be a rock star. When she was younger, she had a "very intense obsession with death" and was fascinated by forensic scientists and morticians. She had a "draw to work with the dead."
When she has free time on the set, Troian likes to sleep, write, and work on other projects.
Both Troian and Spencer are studious and put a lot of pressure on themselves to succeed. We see Spencer's uptight and focused attitude on the show, and Troian said that she was valedictorian of her class, she "felt that [she] had to be the best and the brightest at everything otherwise [she] wasn't worth anything." One big difference is that Troian has learned to re-evaluate her priorities and Spencer has not yet had the life experience necessary to see that need. If Troian was to describe Spencer's superpower, she'd say it was her intellect.
Troian and her boyfriend, Patrick J. Adams, were revealed to be engaged in late February 2014. [3]
Troian had anorexia nervosa.
Troian went to Campbell Hall School and USC.
Was childhood friends with Mary-Kate and Ashley Olsen.
She was also childhood friends with fellow Pretty Little Liars actress Lulu Brud.
In January 2017, she cut her hair shorter for the first time in seven years.
She and Andrea Parker are the only main actors on the show to have played more than one character.
When she found out that she would be playing A.D., she asked Marlene not to tell the other castmates so their performances weren't affected.
As Alex Drake, Troian purposely fiddled with her hands, but when she was playing Spencer Hastings she didn't. This was an acting choice that she made to differentiate the characters and give the audience a little clue that Spencer was off.
Her character Alex's first name pays homage to 'Alexandra Bowen' Spencer's book cover model when it was decided to give Troian her dual role.
She did a year of dialect training before portraying Alex's British accent, as she wanted Alex to have a more, "street" accent.
If she could play in any movie, she would like to play Lisbeth Salander from The Girl With the Dragon Tattoo.
If Troian had to pick another character other then Spencer to have an evil twin, she would pick Alison.
She loved directing Sasha, as the pair have a great relationship off-screen.
She was a fan of Spaleb, and respected that Spencer and Hanna talked about it and how the plot played out.
One of her favorite scenes to film was the scene between Caleb, Spencer, and Hanna where Caleb is talking through the door.
She has said that she never had a problem doing emotional scenes in the final season, because she had played Spencer for so long, and the relationships felt real to her.
Both she and Keegan Allen think that it would be cool and funny to see the Hastings, Drakes, and DiLaurentis in one big family therapy session.
She attended the royal wedding between Megan Markle and Prince Harry with her husband.
As of 2019, the only PLL cast members she keeps in touch with are Shay Mitchell and occasionally Ashley Benson.[5]
In the crime drama show Stumptown, she ironically plays a character called "Jenna Marshall"
Awards
| Year | Award | Category | Work Nominated | Result |
| --- | --- | --- | --- | --- |
| 2010 | Vision Festival | Best Acting (Female Lead) | Consent | Won |
| 2010 | FirstGlance Philadelphia | Best Actress | Consent | Won |
| 2011 | Teen Choice Awards | Choice Summer TV Star: Female | Pretty Little Liars | Nominated |
| 2012 | Teen Choice Awards | Choice Summer TV Star: Female | Pretty Little Liars | Won |
| 2013 | IAWTV Awards | Best Female Performance (Drama) | Lauren | Nominated |
| 2013 | New York Festivals | Best Performance by an Actress | Lauren | Won |
| 2013 | Streamy Awards | Best Female Performance (Drama) | Lauren | Nominated |
| 2013 | Teen Choice Awards | Choice TV Actress: Drama | Pretty Little Liars | Won |
| 2014 | Teen Choice Awards | Choice TV Actress: Drama | Pretty Little Liars | Nominated |
| 2015 | Teen Choice Awards | Choice Summer TV Star: Female | Pretty Little Liars | Nominated |
| 2016 | Teen Choice Awards | Choice TV Actress: Drama | Pretty Little Liars | Nominated |
| 2017 | Teen Choice Awards | Choice TV Actress: Drama | Pretty Little Liars | Nominated |
| 2017 | Television Industry Advocacy Awards | Support to National Eating Disorders Awareness | Feed | Won |
Episodes Directed (1/160)
Season 7 (1/20)
References