'Pretty Little Liars' Profile: Wren Kingston
Play Sound
"
None of us are perfect - we all come with baggage.
"

— Wren
Dr. Wren Kingston was a doctor at Rosewood Community Hospital and a volunteer at Radley Sanitarium. He was once engaged to Melissa Hastings but kissed Spencer Hastings, and later Hanna Marin. Wren often tended to appear in Spencer's hour of need, and briefly Hanna's. He later moved to London after leaving Rosewood in Season 4. He is later revealed to be the biological father of Emily's and Alison's twin daughters, Lily and Grace. Ultimately, his girlfriend, Alex Drake, killed him as she wanted to become Spencer and he had tried to stop her.
He is portrayed by Julian Morris.
Biography
Wren Kingston is a very handsome and charming British doctor. Before becoming a doctor, he studied at Oxford. At the start of the series, Wren is engaged to Melissa Hastings, until she broke off the engagement after seeing him and her sister, Spencer, kissing in Spencer's room. Before they kissed, there was already flirting and a lot of chemistry between the pair. While Spencer originally tried to help Wren get back together with Melissa, he made it clear that his main interest was in Spencer, not Melissa.
In Season 2, Wren moved back to his apartment and worked at Rosewood Community Hospital. He was seen at work the night Emily and Toby were admitted to the hospital. Wren was always around when someone needed help, especially Spencer. When she broke up with Toby, Wren was the first person who saw her. He admitted his feelings for her and that he was desperate to kiss her. Spencer told him that she had a boyfriend and that it wasn't a good idea, but kissed him back anyway. The romance didn't go much further, as Spencer was still in love with Toby. He also helped Melissa by supplying drugs for Ian, after the latter is seriously injured after the bell tower incident.
In Season 3, Wren became a volunteer at Radley Sanitarium and helped Hanna and Mona. When Hanna found out that Mona was able to stay in Radley and wouldn't be transferred to another facility, she was so happy that she kissed him. Wren mistook Hanna's kiss as her having romantic feelings for him and flirted back only to be disappointed when he learned that they were in-the-moment emotions and weren't actual feelings. Unbeknownst to everyone around him, Wren was supplying Charlotte (aka A) with a way in and out of Radley. He also helped people acquire fake ID's so they could get in and out of the Sanitarium undetected.
During his time in London he and Melissa broke up for the final time. One night, Wren went to a bar where he ran into Spencer's twin sister, Alex Drake. He originally mistook her for Spencer and was shocked to learn that Alex was Spencer's twin. Wren then told Alex everything that he knew about Spencer, Charlotte, Mary, and the Hastings family. He then helped arrange for Charlotte and Alex to meet and helped bring the long-lost sisters together. Wren and Alex then began a romantic relationship, and they were madly in love. He later befriended Charlotte and Archer, and the foursome became very close friends. They did pretty much everything together. However, after Charlotte's death, Alex took over the game to avenge her sister and retrieve Charlotte's money from the DiLaurentis family, as Charlotte had willed it to her. Wren went along with her plan as he thought it was just about the money and then they could live a normal life together.
However, Alex roped Wren into helping her with her tasks as Uber A, which he was willing to do at first. He willingly donated his sperm so Alex (who was helping Archer at the time) could go forward with Archer's plan to inseminate Alison and create life. He also assisted her in a number of other unnamed tasks, including pretending that Alex was Spencer in front of Ezra. He even shot Alex so that she could have the same scar as Spencer, which was something that he was very reluctant to do as he thought it was crossing the line. After the game ended Alex returned to London and the pair were happy for some time. However, Wren still saw her as Alex Drake, and not Spencer Hastings, the twin she wanted to be. The pair argued about it at first, with Wren trying to convince her to give up the game so the pair could live a happy, mundane life together. Despite her wanting this with him, she also wanted to be seen and regarded to as Spencer, which was something that Wren couldn't do. This caused her to kill him, before turning his ashes into a diamond necklace that she wore around her neck.
Series
Appearances (21/160)
Relationships
Melissa Hastings: Ex-Fiancée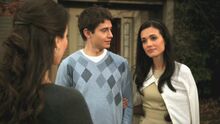 First Relationship:
Spencer Hastings: Kissed/Flirtation (see "Wrencer")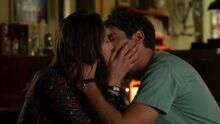 Hanna Marin: Kissed (see "Wrenna")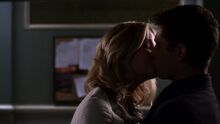 Started: "Stolen Kisses"
Ended: "What Lies Beneath"
Reason: Hanna maked it clear to Wren that the kiss they had was a mistake and that she doesn't have feelings for him. She says that if she was to date him, she would be betraying Spencer.
'Alex Drake: Girlfriend/Killer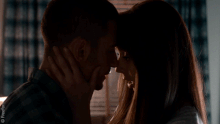 Trivia
Wren is portrayed by British actor Julian Morris.
Interestingly, Wren moves to England in Season 4.
Wren and Ian Thomas are both similar: they both originally were in a relationship with Melissa but cheated on her with Spencer at separate times from one another. They also both are attracted to younger High School girls even though they both are graduated from High School and Wren has already graduated from medical school, which takes multiple years to complete. Ian was attracted to both Spencer and Alison DiLaurentis while Wren was attracted to Spencer and to Hanna. As far as we know, Ian and Wren shared no further connection.
Wren has had feelings for 2 out of the 4 liars, Spencer and Hanna.
In "The Blond Leading the Blind" Wren introduces himself as "Dr. Kingston." The character in the book is half Korean. Since Julian Morris is not, Kingston is a more appropriate last name.
Up until "'Til DeAth Do Us PArt", Wren had never appeared in a season finale.
Wren was the anonymous tip in "The Mirror Has Three Faces" that made Ashley lose her lawyer (Veronica Hastings).    
He apparently moved in with Melissa in London for unknown reasons.
In "The Mirror Has Three Faces" he is seen by the viewers using a red pencil to color in a drawing of a women in a coat, which implies he may know about A and Redcoat.
Julian Morris starred in the horror film remake Sorority Row and Rumer Willis who playedZoe also starred in the movie.
He and Melissa broke up during the five-year time jump, which around the time met and fell in love with Alex Drake
In an interview, I. Marlene King revealed that she intended to film Wren's death scene, but there wasn't enough time to bring it to life.[1]

She described it as Alex hitting him with a pipe and then a ladder would've fallen and crushed his windpipe.
Book Comparisons
In the books, Wren's last name is Kim. In the show, it's Kingston.
The book character is half Korean. In the show, we can assume both his parents are British.
In the books, Wren sleeps with Melissa after breaking up with her for Spencer. In the show, this never happened, but after the break-up, he does keep in touch with Melissa several times.
Wren and Spencer have sex at Wren's apartment in Philly in the book, but they only kiss in the show.
Spencer and Wren never dated in the show but they did briefly date in secret in the books.
In the TV series, he gets back together with Melissa, and later Alex Drake, Spencer's twin. In Vicious he ends up with Spencer.
Quotes
Wren: One does not come unfortified to the house of Hastings.
Spencer [to a drunk Wren]: How about some coffee?
Wren: I've been drinking scotch, I'd rather not mix my beverages.
Wren: Let me take you to school. We could drop by for some coffee.
Spencer: Wren, I have a boyfriend now.
Wren: Fine. How about tea?
Wren: Maybe you talked yourself out of the carpenter too soon. None of us are perfect, Spencer.
Spencer: Yeah, well, the carpenter has a name, and he would need a forklift to maneuver through my tonnage of emotional debris.
Wren: You know, I'm actually ...certified to operate one of those.
Spencer: No, I can't imagine you operating any sort of heavy machinery.
Wren: Yeah, me neither. I made that up. But I did get you to smile.
Wren: None of us are perfect, we all come with baggage
Spencer [to Wren]: I used you to get at Mona. I'm sorry.
Wren: You shouldn't be, I deserve to be used
Wren[to Mona]: I don't think you got rid of anybody, that's my response.
Wren: Well, just goes to show you can't trust anyone.
References
Community content is available under
CC-BY-SA
unless otherwise noted.