This article is about Emily's friend. You may be looking for Zoey, Samara's friend, or Zoe, a Perfectionsts character.
Zoe is a character in Season 4 of Pretty Little Liars. She is an organizer in the worldwide charity Habitat for Humanity. She is portrayed by Rumer Willis in "The Guilty Girl's Handbook".
Biography
She is described as "the type of girl who will change the world and keep her sense of humor at the same time". She worked in Haiti with Emily the summer before Season 3.
Series
Season 4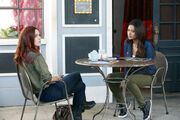 Ezra tells Emily she should get in touch with her Habitat for Humanity supervisor, so she calls Zoe, who makes a stop in Rosewood on here way to somewhere else. They meet outside The Brew and catch up. Zoe clearly has a very high opinion of Emily. She invites her to come with her to Nicaragua next summer and Emily accepts.
Appearances (1/160)
Season 4 (1/24)
Trivia
Zoe and Emily volunteered in Haiti together.
Paige believes Zoe has a crush on Emily, but Emily doesn't believe her.
Emily said she would go to Nicaragua next summer, where Zoe would be volunteering and would be her boss again.
Rumer Willis starred in the horror film remake Sorority Row and Julian Morris who plays Wren Kingston also starred in the movie.
Memorable Quotes
Zoe [to Emily]: This town is almost as photogenic as you. Almost.